Discover what the Southbank Winter Market is like to visit in the run-up to Christmas 2023.
Known as the Southbank Winter Market, it is part of the Southbank Centre's Winter Festival, and one of a number of Christmas markets in London. I visited on a slightly rainy Saturday evening in early November to check it out.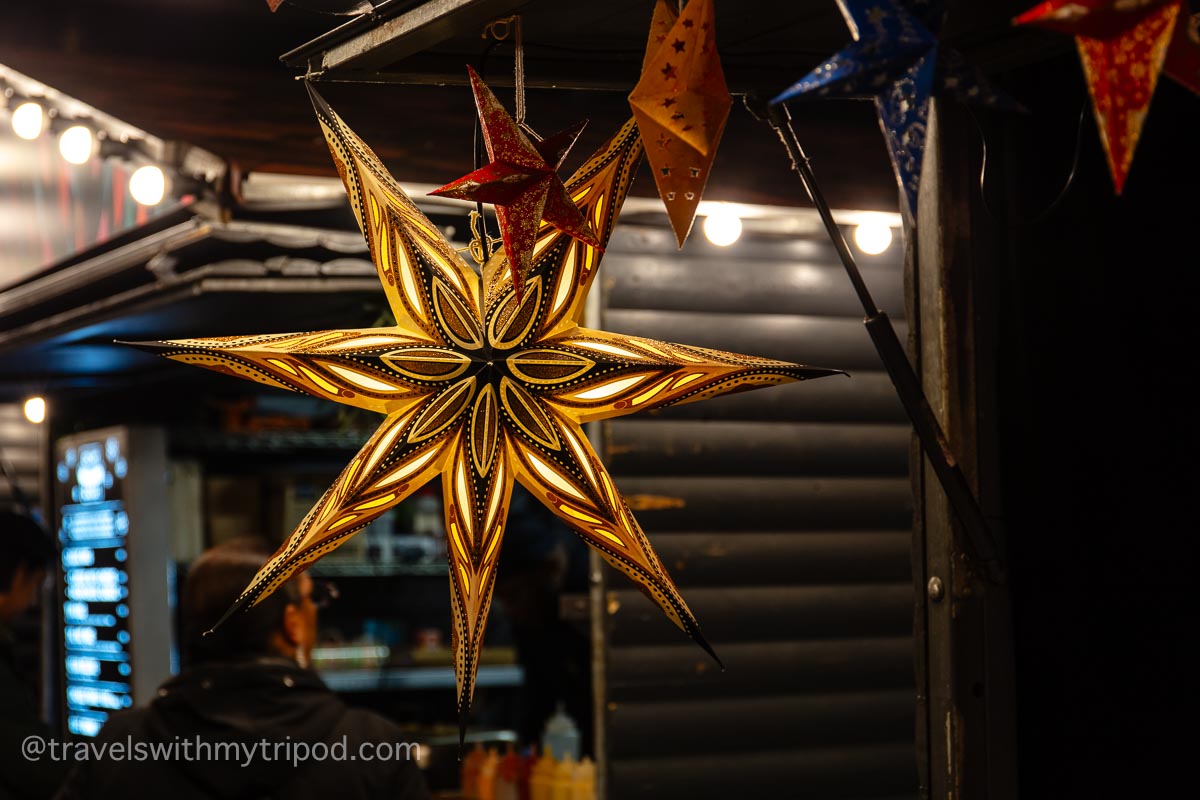 As Christmas markets in London go, it's one of the smaller ones but it does still offer a fair amount to do and see. If you're just looking to buy gifts, then there are better markets for this. Nevertheless, despite the small size, there's a good range of food vendors, curling and evening entertainment at Between the Bridges so it's well worth a visit. Plus, the location is pretty impressive, with views of the London Eye and Big Ben.
For more Christmas market suggestions, read my guide to the best Christmas markets in London.
Where is the Southbank Christmas market?
The market is located between the London Eye and Waterloo Bridge on the Queen's Walk – the path that runs alongside the south bank of the Thames.
What is there to do at the Southbank Christmas market?
Fire and Fromage
Walking west towards the London Eye from Waterloo Bridge, the first thing you'll find is Fire and Fromage – a popup created by Jimmy's. Here you can enjoy anything from street food to a slap-up 3-course meal in one of their snow globes. These pods need to be booked in advance, and seat up to 10 people. You can book online on their website.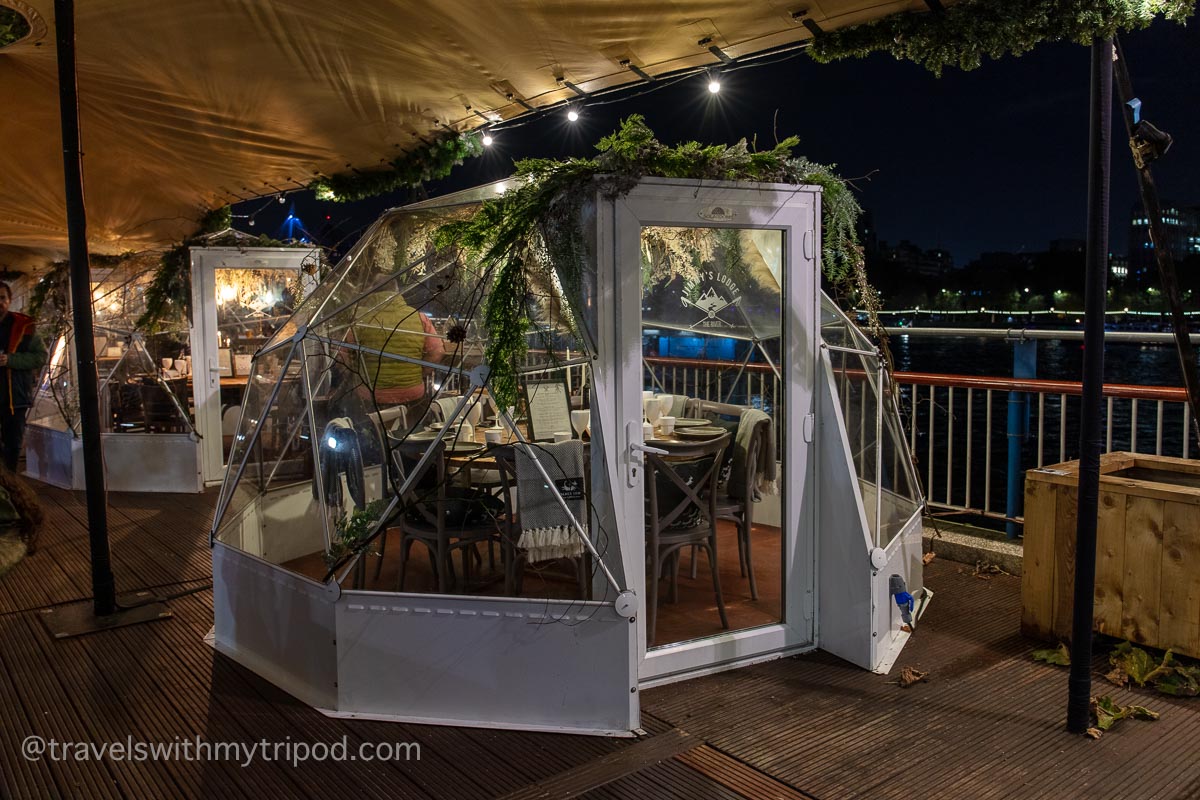 I couldn't resist the Raclette burger and fries, which were both delicious. They also offer a raclette feast which looked very tempting.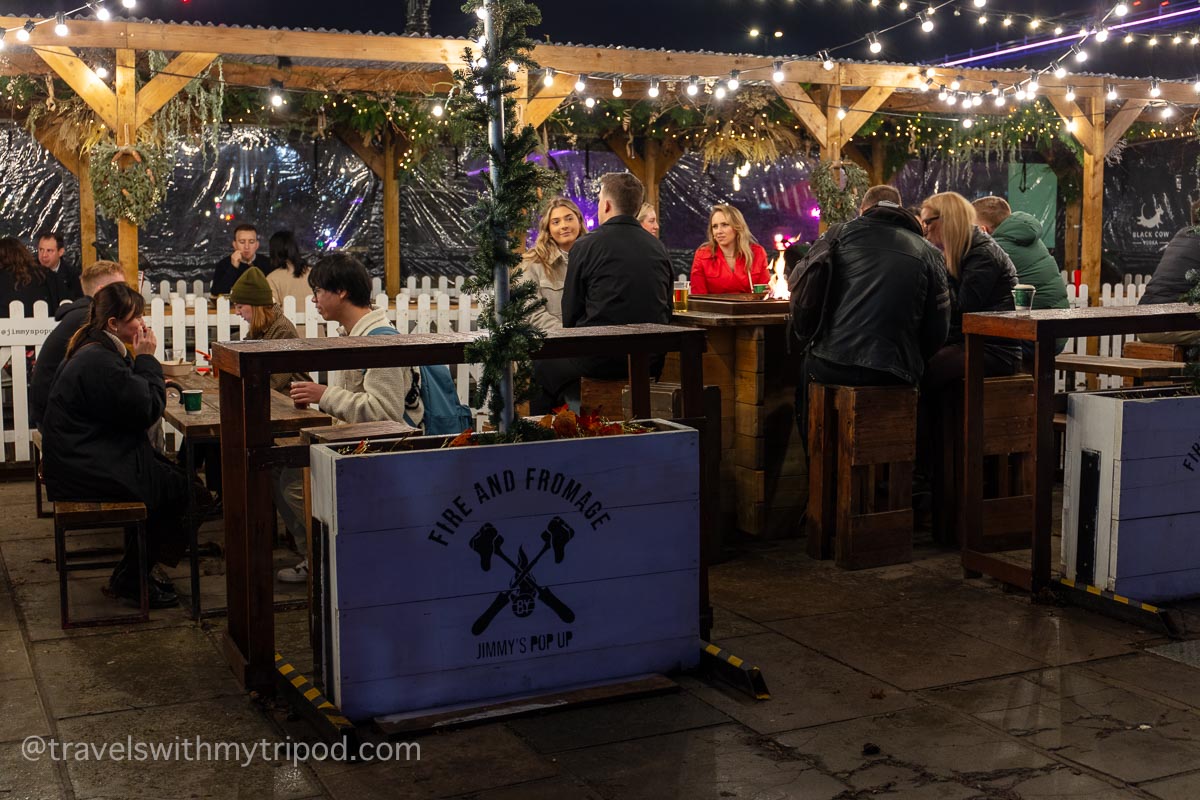 Market Stalls
Slightly further towards the London Eye is the market section, where you'll find around 20 wooden chalets. The majority of stalls selling food or drink, but there are some independent traders selling gifts too.
You can find a nice variety of food here, including Thai street food, duck wraps, crepes and Belgian waffles. I tried the special festive British Christmas Quacker duck wrap from The Duck Shed and it was very tasty, so I'd definitely recommend this if you're passing.
There are a number of stalls selling drinks too, from warming mulled wine, to a selection of craft beers.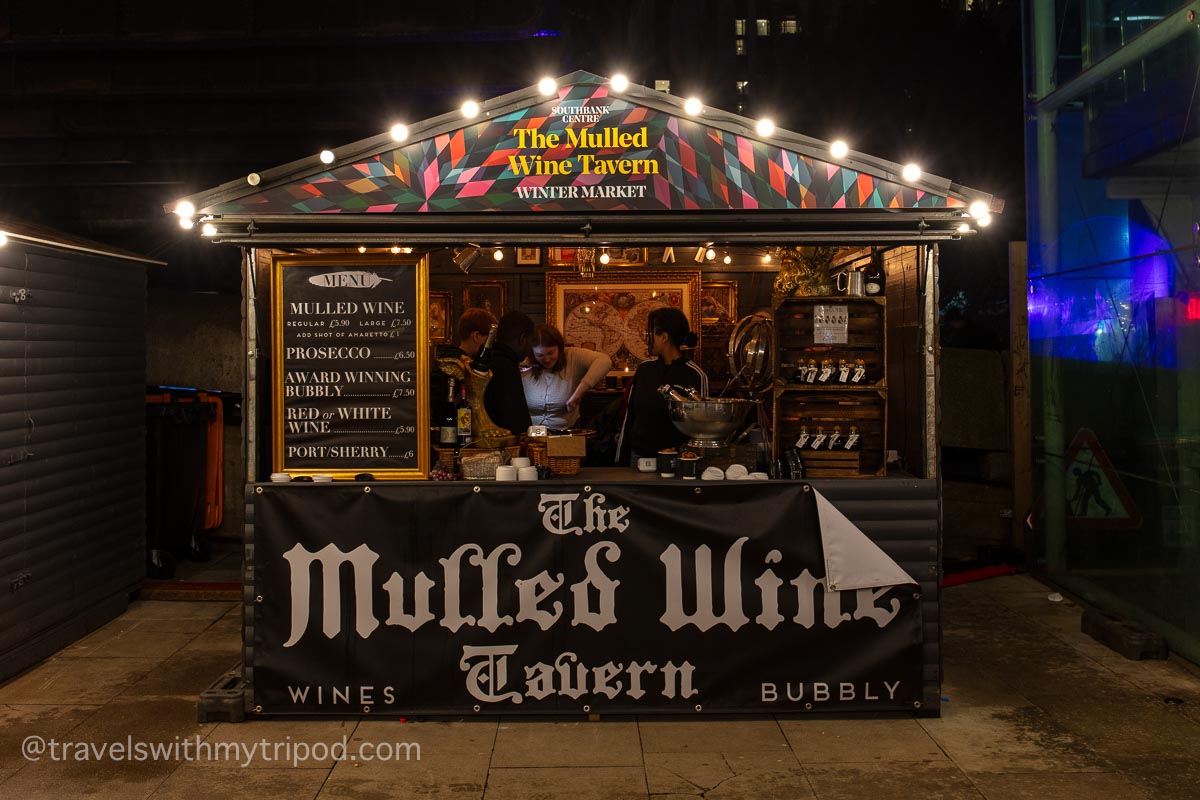 If you're looking to buy gifts, you'll find a few stalls selling gifts like jewellery, old maps and bees wax candles.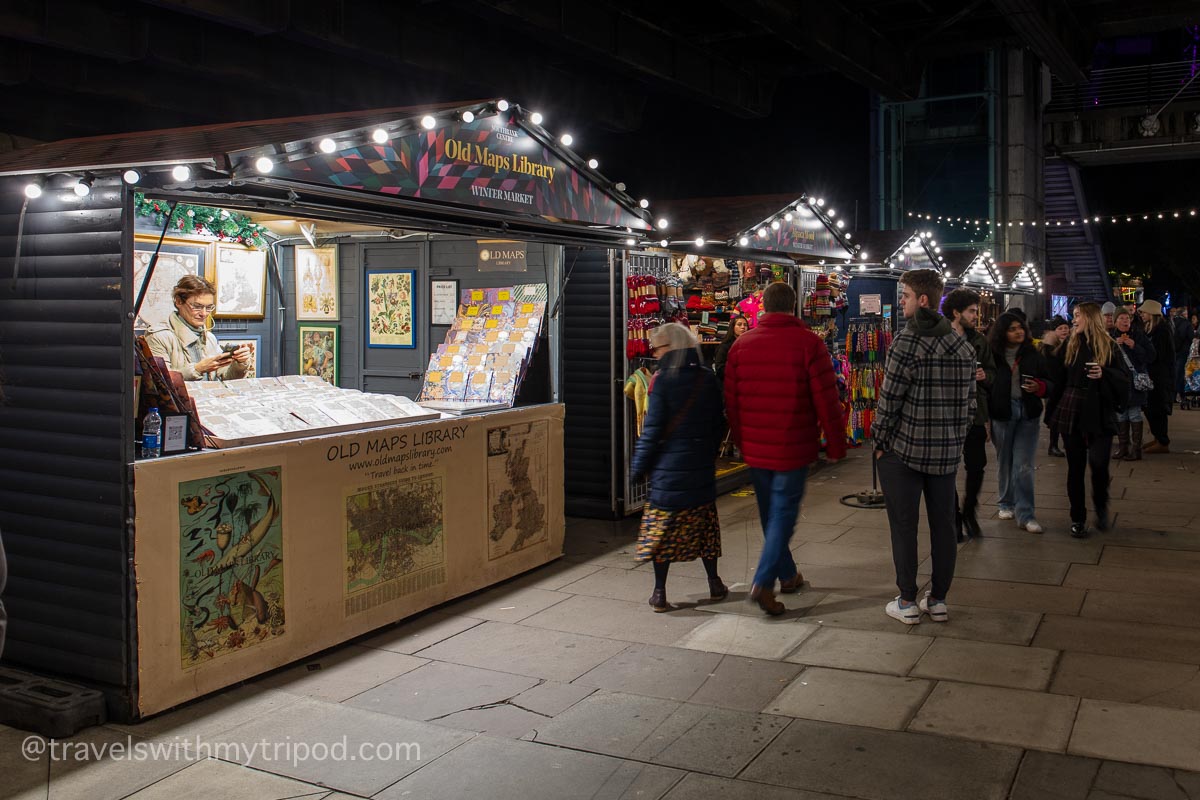 Curling
If you want to do something a bit more active than just browsing for gifts or feasting on street food, you can head to the Curling Club. Located next to the Royal Festival Hall, just under Hungerford Bridge, it's very close to the market stalls. Here you can book a curling lane for a game or two, and grab some food and drink in the apres-ski themed bar. You can find more details and book online on their website.
Fairground
There's also a mini-fairground very close to the London Eye. When I say mini, it just has the one ride – the Golden Carousel. Rides cost £3.50 per person.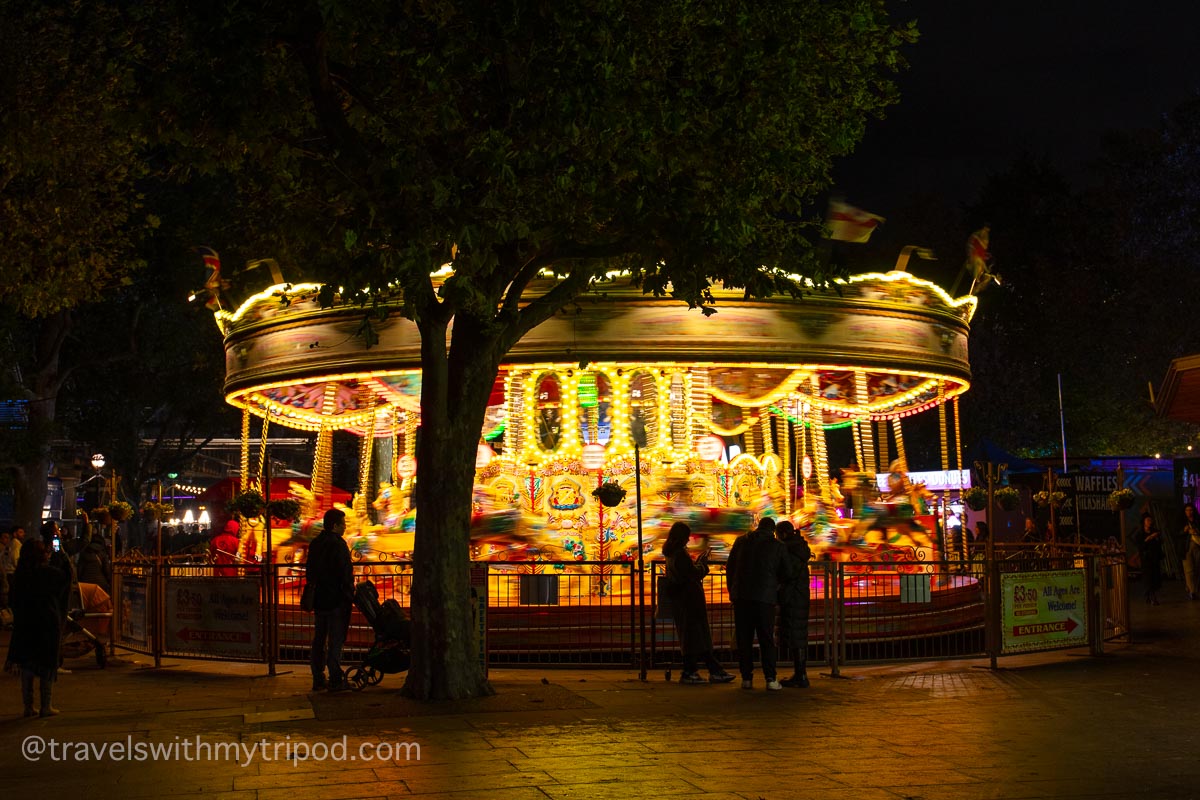 Between the Bridges
Close to the Golden Carousel you'll find Between the Bridges – a deceptively large venue featuring street food, bars and entertainment. There's both indoor and outdoor seating, a number of bars and two venues. It's free to get into Between the Bridges, but you will need to buy tickets to get into some of the performances. You can find a schedule of acts and book tickets online on their website.
Dates: 2nd November to 26th December
Times: Sun – Thurs 11 a.m. – 10 p.m.
Fri & Sat 11 a.m. – 11 p.m.
Christmas Eve 10 a.m. – 4 p.m.
Closed Christmas Day
Boxing Day 11 a.m. – 3 p.m.
Nearest Tube: Waterloo
Cost: Free