Don't let the rain ruin your day! London is a city of endless possibilities, even when the skies open up.
If you visit London, the chances are it will rain at some point. But don't despair – whether you seek shelter within world-class museums, cozy up in charming tearooms, or embark on unique indoor adventures, this guide will unveil the myriad of exciting possibilities for an unforgettable rainy day in the UK's capital.
So, grab your umbrella and prepare to unlock the secrets of London's hidden gems indoors while the rain creates a beautiful symphony on the city's streets. There's no time to waste – let's dive into a day of adventure that even the rain can't dampen.
Activities
Bowling – Enjoy a game of bowling at All Star Lanes at various locations in London. Website
F1 Arcade – Race a virtual F1 car in this full-motion simulator. Nearest Tube: St Paul's. Website
Flight Simulator – Experience the thrill of flying a Boeing 737 in a realistic flight simulator. Nearest Tube: South Ealing. Website
Go Karting – Drive the UK's fastest indoor go karting track at Capital Karts in Canary Wharf. Nearest Tube: Canary Wharf. Website
Indoor Ice Skating – Go for indoor ice skating. Various ice skating rinks throughout the city.
Indoor Mini Golf – Try indoor mini-golf at various venues. Various indoor mini-golf venues.
Indoor Rock Climbing – Try indoor rock climbing. Various climbing centers throughout the city.
Indoor Swimming Pool – Enjoy a swim at an indoor pool with slides at Waterfront Leisure Centre, Woolwich. Nearest Tube: Woolwich. Website
Luxury Spa Day – Relax with a spa day or massage. Various luxury spas throughout the city.
Attractions
Food and drink
A rainy day is the perfect excuse to treat yourself to a nice meal, or a leisurely afternoon tea.
Afternoon Tea – Indulge in a traditional British tea experience. Various tea rooms throughout the city, often near Tube stations.
Cat Cafe – Enjoy a drink or snack in the company of cats at Java Whiskers in Marylebone. Nearest Tube: Oxford Circus. Website
Cooking Classes – Learn to cook with various cooking schools and classes throughout the city.
Riverside Dining – Dine with a view of the River Thames. Various riverside restaurants, e.g., near London Bridge or South Bank stations.
Traditional English Breakfast – Enjoy a hearty English breakfast. Various cafes and restaurants, often near Tube stations.
Traditional London Pubs – Savor a meal and a pint at a cozy pub. Various pubs throughout the city, often near Tube stations.
Twinings Tea Shop – Visit the oldest tea shop in London. Nearest Tube: Strand or Temple. Website
Galleries and libraries
If you'd prefer to shelter from the rain and admire some artwork in a gallery, then London will not disappoint. There are many galleries located across the city, with a huge variety of artwork on display.
Gardens
Barbican Conservatory – Explore tropical plants in a giant greenhouse. Nearest Tube: Barbican. Website
Kew Gardens – Marvel at one of the world's most famous botanical gardens. Nearest Tube/Train: Kew Gardens or Kew Bridge. Website
London Terrariums – Create your own botanical creation at a workshop run by London Terrariums. Nearest Tube: Shoreditch High Street. Website
Historic buildings
Markets
Museums
A rainy day in London is the perfect opportunity to visit one of London's many museums. From natural history to the early days of medicine, there's a museum for almost any subject somewhere in London.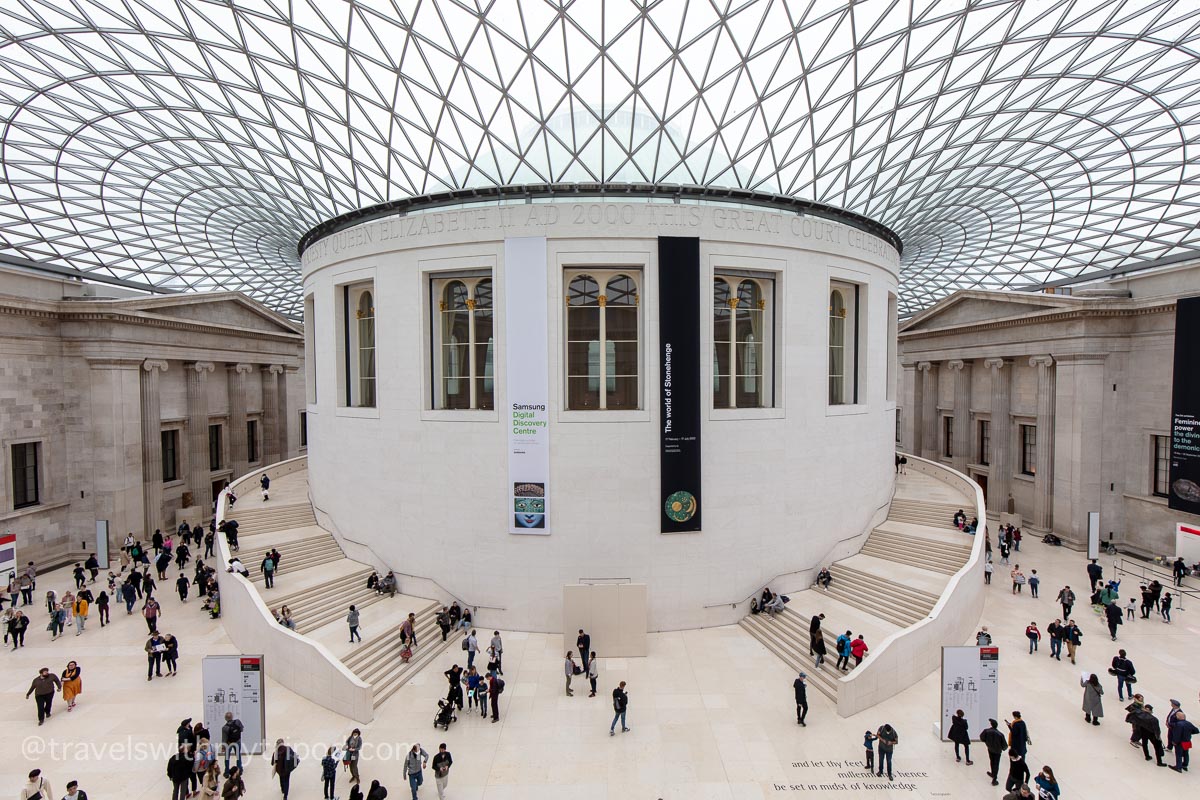 Music, theatre and cinema
What better way to stay dry on a rainy day in London than by taking in a show, or watching a film.
Independent Cinemas – Watch a movie at unique independent cinemas. Various independent cinemas, often near Tube stations.
Live Music Concerts – Attend a live music concert or performance. Various music venues throughout the city.
Royal National Theatre – Watch a play at this prominent theater. Nearest Tube: Waterloo. Website
West End Theatres – Enjoy a world-class theater performance. Various theaters near Leicester Square, Covent Garden, or Piccadilly Circus.
Roman London
Explore London's Roman history at one of these locations – all under cover.
Shopping
Shelter from the rain and treat yourself to something nice at one of these shopping destinations.
Viewing galleries
Sometimes it's nice to stand inside and watch the rain. These viewing galleries give you the opportunity to gaze across London from above.
Horizon 22 at 22 Bishopsgate – Take in panoramic views of London from London's highest free viewing gallery. Nearest Tube: Liverpool Street. Website
The Lookout at 8 Bishopsgate – Admire London's iconic landmarks from the 50th floor. Nearest Tube: Liverpool Street. Website
The View from The Shard – Enjoy stunning views of London from the tallest building in Western Europe. Nearest Tube: London Bridge. Website