Christmas in London is a wondrous experience. As the city sparkles with festive lights and the air fills with the scent of mulled wine, London transforms into a winter wonderland during the Christmas season.
The weather may be cold and gloomy, but there is a treasure trove of festive delights to entertain you. From enchanting markets to ice-skating under the stars, there's something for everyone.
Join me on a journey through the capital's most enchanting experiences, guaranteed to fill your heart with yuletide cheer. Regardless of whether you're a local or visiting for the holidays, this guide unwraps 25 festive ways to celebrate Christmas 2023 in the heart of the city – one for each day of December until Christmas Day. Whether you're in search of a romantic evening, family fun, or last-minute Christmas shopping, you won't run out of things to do in London at Christmas.
1. Explore London's Christmas markets
For me, it wouldn't be Christmas in London without exploring at least one or two of the Christmas Markets. They range from small pop-ups that appear at the start of November, to the famous permanent markets such as Covent Garden and Greenwich Market.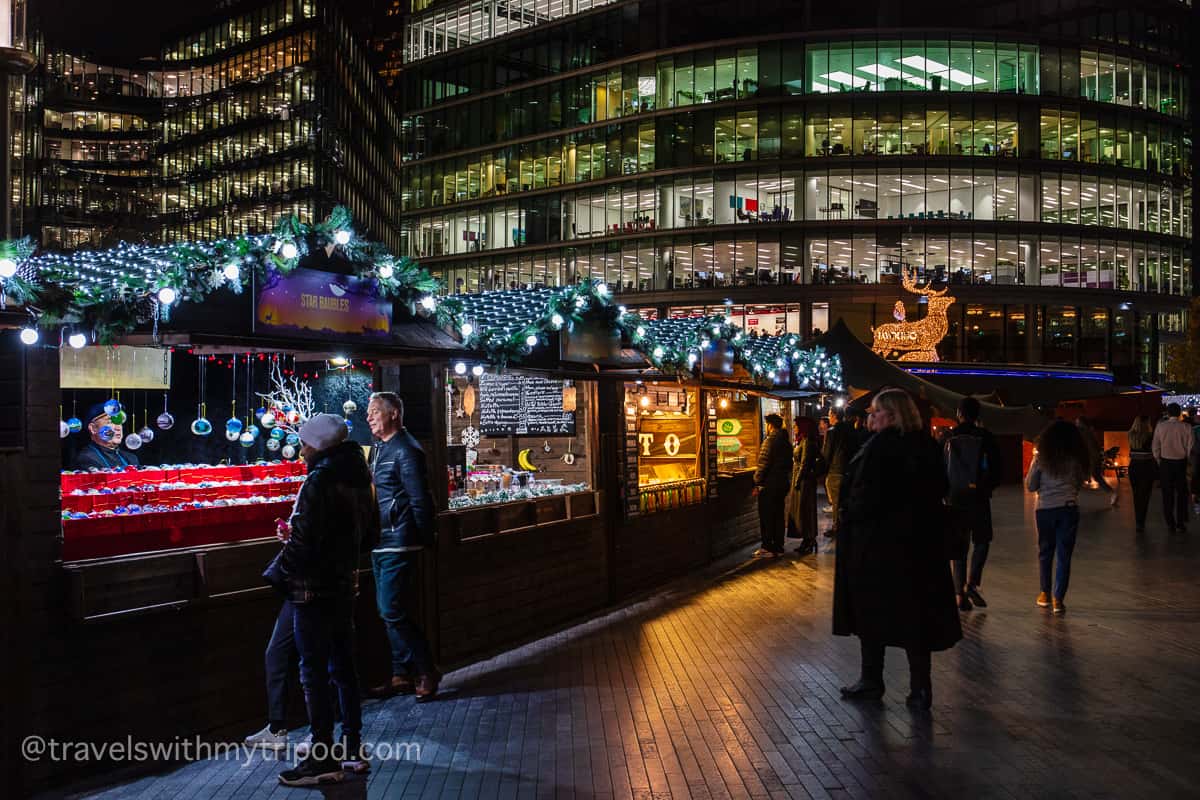 Most of them have similar stalls selling Christmas decorations and souvenirs, but you can usually find hand-made gifts too. These markets also have festive food stalls, and are a great place to grab some tasty street food and a cup of mulled wine.
Here's my pick of the best Christmas markets in London.
Winter by the River
Located on the south bank between Tower Bridge and London Bridge, this market is in one of the most iconic locations in London. Enjoy some tasty street food as you stroll along the River Thames taking in the famous views.
Covent Garden
The famous market at Covent Garden gets a Christmas make-over during the festive season, and it's one not to be missed. Admire the large Christmas tree, Christmas decorations and street performers. You can also shop from a wonderful mix of boutique shops and stalls.
Leicester Square
Small in size, but definitely not in atmosphere, the Christmas market in Leicester Square is well worth a visit. You can also visit the award-winning cabaret spectacular La Clique, featuring circus, comedy and cabaret.
You can find out more in my guide to the Best Christmas Markets in London.
2. Go ice skating outdoors
When the weather turns cold, embrace it and venture onto the ice with a pair of skates. There are a number of open-air ice-skating rinks that pop-up in the run up to Christmas. Here are a few of my suggestions.
Somerset House
One of the highlights of Christmas, Somerset House transforms its courtyard into a festive destination with a Swiss theme. As well as the ice rink, you can also admire the 40ft Christmas tree as you listen to the rink-side DJs, and eat at a pop-up alpine restaurant. More details on their website.
Greenwich
Probably one of the only ice rinks set inside a UNESCO World Heritage Site, this one is surrounded by historic buildings, with impressive views. More details on their website.
Battersea Glide
Another ice rink set alongside one of London's iconic buildings, Glide at Battersea Power Station offers 3 inter-linking rinks, and a 30ft Christmas tree. Once you've finished your skating session, you can warm up with a drink in the Glass House or enjoy one of the fairground rides. More details on their website.
3. Shop at a famous department store
London is famous for some of its department stores, and they are especially impressive at Christmas. It's the ideal time to do some shopping for gifts, and also enjoy the impressive displays.
Harrods
Possibly the most famous shop in the world, Harrods has over 300 departments, including fashion, beauty and jewellery. They also have a large food hall selling everything from mince pies to their famous hampers.
Fortnum & Mason
One of my favourite stores in London, Fortnum & Mason impresses with both its festive display outside, and the treats for sale inside. Their Christmas hampers are famous over the globe, and for good reason.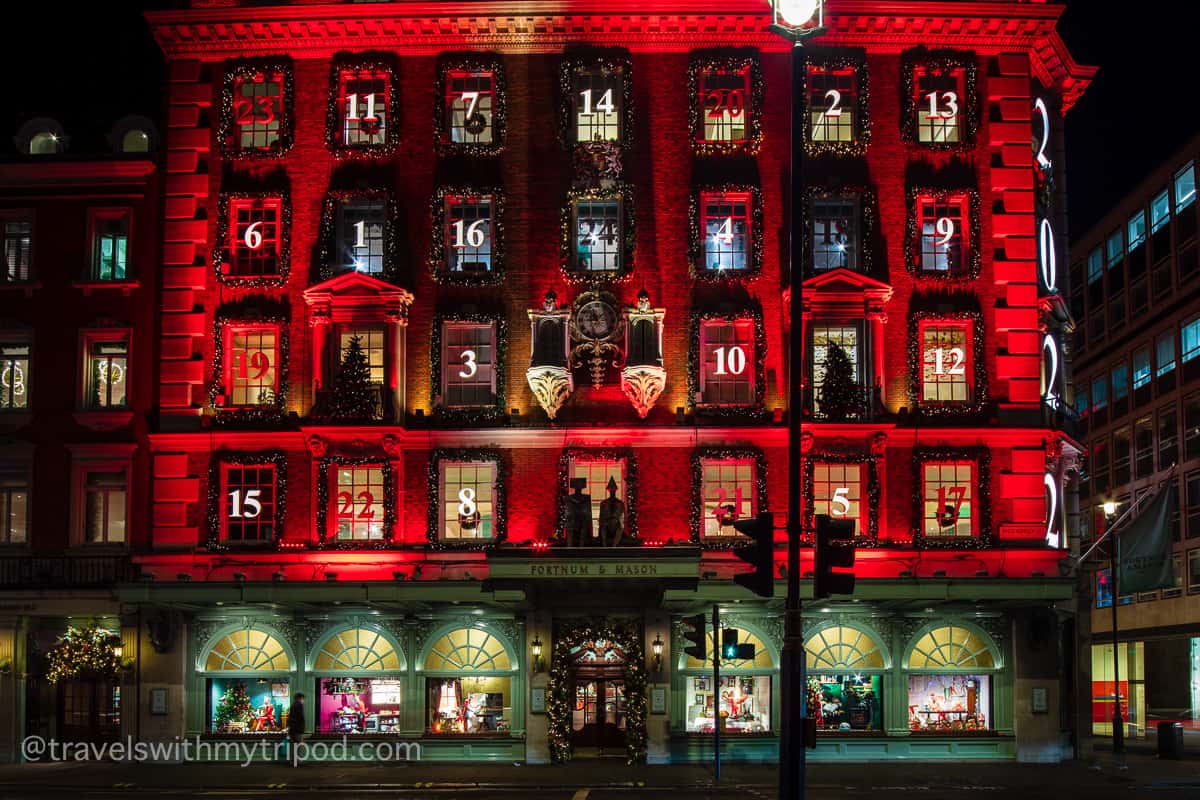 Selfridges
Selfridges is one of the most famous and largest department stores in London, and well worth a visit before Christmas. Buy anything from a new outfit for a Christmas party to gifts for your loved ones. If you're not in a shopping mood, then their window display is well worth a look even if you don't venture inside.
Liberty
Famous for both the mock-Tudor exterior and floral print fabrics for sale inside, Liberty is a great place to shop for gifts, as well as Christmas decorations in their Christmas shop.
Hamleys
This one is for the kids (young and young at heart) who love Christmas. Hamleys is the oldest, and one of the largest toy shops in the world. With 7 floors of toys, it's the ideal place to shop for the perfect present.
4. Admire London's Christmas lights
London's Christmas light displays transform the capital into a dazzling Christmas spectacle.
Famous streets and iconic buildings compete with each other to create the most impressive displays, and you can enjoy these for free as you wander through London.
Some displays are the same as previous years, while others, such as Carnaby Street, have a different theme each year. Most are located near to each other, so you can see the majority of them in one evening. A couple of my favourites are:
Regent Street
This is where the tradition of Christmas lights in central London began in 1954, with a series of angels playing trumpets called "The Spirit of Christmas". This tradition continues today with giant figures spanning the street all the way from Langham Place down to Waterloo Place in St James's.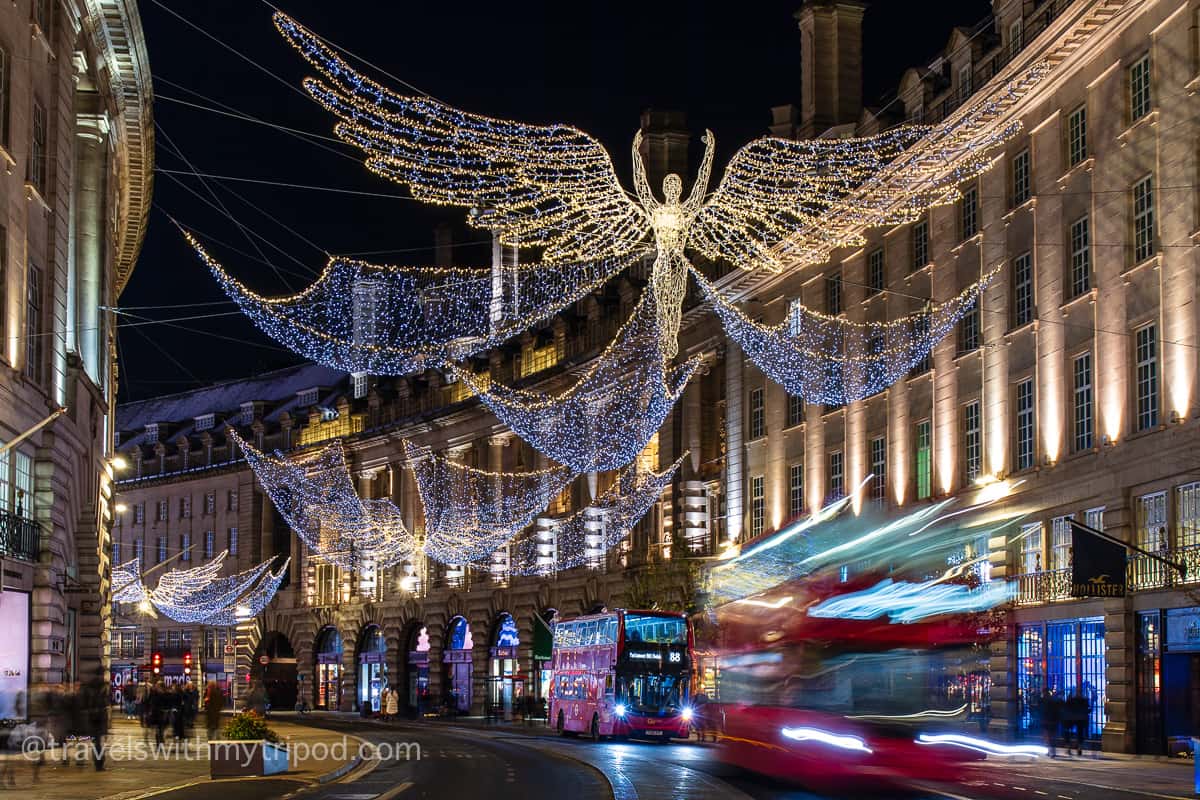 Carnaby Street
Unlike some of London's Christmas light displays, Carnaby Street puts on a new display every year. Definitely pay this famous shopping area a visit after dark, and enjoy its festive illuminations.
You can find a full list with switch-on dates and a map in my guide to the Best Christmas Lights in London.
5. Visit Winter Wonderland at Hyde Park
Hyde Park Winter Wonderland is London's biggest winter attraction. It covers a large part of the famous Hyde Park, and there's something for everyone there.
There's a large Christmas market, with over 100 wooden stalls selling gifts and food. You can also visit a number of attractions including a Christmas circus, ice sculptures, roller coasters and more! Or if that's not enough, how about getting your skates on and sliding around the UK's largest open-air ice rink.
Another highlight is the 70m high Giant Wheel – offering fantastic views over London. It can get busy there, so it's recommended to book in advance.
Dates: 17th November 2023 to 1st January 2024
Times: 10 a.m. – 10 p.m. Mon – Sun
Nearest Tube: Hyde Park Corner, Knightsbridge, Marble Arch, Victoria, Green Park. Please note that Hyde Park Corner and Marble Arch can get very busy during peak times, so it's advisable to use alternative stations.
Cost: Up to £7.50 per person (adult and child) to enter, plus additional fees for rides and attractions. Available to buy in person, or in advance on their website.
6. Stroll through Christmas at Kew
Christmas at Kew is one of my highlights of the Christmas season in London.
The famous gardens transform into a spectacular festive trail, with illuminations and sounds providing an immersive experience. Walk through tunnels of light, past trees drenched in colourful light and pause by the flickering flames in the fire garden.
You'll be able to enjoy tasty food as you walk from the variety of street food stalls along the trail, as well as a warming hot drink.
The trail is around 3km long, and can take over 2 hours to complete so make sure you dress up warm! If you'd like to find out more, you can check out my review of Christmas at Kew.
Dates: 15th November 2023 to 7th January 2024
Times: 4:20 p.m. to 10 p.m. (last entry 8 p.m.)
Nearest Station: Kew Gardens or Kew Bridge
Cost: £22.50/£29 (off-peak/peak) for an adult. Tickets must be booked in advance via their website.
7. Experience Christmas at Kenwood
An alternative to Christmas at Kew, Kenwood House also hosts an enchanting light trail, this one set in the grounds of a historic building.
The trail is slightly shorter than the one at Kew, being around 2km in length, and should take about 1 hour to complete.
Dates: 1st December 2023 to 1st January 2024 (closed 4/5 and 25 December)
Times: 4:30 p.m. to 8 p.m.
Nearest Station: Kew Gardens or Kew Bridge
Cost: £22/£30 (off-peak/peak) for an adult. Tickets must be booked in advance on their website.
8. Watch a Christmas Pantomime
For anyone reading this from outside the UK, you might not be aware of our Christmas pantomime tradition. These are music comedy stage productions, and are usually based on well-known children's stories like Sleeping Beauty, Aladdin and Peter Pan.
They're performed all over the country, from small village halls right up to famous theatres. Quite often you'll find well-known celeberaties performing the lead roles in the bigger productions. Here's my pick of some of the best ones to check out this Christmas!
Peter Pan at the London Palladium
Featuring an all-star cast including Julian Clary, Nigel Havers and Jennifer Saunders this is the biggest of the London pantos. You can find out more, and book tickets online on their website.
Aladdin at the Hackney Empire
A Christmas favourite, and although the cast isn't as famous as some other productions, this one will be no less entertaining! Details and tickets are available online on their website.
Cinderella at the Lyric Hammersmith Theatre
A pantomime classic, this version is sure to entertain you at the famous Lyric theatre in Hammersmith. Find out more and buy tickets online on their website.
9. Go to the theatre
As well as pantomime, there are a number of festive theatre productions showing over the Christmas period. Here are a few of my top picks!
Christmas, Actually at the Royal Festival Hall
This is a star-studded night of Christmas entertainment, curated by Love Actually writer and director Richard Curtis himself. There will be live music, Christmas stories, poetry and comedy. You can get more information and buy tickets online on their website.
Elf the Musical at the Dominion Theatre
A classic Christmas film, Elf has been adapted for the stage and is back again for the second year running after a sell-out run in 2015. Showing from 15th November to 6th January 2024, you can book in advance on their website.
A Christmas Carol at the Old Vic
Is there a story that says Christmas more than A Christmas Carol by Charles Dickens? This particular version stars former Doctor Who Christopher Eccleston as Scrooge, and returns for its 7th year at the Old Vic near Waterloo. Book online at the Old Vic's website.
10. Sing Christmas carols
It's hard not to get into the festive spirit when you're enjoying Christmas carols performed by a choir, or even joining in yourself. There are numerous Christmas Carol performances across London, but these are a few of my favourites. Look for one by candlelight if you want that extra special Christmas feel!
St Paul's Cathedral
You can't get much more uplifting than celebrating Christmas at the iconic St Paul's Cathedral. They have a series of Christmas Carol services in the run up to Christmas. These are free, although most require a ticket to be booked in advance. You can do this online on their website.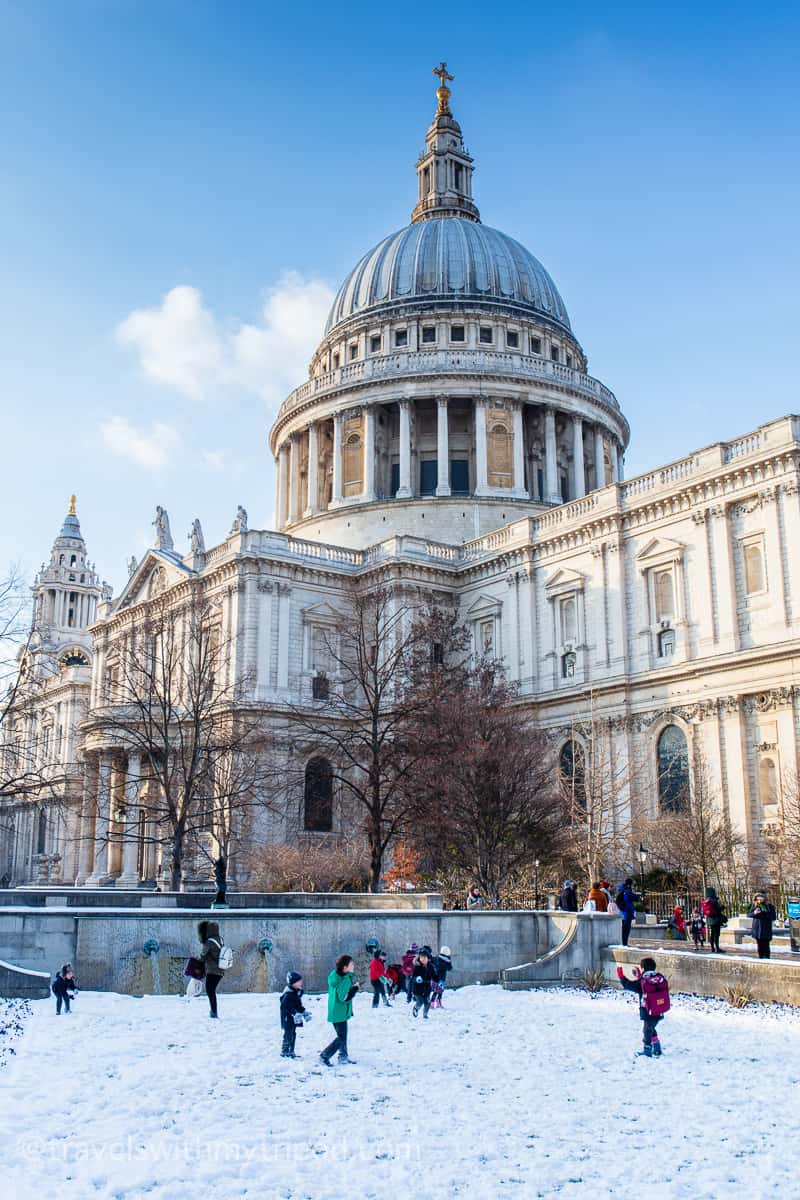 Royal Albert Hall
Another iconic venue to visit, the Royal Albert Hall is one of my favourite places to watch a show, and at Christmas they put on a spectacular sing-along carols concert. Just make sure you take a Christmas hat, and wear your favourite Christmas jumper! These sell out quickly, so make sure you book in advance online.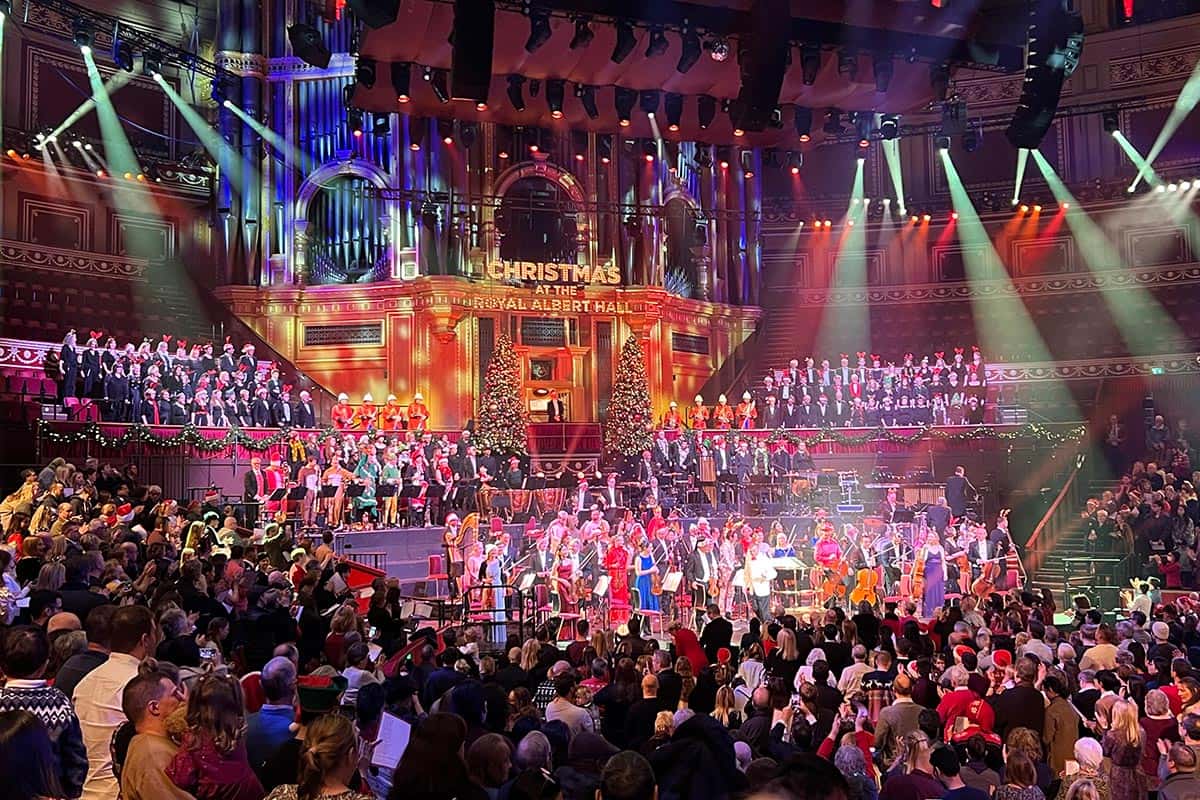 St Martin in the Fields
This intimate and atmospheric venue is perfect for a Christmas carols concert by candlelight. Located in Trafalgar Square, it's right next door to the Christmas market and famous tree too. Find out more and book tickets online on their website.
11. Enjoy a festive Afternoon Tea
The festive season is a time to indulge ourselves, and leave thoughts of diets and healthy eating until the new year. Make the most of this by enjoying one of the festively themed afternoon teas at venues across London. A few of my suggestions are:
Claridge's
Famous for their afternoon teas, Claridge's serve a festive version which includes roasted turkey sandwiches and a Black forest Christmas tree dessert. Make a reservation on their website.
Harrods
Another iconic venue to enjoy an afternoon tea, Harrods have prepared a special Christmas version with a festive twist. Turkey and cranberry sandwiches are on the menu, as are festive desserts. Find out more and reserve a spot on their website.
The Langham
Enjoy a festive feast at the birthplace of the Afternoon Tea – the Palm Court at the Langham hotel. Delicious food in stunning surroundings, it's the perfect way to treat yourself or a loved one. Find out more and book a table on their website.
12. Experience La Clique at Spiegeltent
La Clique is a spectacular show featuring cabaret, circus, comedy and music. It's held in Spiegeltent, a large tent located in the Leicester Square Christmas Market.
The show contains partial nudity, strong language and adult themes so is recommended for audiences aged 16+
Performances run from 8th November to 6th January 2024, and you can book tickets online on their website.
13. Immerse yourself into Christmas at Wishmas
If you like your Christmas entertainment to be more interactive, then Wishmas might be just for you! It's an immersive walkthrough experience where you meet live festive characters as you explore magical rooms. Aimed more for kids than adults, it's a fun family experience and you get to make your own Christmas decoration at the end.
It's a new experience from the creative minds behind Secret Cinema, and the whole experience will take around 60-75 minutes. If you want to find out more, you can read my full review of Wishmas.
Dates: 14th November 2023 to 7th January 2024 (closed Mondays, 25th December and 1st January)
Times: 10 a.m. to 8 p.m.
Nearest Station: Waterloo
Cost: £29 (standard) to £79 (Meet & Greet experience). It's recommended to book in advance on their website.
14. Visit the ballet
If you're in the mood for some ballet in the run up to Christmas, there are several great options including two different productions of the Nutcracker.
The Nutcracker at the Royal Opera House
With music by Tchaikovsky, the Nutcraker is a perenial Christmas favourite. Watch this production by Peter Wright at the Royal Opera House. It runs from 6th December to 13th January 2024. Tickets are available at the Royal Opera House website.
The Nutcracker at the London Coliseum
Another production of the festive favourite, this one is put on by the English National Ballet. Performances run from 14th December to 7th January 2024. You can find out more details and book tickets in advance at the London Coliseum's website.
Edward Scissorhands at Sadler's Wells Theatre
While not as traditional as the Nutcracker, this production of Edward Scissorhands by Matthew Bourne will be just as magical, and a great option if you want something a little less traditional. It runs from 5th December to 20th January 2024, and tickets can be purchased online at the Sadler's Wells website.
15. Raymond Gubbay Christmas Festival at the Barbican
If you can't quite decide what to do this Christmas, then take a look at what's on at the Barbican. The Raymond Gubbay Christmas Festival features a variety of events through the festive season. If it's films you're after then you can choose from the London Concert Orchestra playing music from classic Christmas films, or Love Actually with a live orchestra.
There are also choir performances, candlelit carols and a tale of Christmas told by Horrible Histories.
Dates: 16th December to 1st January 2024
Times: Varies depending on the event
Nearest Station: Barbican
Cost: Varies – details and online booking on the Barbican website.
16. Watch a festive film
Christmas is a wonderful time for watching a classic film. Here are a few suggestions for where you can catch a Christmas film:
St Katherine Docks Christmas Floating Film Festival
Tucked away just next to the Tower of London is one of London's hidden gems – St Katherine Docks. During December they run their floating film festival, where you can snuggle up under a warm blanket on a floating platform and watch from a choice of films.
More details and a schedule of screenings can be found on their website.
Luna Winter Cinema at Kensington Palace
This must be one of the most impressive locations for a cinema – the spectacular Kensington Palace! From 11-15th December you can enjoy some of the best festive films on a big high-definition screen. Films include Miracle on 34th Street, Love Actually and Die Hard.
You can view a full schedule and book tickets online on their website.
Price Charles Cinema
Tucked away around a corner just off Leicester Square is the Prince Charles Cinema. They put on a veritable feast of Christmas films over the festive period – and some not quite so festive!
The list of films includes Christmas classics like It's a Wonderful Life, Elf, Home Alone and the Muppet Christmas Carol. They also have a few films that aren't usually regarded as Christmas staples, such as The Great Escape and Eyes Wide Shut.
A full list of films can be found on their website.
17. Visit the Charles Dickens Museum
You've probably watched The Christmas Carol by Charles Dickens, so why not pay a visit to the very home where he lived. The Charles Dickens Museum in Kings Cross is traditionally decorated in authentic Victorian style.
There are a few special Christmas events on during December, and if you visit on Christmas Eve, you'll get a free mince pie, along with mulled wine (or a soft drink) to help get you in the Christmas Spirit. There will be no bah humbug here!
Dates: Various throughout December
Times: Wednesday to Sunday from 10 a.m. – 5 p.m. (last entry at 4 p.m.)
Nearest Station: Russell Square
Cost: Standard entry £12.50 (adult), £6.50 (child over 6). Special events may cost more.
18. Take a festive river cruise down the Thames
Experiencing London from the river is a special treat, even more so at Christmas. Why not take a festive boat cruise down the river and enjoy a Christmas lunch or dinner party.
Enjoy views of some of London's iconic landmarks from the comfort of a boat as you enjoy a drink and a 3 course traditional Christmas dinner.
Dates: 25th November through to December
Times: 1 p.m. – 4 p.m. and 7 p.m. – 11 p.m.
Nearest Station: Westminster
Cost: From £62 (adult) for lunch, £84 (adult) for dinner. Details and online booking on the City Cruises website.
19. Marvel at a Gingerbread City
Discover a whole city made entirely from gingerbread, candy and frosting, including moving trains! From the Museum of Architecture, this exhibition is located at Westfield London at White City, just opposite clothing store NEXT.
If you want to get more hands-on, you can sign up for a gingerbread workshop experience and create your own masterpiece, although this does cost extra.
Dates: 2nd December to 7th January 2024
Times: Monday – Saturday 10 a.m. – 9 p.m. Sunday 12 p.m. – 6 p.m.
Nearest Station: Shepherd's Bush
Cost: £18.50 (adult) £12.50 (child) for the exhibition. More details and online booking on their website.
20. Westminster Abbey
Westminster Abbey is one of the most famous buildings in the world. Founded over 1,000 years ago, it has played an important part of British history ever since. Since 1066, all British monarchs have been coronated here, and it has been the final resting place for 17 monarchs.
You too can be part of it's history by attending an event here in the run up to Christmas.
There are a number of advent and Christmas events taking place, including a performance of Handel's Messiah on 5th December, and a Christmas Concert on the 20th.
Some events are free, while others cost between £15 – £55 depending on the event. Some of the free events require you to book in advance, so it's always worth checking on their website.
Dates: 3rd – 25th December
Times: Varies
Nearest Station: Westminster
Cost: Free – £55 depending on the event. A list of events, and details of how to book can be found on their website.
21. See a dinosaur wearing a Christmas jumper at the Natural History Museum
You don't often see a life-size model of a Tyrannosaurus Rex, and its even less often you see one wearing a Christmas jumper. However if you visit the Natural History museum in November and December, you'll see their T-Rex looking very festive in a red Christmas jumper and hat.
As well as this, there are plenty of other things to see at the museum, including a gallery of all the winners of the Wildlife Photographer of the Year competition. You may even find a polar bear photo or two.
Entry to the museum is free, although it's worth booking a free ticket online for a specific time slot as it means you can skip the queues.
Dates: November – December (Christmas jumper display). Normal display at other times.
Times: 10 a.m. – 5:50 p.m. (last entry 5:30 p.m.) 7 days a week. Closed 24-26 December
Nearest Station: South Kensington
Cost: Free entry to the museum, exhibitions cost extra. Details and online booking available on their website.
22. Take a festive bus tour around London
There's so much to see in London over the Christmas period, and a great way to experience a lot of the sights without too much strain is to take a festive bus tour.
You can enjoy the best of London's Christmas lights from the comfort of a bus along with commentary from a guide. Or if you really want to get into the Christmas spirit, how about a singalong tour with mince pies and festive drinks?
Dates: 11th November – 2nd January 2024
Times: 5 p.m. – 9 p.m. start time, tours last 90 minutes.
Nearest Station: Victoria or Westminster
Cost: From £29 (adult). You can find more details, and book tickets online on the Golden Tours website.
23. Enjoy a meal inside an igloo
I do enjoy the crisp cold temperatures at Christmas time. It really makes you feel festive when you're wrapped up warm despite the cold weather. However if you want to enjoy eating outside, it does make things difficult. The answer to this is to dine in an igloo restaurant.
Here are some of my recommendations:
Fire and Fromage
A pop-up restaurant on the Southbank near Waterloo bridge, these snow globes have a river view across to Big Ben. Enjoy a tasty 3 course set menu, or a champagne and fondue feast. Website.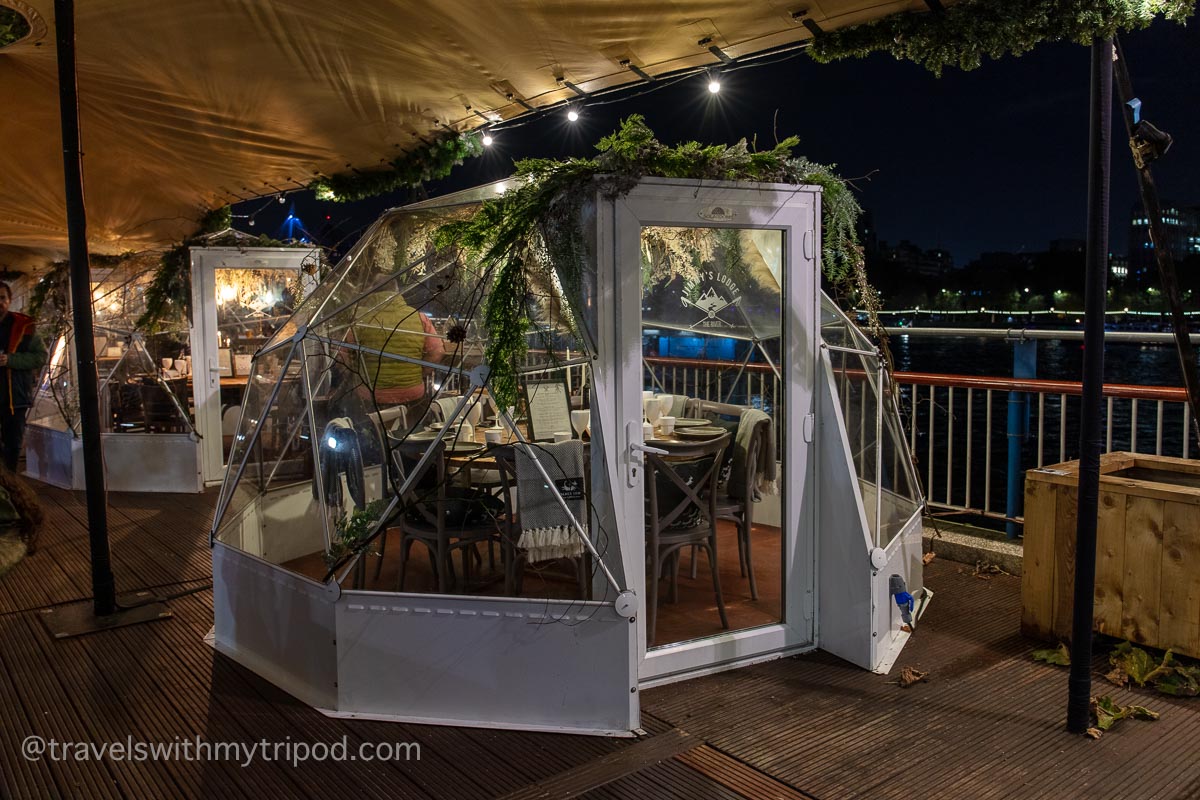 Coppa Club at Tower Bridge
These igloos are permanent, so not just for Christmas, and seat up to 10 people. They offer fantastic views over the river Thames and Tower Bridge. You can book online at the Coppa Club website.
24. Meet Santa at London Zoo
Experience the magic of Christmas at London Zoo, and you can even meet Santa!
Dates: 25th November – 7th January 2024
Times: 5 p.m. – 9 p.m. start time, tours last 90 minutes.
Nearest Station: Victoria or Westminster
Cost: £27 (adult) £18.90 (child) for admission to the zoo. Additional charge for meeting Santa You can find more details, and book tickets online on the London Zoo website.
25. Admire Christmas window displays
A number of stores in London go all out to dress up their windows with amazing Christmas displays. Most of these are found around Bond Street – here are some of my favourites:
Selfridges
Even if you don't step inside Selfridges, you won't fail to be impressed at their Christmas window display. This has been a Christmas tradition in London since 1909, and one that is well worth a visit.
Cartier
While not quite as large as Selfridges, the Cartier display is still well worth a visit, and just a few minutes walk away. While here, you can also check out a number of other displays on nearby stores.