London's Christmas markets are a treasure trove of festive delights, offering a charming array of handcrafted gifts, seasonal treats, and Christmas decorations. These bustling markets, nestled in some of London's most iconic locations, create a merry atmosphere that invites both locals and tourists to experience the magic of the season.
Imagine this: The air is filled with the tempting aroma of warm mulled wine, the soft glow of fairy lights twinkle everywhere you look, and sounds of festive tunes blend in with the noise of people enjoying themselves.
Christmas markets in London are not just markets; they are vibrant hubs of holiday enchantment, where the spirit of the season comes to life. But here's the twist – these magical moments are fleeting – so grab your chance to enjoy these markets while you can. In this article, I unveil the ultimate guide to London's Christmas markets to help you make the most of the 2023 festive season.
Types of Christmas market
There are two distinct types of Christmas market in London; pop-up and permanent.
Permanent markets open all year round, but become Christmas-themed towards the end of the year, with festive decorations, stalls and Christmas trees.
Pop-up markets consist of a number of temporary wooden huts selling gifts, food, drink and other items. Often there is a bar and eating area too. These are usually erected just for the Christmas season, so are usually in place from the middle of November. Some of these are operated by the same company, so some pop-up markets have similar stalls. You'll often find the same items for sale in many of the pop-up markets, such as Christmas ornaments, food and other gifts.
Because most of these markets are very similar, don't feel you're missing out if you don't visit them all – just pick one or two based on their location.
Most Christmas markets in London are free to visit – there is only one that you have to pay to enter, and that is Winter Wonderland at Hyde Park.
Opening dates and times
Most Christmas markets in London open in mid-November, and run until the end of the year.
The pop-up markets are generally open from late morning to night, 7 days a week – I'll update each listing once opening dates and times are confirmed.
Christmas markets in London
Listed in no particular order, here are my favourite Christmas markets in London.
1. Hyde Park Winter Wonderland
Winter Wonderland at Hyde Park is London's largest Christmas attraction, and is located right in the middle of the famous Hyde Park. It's much more than just a Christmas market though, and includes a number of other attractions and rides. There are roller coasters, ice sculptures, a giant wheel and even an ice bar. You can go ice skating at their ice rink, and even meet Santa at Santaland.
The Christmas market within Winter Wonderland is one of the largest in London, with more than 100 wooden cabins.
Entry is free during selected off-peak times, but at busier times it will cost up to £7.50 per person to get into. If you want to enjoy any of the attractions or rides, these cost extra although you can save a bit by buying in advance online. If you spend £25 on extras you'll get your entry for free. Full details of pricing can be found on the Winter Wonderland website [link].
If you just want to explore the market and don't have any interest in any of the other attractions, then I'd recommend going for one of the off-peak times to get free entry. It also gets busy in the evenings and at weekends, so if you prefer a less crowded experience then I'd suggest going before 4pm on a weekday.
Dates: 17th November 2023 to 1st January 2024
Times: 10 a.m. – 10 p.m. Mon – Sun
Nearest Tube: Hyde Park Corner, Knightsbridge, Marble Arch, Victoria, Green Park. Please note that Hyde Park Corner and Marble Arch can get very busy during peak times, so it's advisable to use alternative stations.
Cost: Up to £7.50 per person (adult and child) to enter, plus additional fees for rides and attractions.
2. Southbank Christmas Market
This market is one of the smaller Christmas markets in London, but it is in a great location. Situated just to the east of the London Eye on the south bank of the Thames, you get fantastic views across the river towards the Houses of Parliament and Big Ben to the left, and St Paul's Cathedral to the right.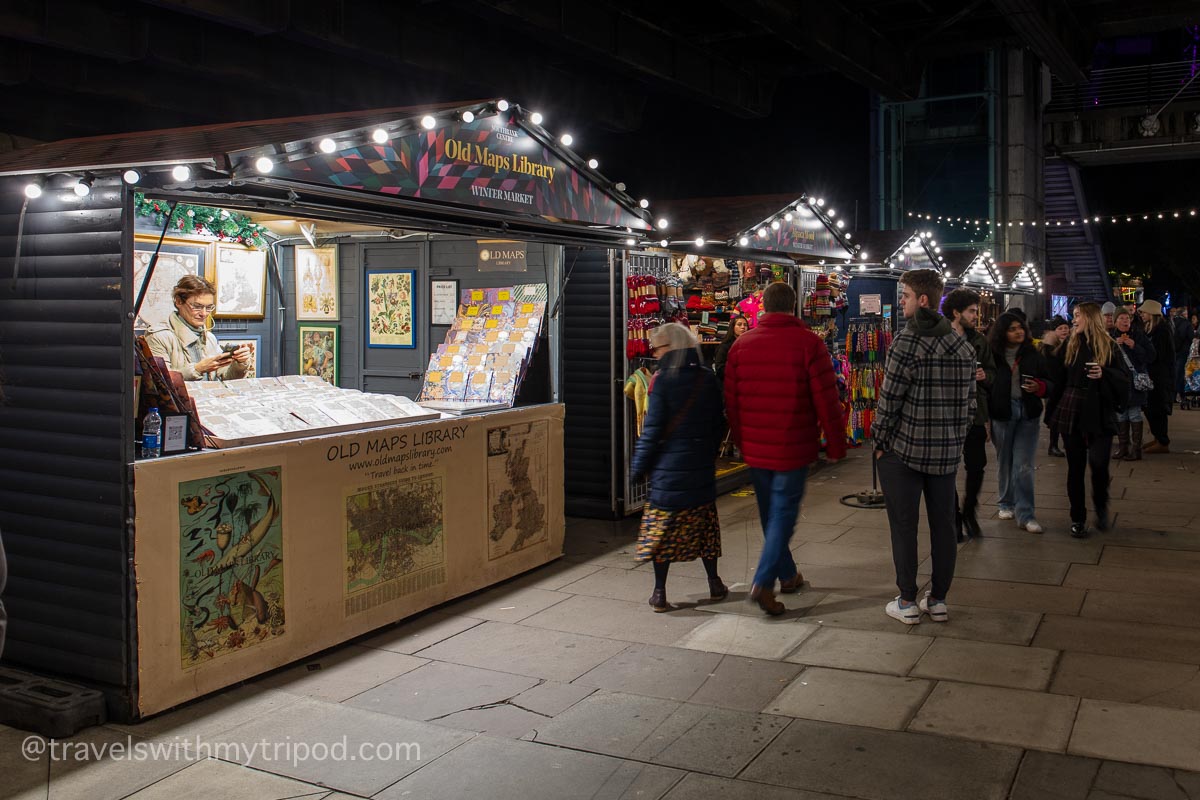 While it's not the biggest market in London, it's still worth a visit if you're in the area and ideal to combine with a trip to the London Eye or London Aquarium. Wandering along the south bank is enjoyable at any time, but it is even more so on a chilly winter evening with a cup of warm mulled wine in your hands as you admire the view.
There's a selection of chalets selling street food, drink and gifts, plus you can have a go at curling.
You can find out more in my in-depth review of the Southbank Christmas market.
Dates: 2nd November to 26th December
Times: Sun – Thurs 11 a.m. – 10 p.m.
Fri & Sat 11 a.m. – 11 p.m.
Christmas Eve 10 a.m. – 4 p.m.
Closed Christmas Day
Boxing Day 11 a.m. – 3 p.m.
Nearest Tube: Waterloo
Cost: Free
3. Trafalgar Square
Trafalgar Square at Christmas is best known for its famous Christmas tree, generously donated every year by Norway. However, did you know there is also a small Christmas market there too, nestling almost under the pine leaves, and in front of the National Gallery?
The market itself is pretty small, but there is still a decent selection of stalls selling Christmas ornaments, gifts and food. It's not the biggest or the best, but the location and view definitely makes it worth a visit.
While you're in the area, there are plenty of other things to do too, including checking out some of London's famous Christmas light displays, or even a Christmas carol concert at the nearby St Martin-in-the-Fields.
Dates: TBC
Times: TBC
Nearest Tube: Charring Cross, Leicester Square
Cost: Free
4. Christmas by the River at London Bridge City
Another Christmas market on the south bank of the River Thames, this one is located between Tower Bridge and London Bridge, very close to London Bridge station. The wooden huts stretch from The Scoop, past HMS Belfast all the way up to Hays Galleria, and include the usual selection of gifts, ornaments and food stalls. There is also a seating area and bar, so you can enjoy a drink and bite to eat. There is a wide variety of food on offer, including German Bratwurst, Mexican nachos (I can highly recommend these) and mince pies.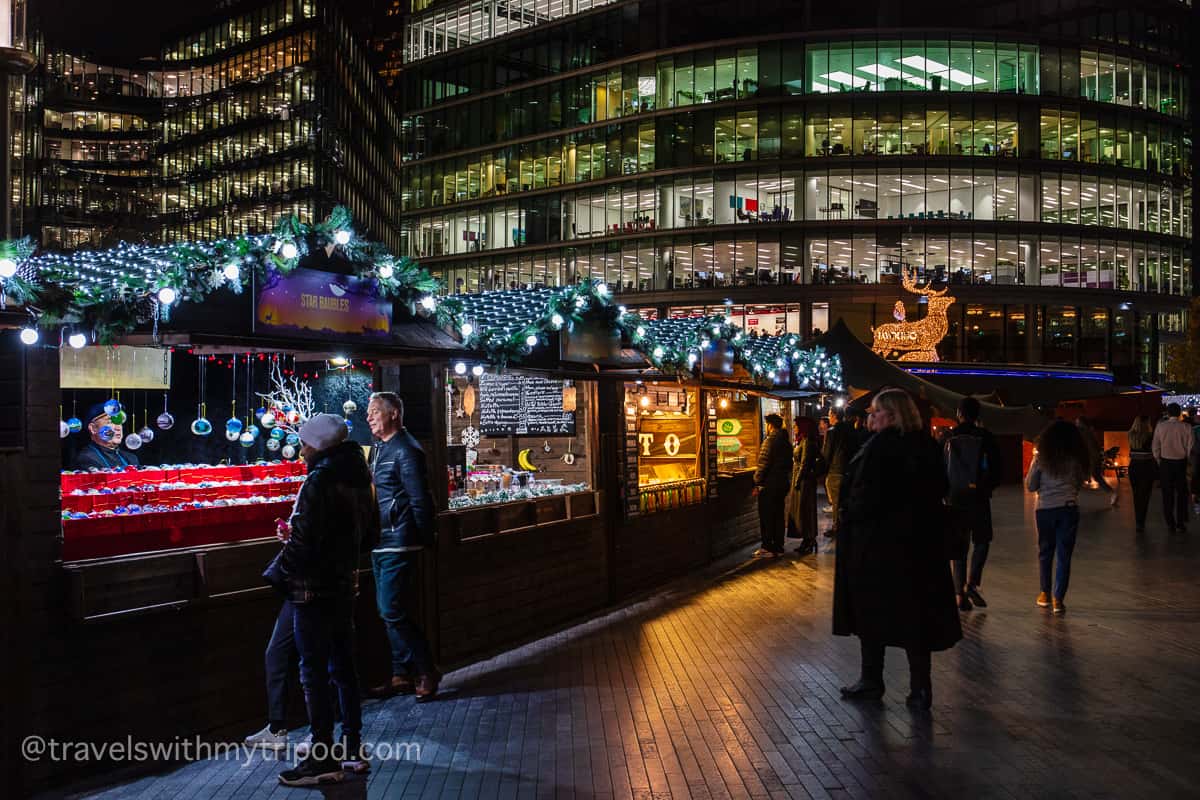 The location is fantastic, with views of Tower Bridge and the Tower of London just the other side of the river.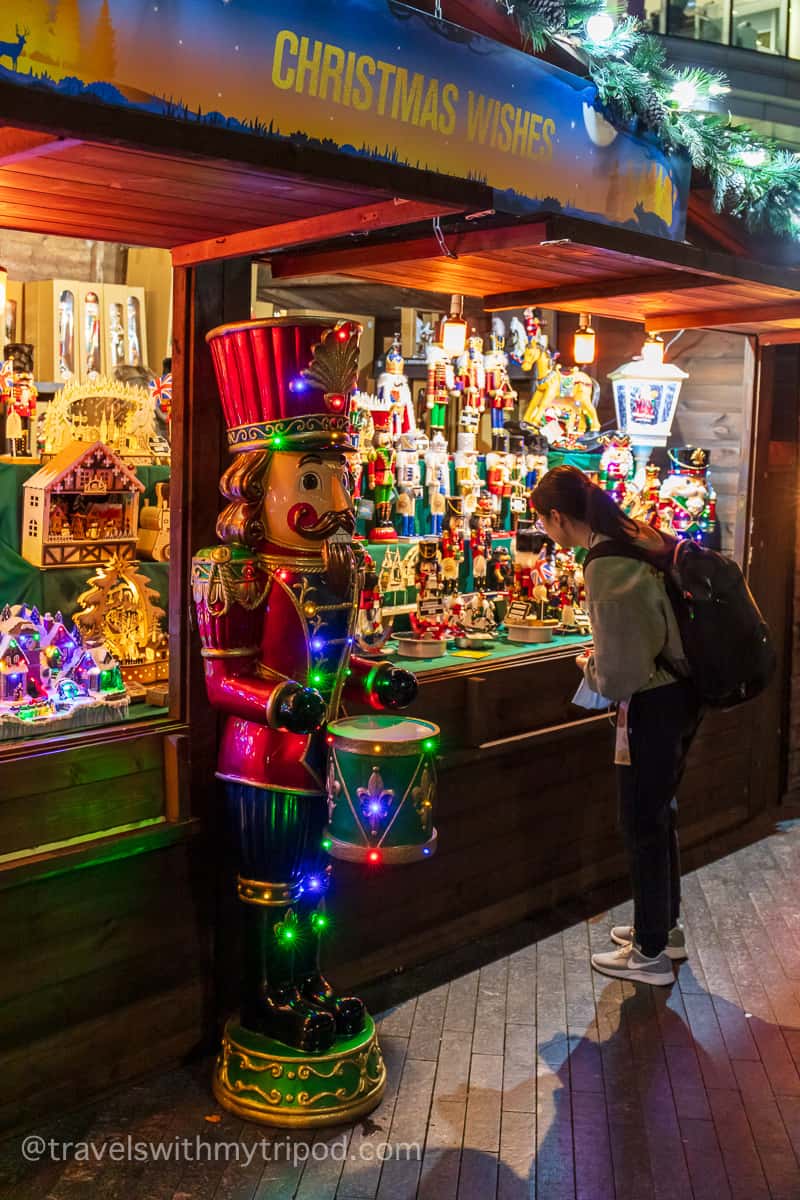 It can get quite busy in the evening, especially as the path narrows at certain points but overall, this market is well worth a visit. If you're making a day of it, you could combine it with a visit to one of the nearby attractions like Tower Bridge, or even a boat trip along the Thames from one of the nearby piers.
You can find out more in my in-depth review of Christmas by the River.
Dates: 14th November 2023 – 1st January 2024
Times: Sunday to Wednesday (11am until 9pm), Thursday to Saturday (11am until 10pm)
Nearest Tube: London Bridge, Tower Hill
Cost: Free
5. Greenwich Market
One of London's historic markets, Greenwich market sits very close to the Old Royal Naval College in South East London. It is a fairly small market in size, but is packed full of quality stalls selling arts, crafts and fashion items.
While here, you can also explore the historic maritime neighbourhood of Greenwich, illuminated in a festive light display. Nearby is also the ice rink at the historic Queen's House, ideal for a bit of winter ice skating.
While easy to get to on the DLR, why not embrace Greenwich's maritime history and take a river taxi there from one of the piers on central London.
Dates: From 15th November
Times: TBC
Nearest Tube: Cutty Sark for Maritime Greenwich
Cost: Free
6. Covent Garden
Covent Garden is another permanent market that is open all year round, but transforms itself at Christmas.
It also features one of London's famous Christmas trees, almost rivalling the nearby Trafalgar Square tree in size. Covered in decorations and Christmas lights, the market contains a mixture of small shops, restaurants and individual traders at the Apple Market.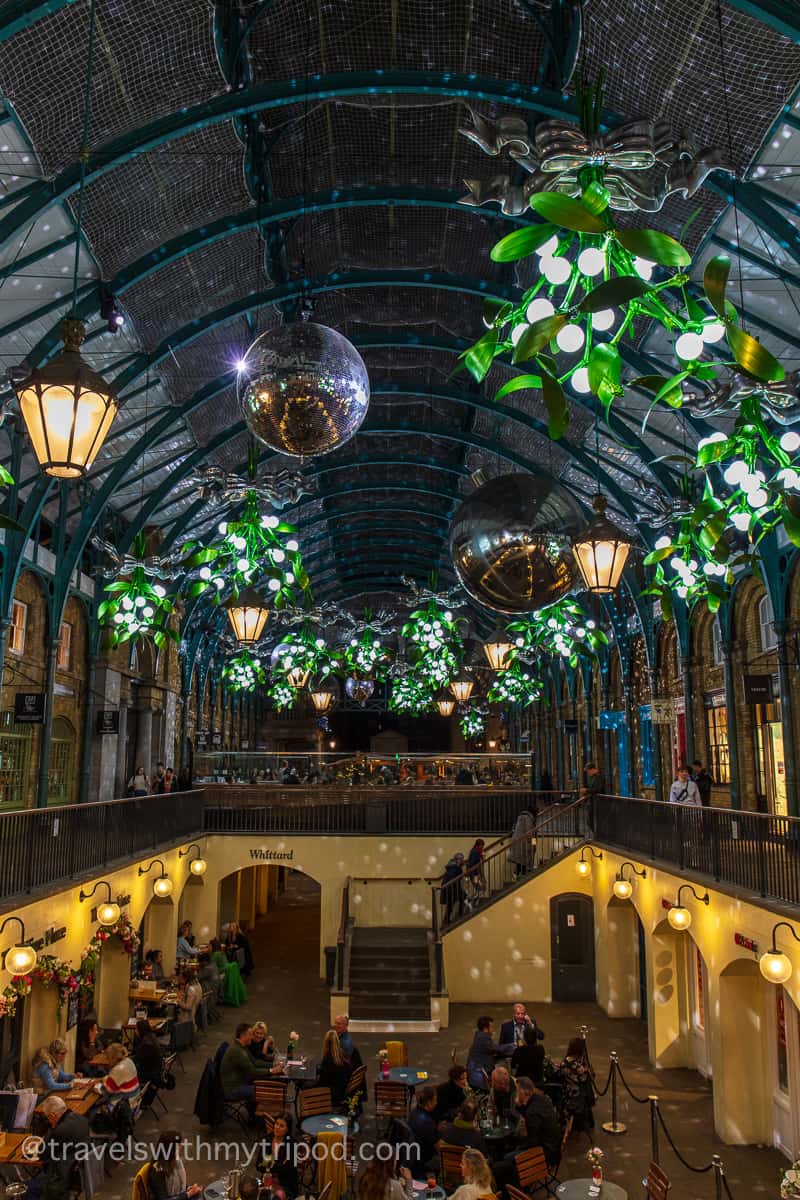 On the outer edge of the market, you can find a range of luxury boutiques as well as a large Apple store so there should be something here for everyone.
In the market piazza next to the tree, you can also usually find street performers doing their best to entertain you.
When you've finished exploring the delights of the market, there are plenty of things to do nearby – from a performance at the Royal Opera House, or a visit to the London Transport Museum. Or maybe even take a walk and explore some of London's Christmas light displays, or pop in to the nearby Neal's Yard.
Dates: From 7th November
Times: TBC
Nearest Tube: Covent Garden
Cost: Free
7. Leicester Square Christmas Market
This very centrally located market might be small, but it is still very much worth a visit. Sitting in the middle of Leicester Square, it features a number of beautifully decorated stalls.
One of the highlights is the award-winning cabaret spectacular La Clique, featuring circus, comedy and caberat. Find out more and book tickets on their website.
If you can't find what you're looking for here, then you're not far away at all from the markets at Covent Garden and Trafalgar Square. You're also in a great location to wander up to Regent Street to admire the Christmas lights displays.
Dates: 8th November 2023 – 7th January 2024
Times: TBC
Nearest Tube: Leicester Square, Piccadilly Circus
Cost: Free
8. Borough Market
Borough Market is London's oldest food market, and today is one of London's biggest. Open all year round, there are over 100 stalls offering everything you could possibly want including cheese, freshly baked bread, olive oil, fresh fish and meat. You can enjoy a tasty snack at one of the many food stalls, or buy some special ingredients to cook at home.
During the festive season, it takes on a festive feel with Christmas decorations a-plenty, and is a great place to shop for food-related gifts. Usually closed on Mondays, it is open 7 days a week during December.
It's just a few minutes walk from the market at London Bridge City, so it would be easy to visit both in one trip.
Dates: TBC
Times: Monday – Friday 10 a.m. – 5 p.m. Saturday 9 a.m. – 5 p.m. Sunday 10 a.m. – 4 p.m.
Closed 25, 26, 27 December, 1, 2, 3 January
Nearest Tube: London Bridge
Cost: Free
9. Spitalfields Market
Spitalfields is one of London's biggest and best markets, open all year round. Over the Christmas period, it takes on a more festive feel, with the independent stall holders selling a variety of items that would make ideal Christmas gifts.
You can also enjoy eating from a large array of street food stalls, or shop in one of the stores located around the edge of the market.
Dates: TBC
Times: Mon, Tues, Weds, Fri: 10 a.m. – 6 p.m.
Thurs: 8 a.m. – 6 p.m.
Sat: 10 a.m. – 6 p.m.
Sun: 10 a.m. – 5 p.m.
Nearest Tube: Liverpool Street
Cost: Free
10. King's Cross
The area around King's Cross is one of the best spots to enjoy the build up to Christmas in London. There's a huge 50-foot Christmas tree in Coal Drops Yard, plus a pop-up cocktail bar set in an alpine wonderland with live DJ sets every Thursday. You can shop from the range of stores and pop-up market stalls in the Canopy Market, plus enjoy festive food and drink.
On Saturday 16th and Sunday 17th you can also check out the Crafty Fox Market at The Crossing. This has a lineup of 100+ designers and makers offering art, jewellery, accessories and more.
Find out more at the King's Cross website.
Dates: 23rd November – 23rd December
Times: Tues – Wed, 12-7pm
Late Night Thursdays, 12-9pm
Fridays, 12-8pm
Sat-Sun, 11-6pm
CLOSED Mondays, except for 18th December (open 12 – 7 p.m.)
Nearest Tube: King's Cross
Cost: Free
11. St Paul's
This market, located next to St Paul's Cathedral, is new for 2023, and an addition to the nearby market in Paternoster Square.
Dates: 27th November – 24th December
Times: 11 a.m. – 7 p.m.
Nearest Tube: St Paul's
Cost: Free
12. Paternoster Square
Located in Paternoster Square just next to the iconic St Paul's Cathedral, this is one of the smaller Christmas markets in London. If you're working in the City, or visiting St Paul's it's the perfect place to visit and enjoy a cup of mulled wine or some festive food, and browse through the stalls selling arts and crafts.
Dates: 27th November – 24th December
Times: 11 a.m. – 7 p.m.
Nearest Tube: St Paul's
Cost: Free
13. Kingston Christmas Market
There has been a market in Kingston upon Thames for hundreds of years, and the historical Ancient Market takes on a Christmas theme from the 16th of November.
As well as a number of stalls selling unique homemade gifts and festive food, there is also a ski-themed Alpine village. Here you can enjoy a game of curling, and enjoy the Christmas lights.
Dates: 16th November 2023 – 7th January 2024
Times: Sunday – Wednesday (Alpine village and gift stalls 10 a.m. – 6 p.m., Bar and Food stalls 10 a.m. – 8 p.m.)
Thursday – Saturday (Alpine village and gift stalls 10 a.m. – 8 p.m., Bar and Food stalls 10 a.m. – 10 p.m.)
Nearest Station: Kingston
Cost: Free
14. Columbia Road
Columbia Road is more famous for its Sunday flower market, but on Wednesdays in the run up to Christmas, it takes on a more festive feel. The shops open late, offering handcrafted gifts and tasty festive treats. There is also carol singing to add to the festive feel.
Dates: Wednesdays from the end of November
Times: 5 p.m. – 9 p.m.
Nearest Tube: Hoxton
Cost: Free
15. Fleet Street Quarter
One of the smallest and quietest Christmas markets in London, the stalls in New Street Square offer a small but interesting range of unique gift ideas.
Dates: TBC
Times: TBC
Nearest Tube: Chancery Lane
Cost: Free
London Christmas markets map
How to use this map: Click on the icon in the top-left corner of the map to reveal a list of locations. If you click on one of the locations in the list, or one of the pins on the map, you can get more information or directions to it.

Click on the star just to the right of the title to save to your Google Maps account. You can then view the map on your phone or computer by opening Google Maps, clicking the "Saved" icon and then selecting Maps. You'll then see this map in your list.

To open a larger version of the map in a new tab, click on the icon to the top right.