Every year, London's Christmas lights transform the city into a dazzling winter wonderland, adorning streets and landmarks with a breath-taking tapestry of festive colours.
The radiant displays, from Carnaby Street to Trafalgar Square, create a magical atmosphere that captivates both locals and visitors alike. Strolling through these illuminated streets is a cherished holiday tradition, igniting the spirit of the season.
Explore famous streets and iconic stores all trying to outdo each other with their festive displays. Although London is a large city, most of the light displays are within walking distance of each other. I've created a map showing where they're all located, which you can find at the bottom of this post.
So put on your warmest clothes, and head out to explore my pick of London's Christmas lights in 2023!
Best places to see Christmas lights in London 2023
1. Oxford Street
Stroll along Oxford Street and be dazzled by some of the most spectacular Christmas lights in England's capital. The busiest shopping street in London is filled with row upon row of twinkling stars stretching across the sky above you.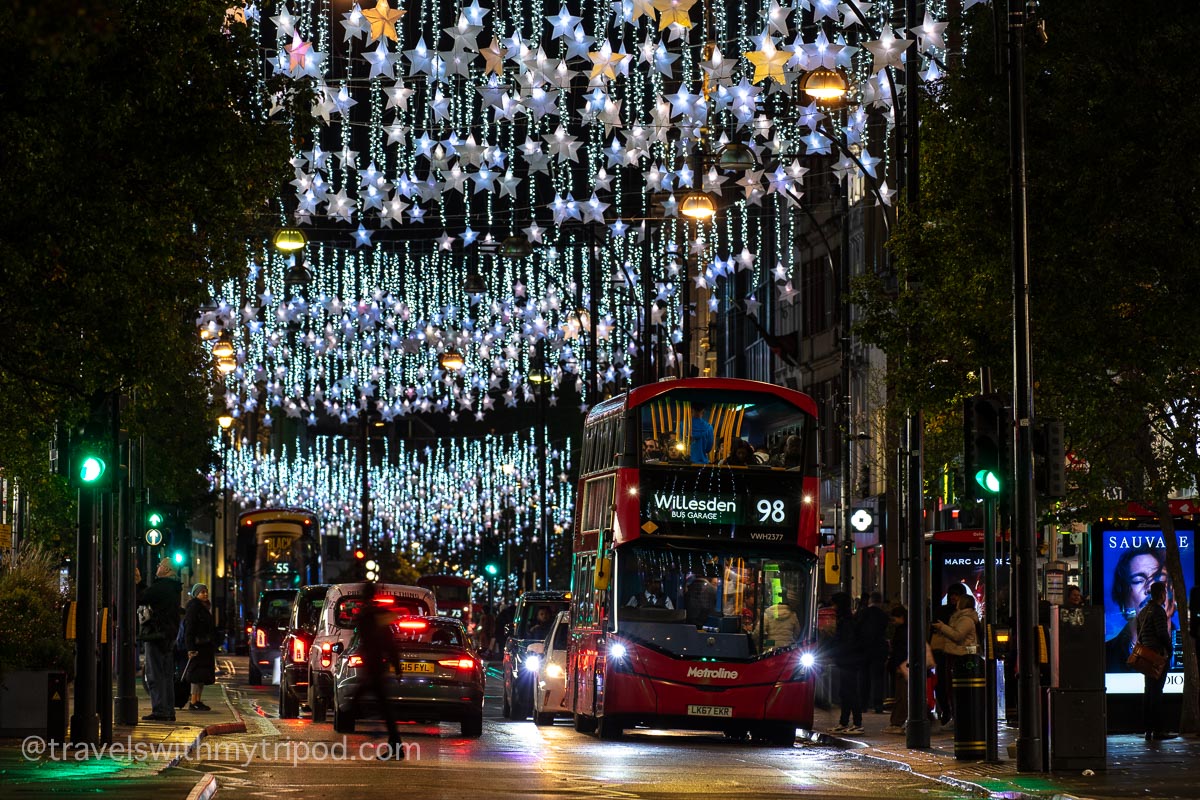 While here, don't forget to check out the Christmas window display at Selfridges.
Switch on date: 2nd November
2. Regent Street Christmas Lights
Close to Oxford Street are the famous Christmas lights of Regent Street. This is where the tradition of Christmas lights in London began, back in 1954. The original display featured angels playing trumpets, and the tradition continues with a series of figures known as "The Spirit of Christmas". Their 17-metre wing spans are studded with thousands of LED lights which twinkle in harmony with each other.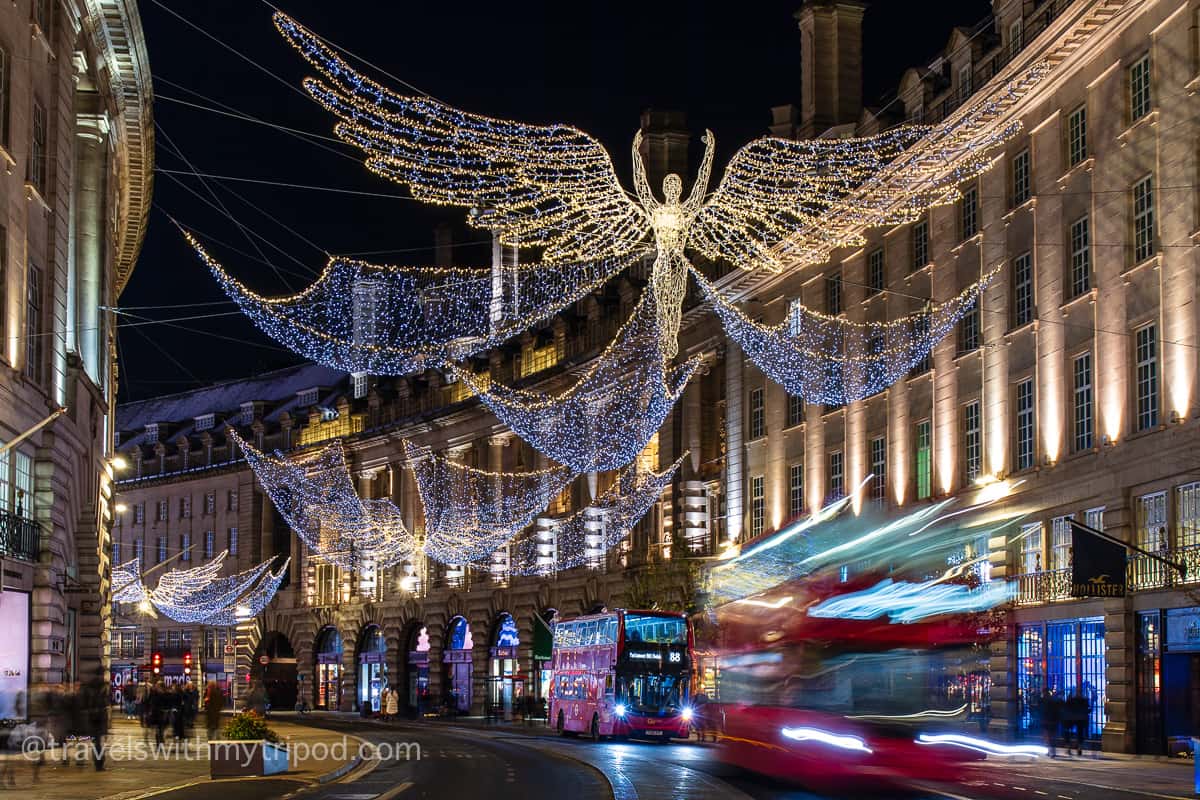 The lights start at Langham Place and stretch all the way down through Picadilly Circus to Waterloo Place in St James's. While here, why not get that festive photo to post on Instagram, especially if you can get a London bus in as well.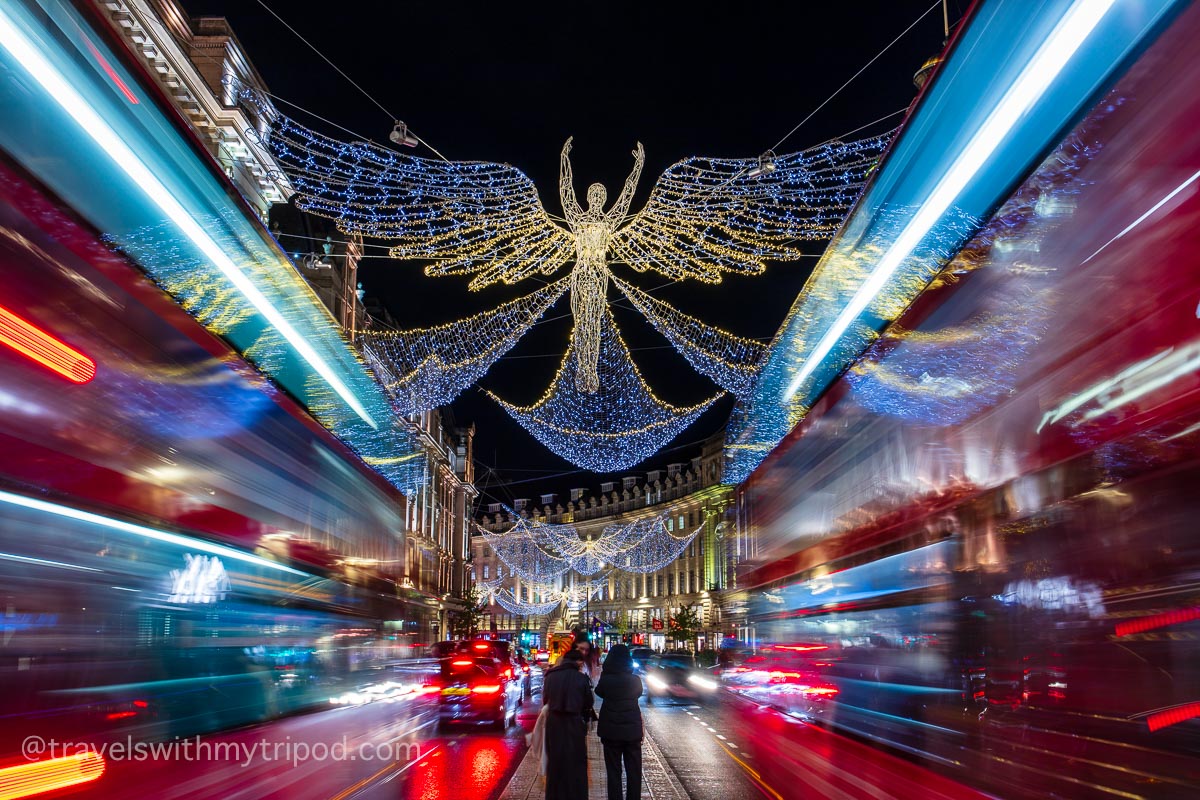 Switch on date: 9th November
3. Carnaby Street
Take a turn off Regent Street and venture into one of London's coolest areas with its own take on Christmas illuminations. Each year there is a different and unique light display, guaranteed to impress.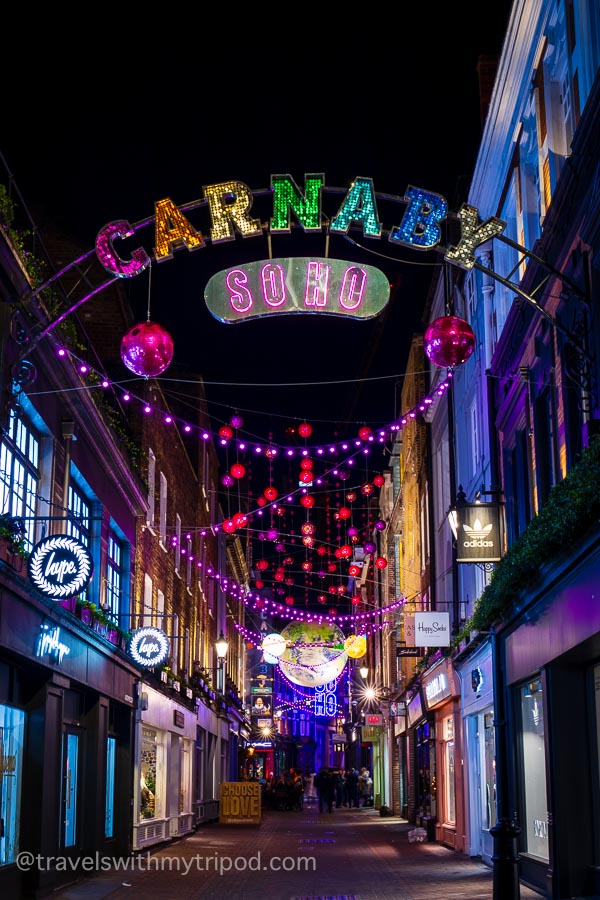 For 2023, Carnaby Street is taking its light display to new, galactic, heights with the Carnaby Universe. The streets will be taken over by an impressive shimmering display of neon discs and lights.
Switch on date: 8th November
4. Fortnum & Mason
As famous for their hampers as they are their festive light display, Fortnum & Mason are a staple of Christmas. They turn the whole of their building into a giant illuminated advent calendar, which is a sight you shouldn't miss.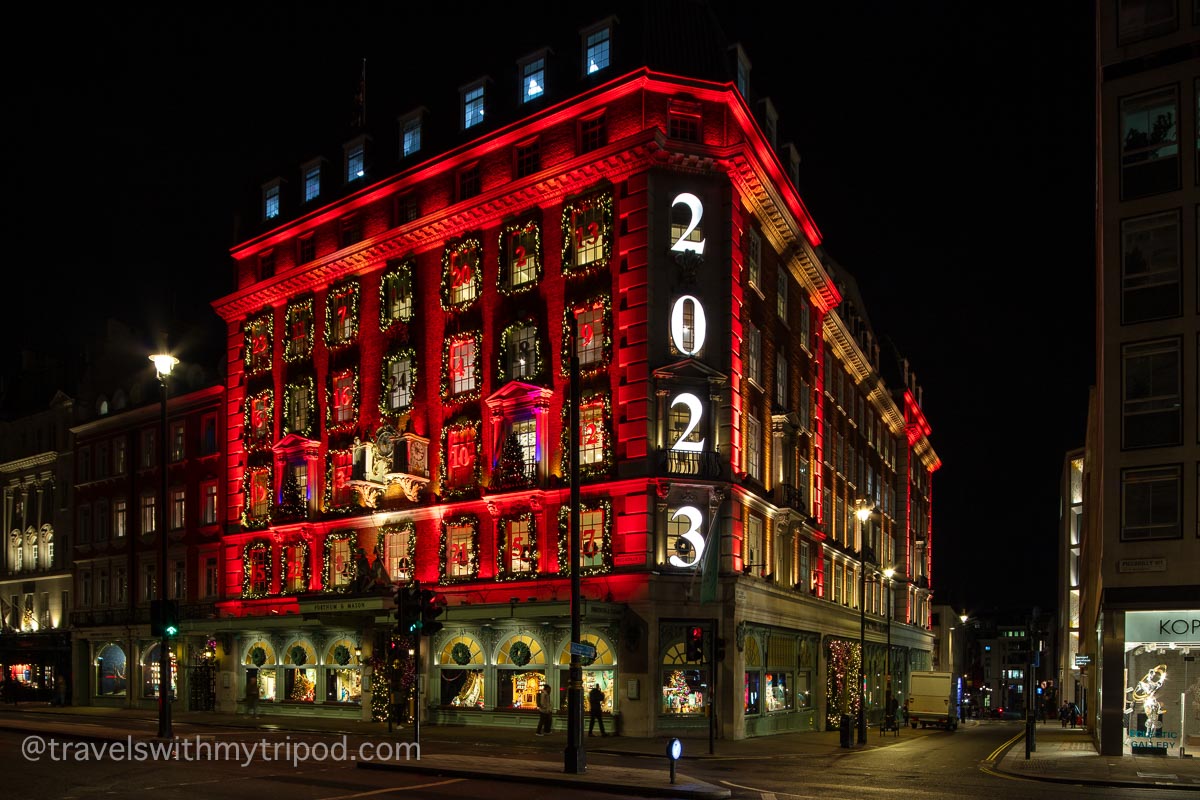 Close by are the Burlington and Princes shopping arcades, both of which are worth visiting as well.
Switch on date: 27th October
5. Covent Garden
Featuring one of London's biggest and most eagerly anticipated Christmas trees, Covent Garden never fails to disappoint at Christmas. The market itself is decorated with giant sprigs of mistletoe and baubles, and there are plenty of shops and stalls for you to browse.
For 2023, the display in the iconic Market Building will feature over 40 giant bells with bows, 12 giant baubles and 8 spinning mirror balls. Santa's sleigh will also make its traditional appearance – perfect for photo opportunities!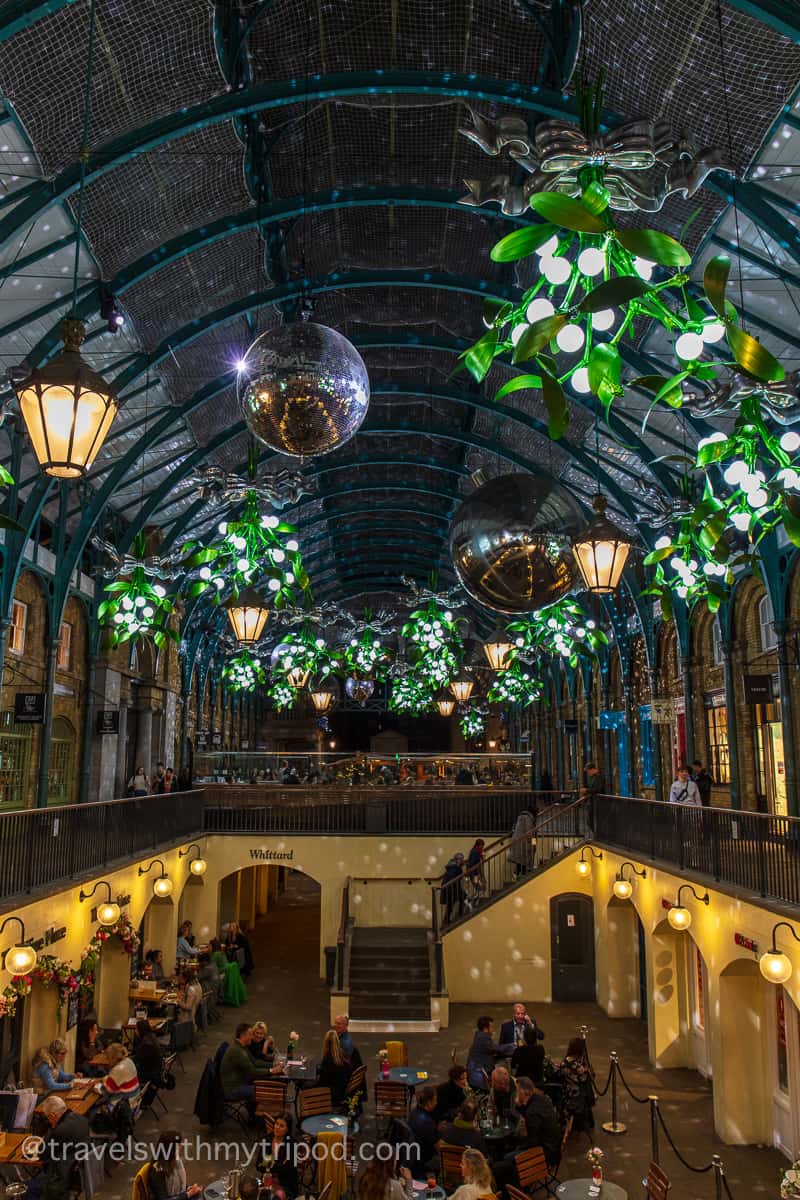 Switch on date: 7th November
6. New Bond Street
Perpendicular to Oxford Street is New Bond Street – home to some of the most exclusive stores in the world. Many try to outdo each other with dazzling displays of lights and decorations during the festive period. This is where you'll find displays from Cartier, Tiffany & Co and several others that are well worth checking out.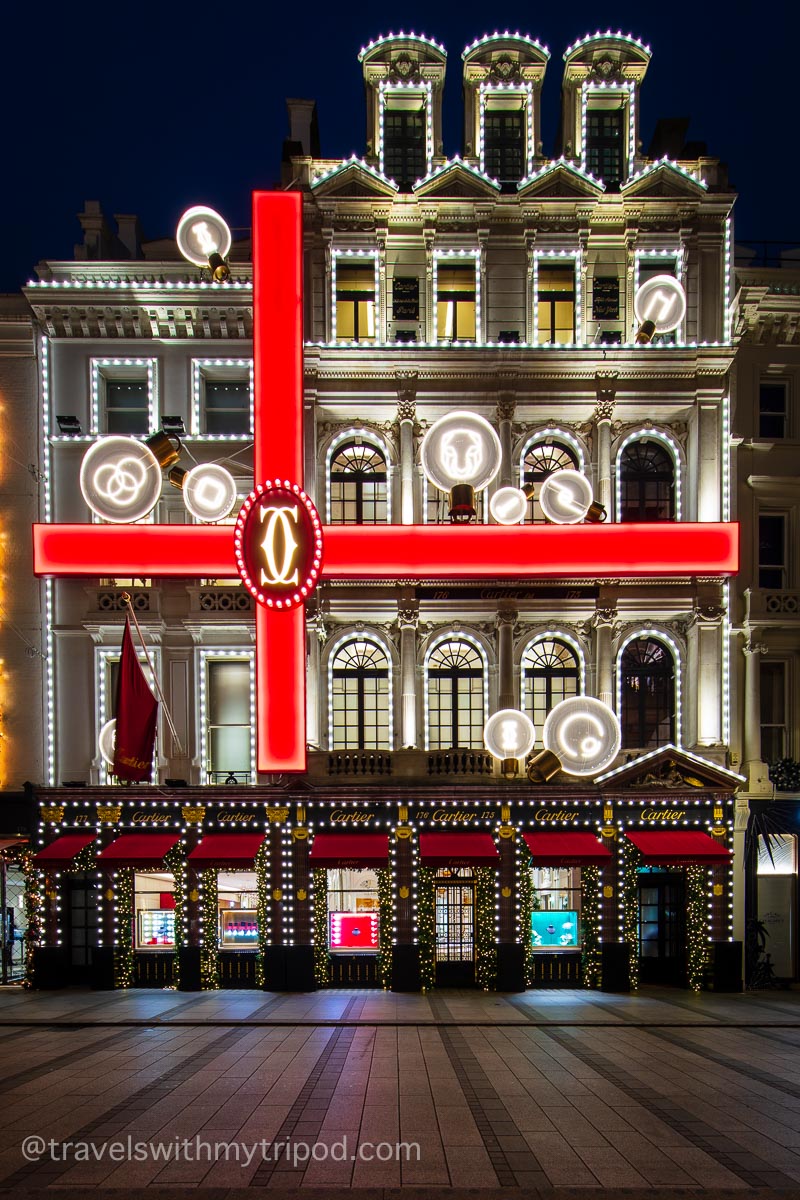 Switch on date: 16th November
7. Annabel's Nightclub
Just a few minutes walk from New Bond Street is the exclusive private club Annabel's. One of the first nightclubs in London, they're also famous for their impressive Christmas displays covering the front of their building. Each year is different, and it's well worth a visit to see what they have come up with in 2023.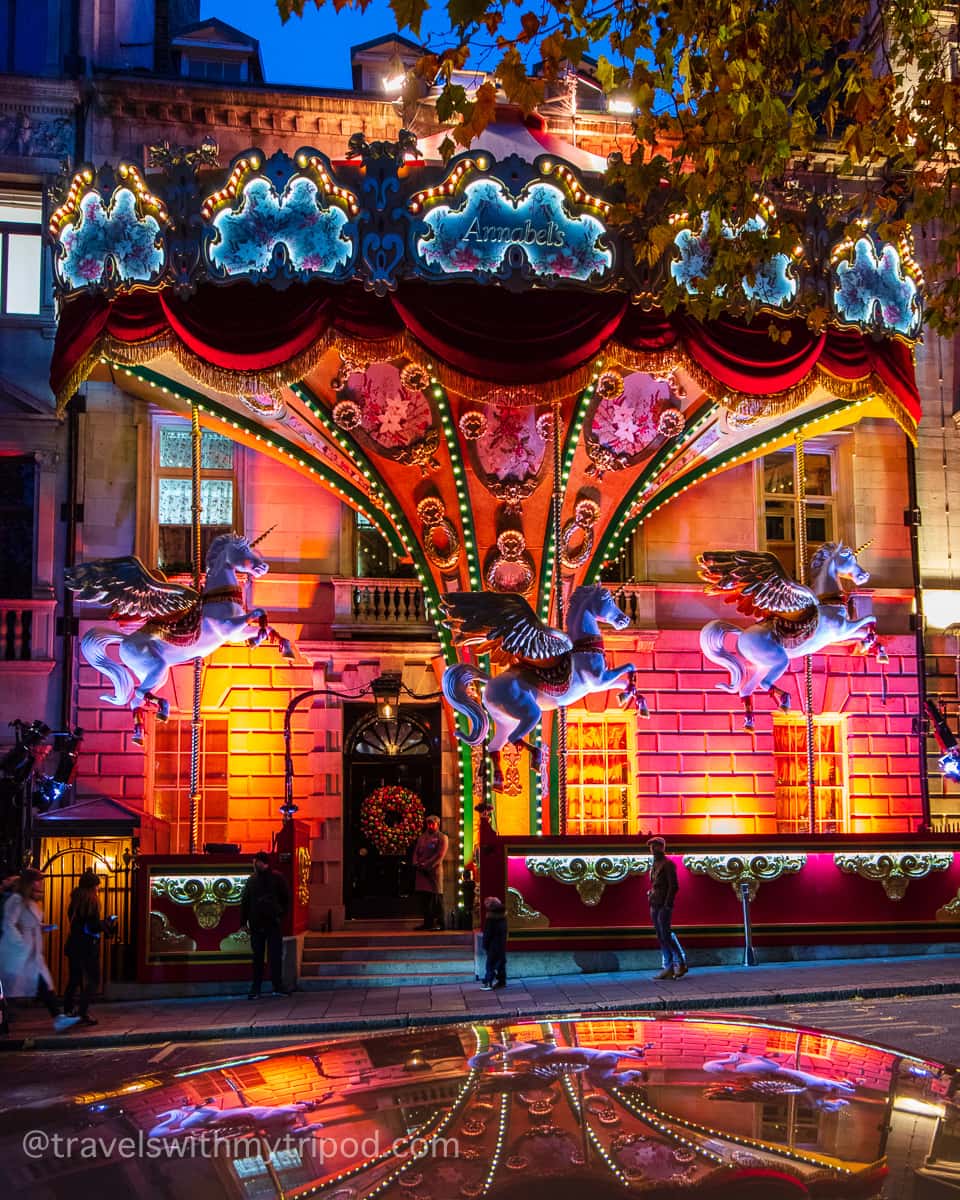 Switch on date: 12th November
8. Mayfair
Very close to Oxford Street is a small pedestrianised street called South Molton Street. Compared to some displays it may be small, but size isn't everything and the display is one of the most impressive in the area. This is easy to get to from Oxford Street, and leads onto New Bond Street.
Switch on date: 16th November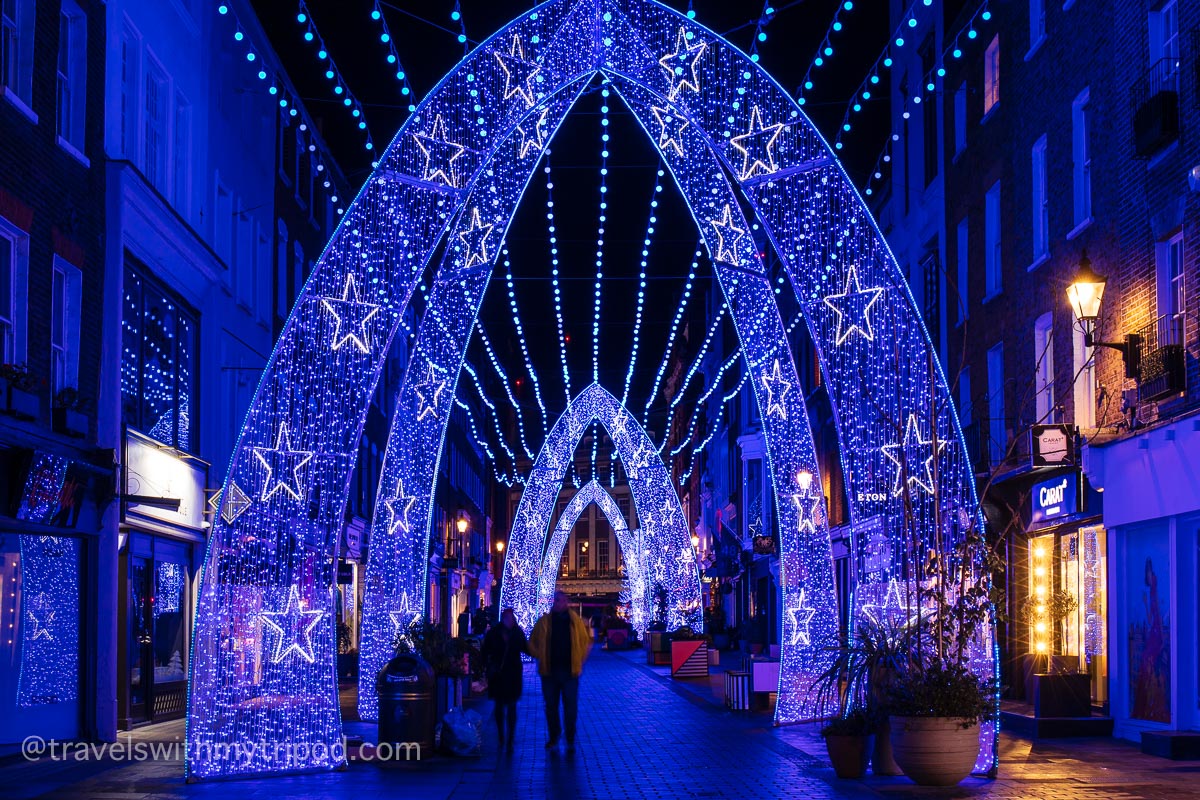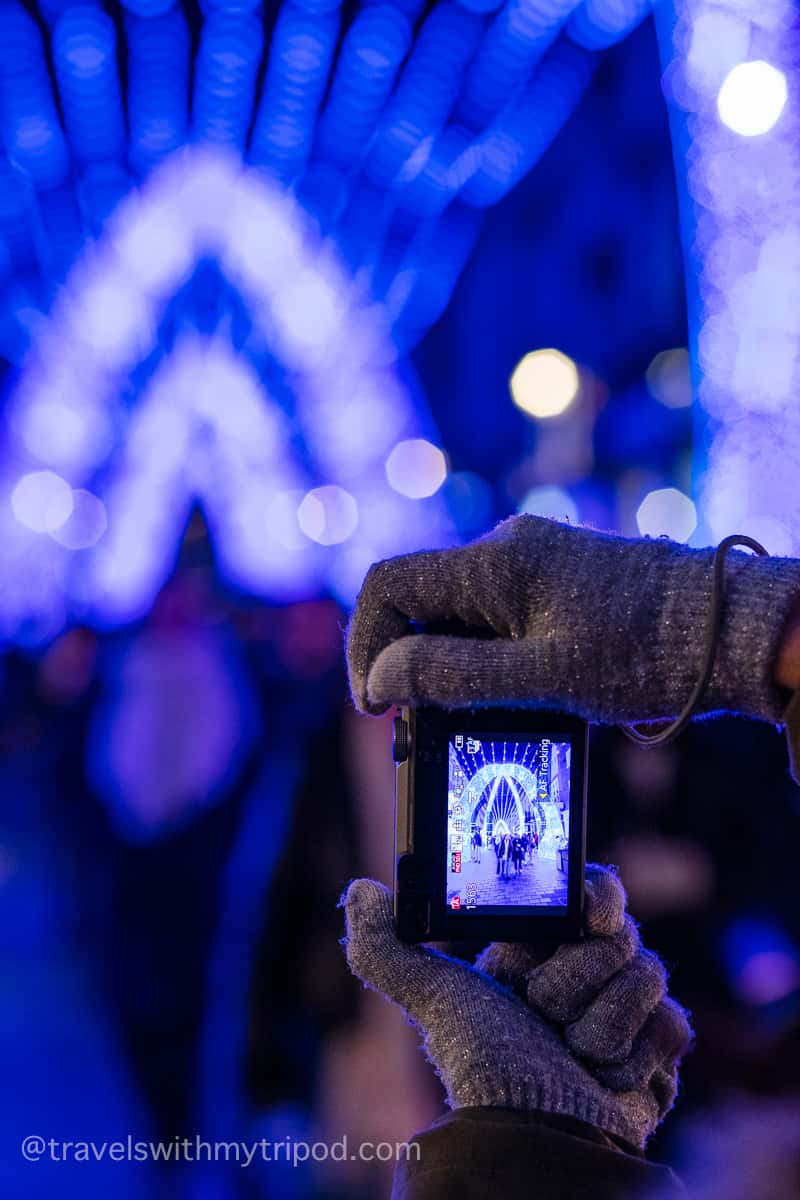 9. South Bank
Wander along the riverside by the South Bank Centre, and admire the impressive winter art displays, as well as twinkling Christmas lights. This is a perfect opportunity to enjoy the Southbank Christmas Market at the same time and double-down on your festive experience.
Switch on date: 28th October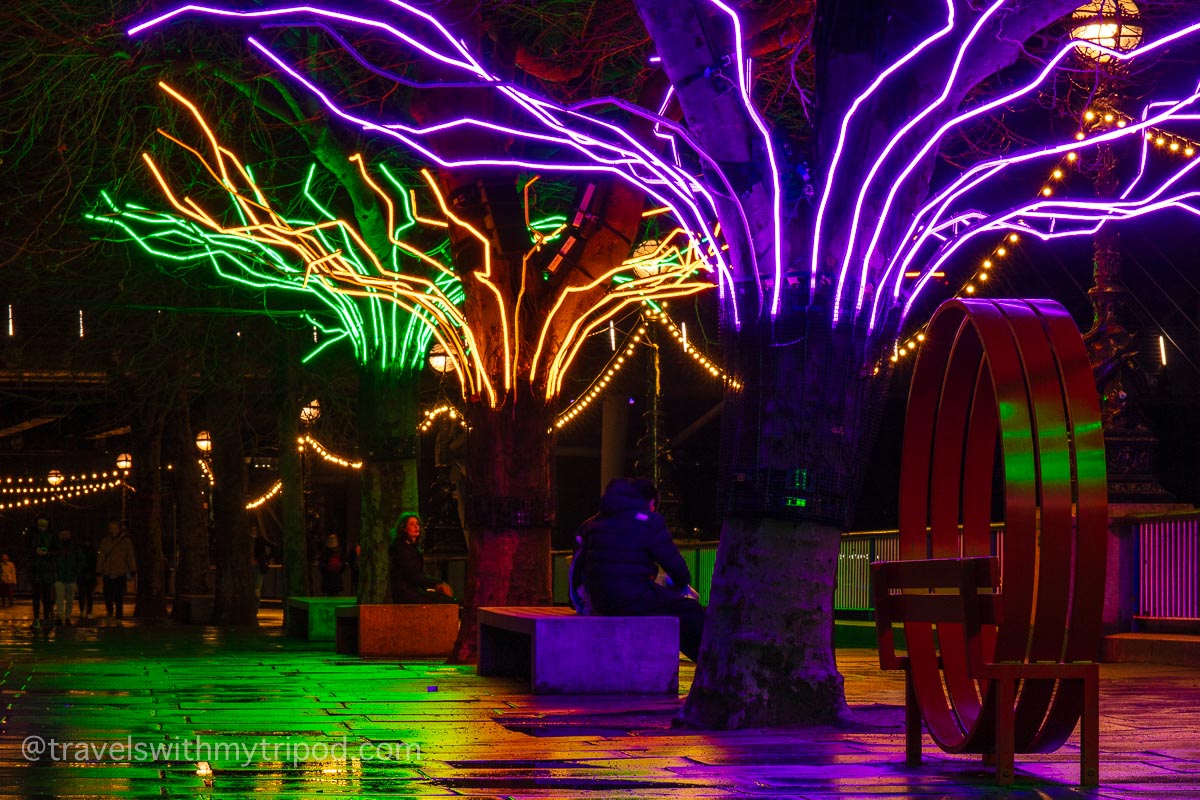 10. The Shard
The tallest building in London, and the one that likes to celebrate almost every special occasion with its own unique light display. Visible from miles around, the Shard always puts on an impressive show by illuminating its top 20 floors. The display will be lighting up the sky from 5:30 p.m. – 1 a.m. every night until New Year's Eve.
Switch on date: 28th November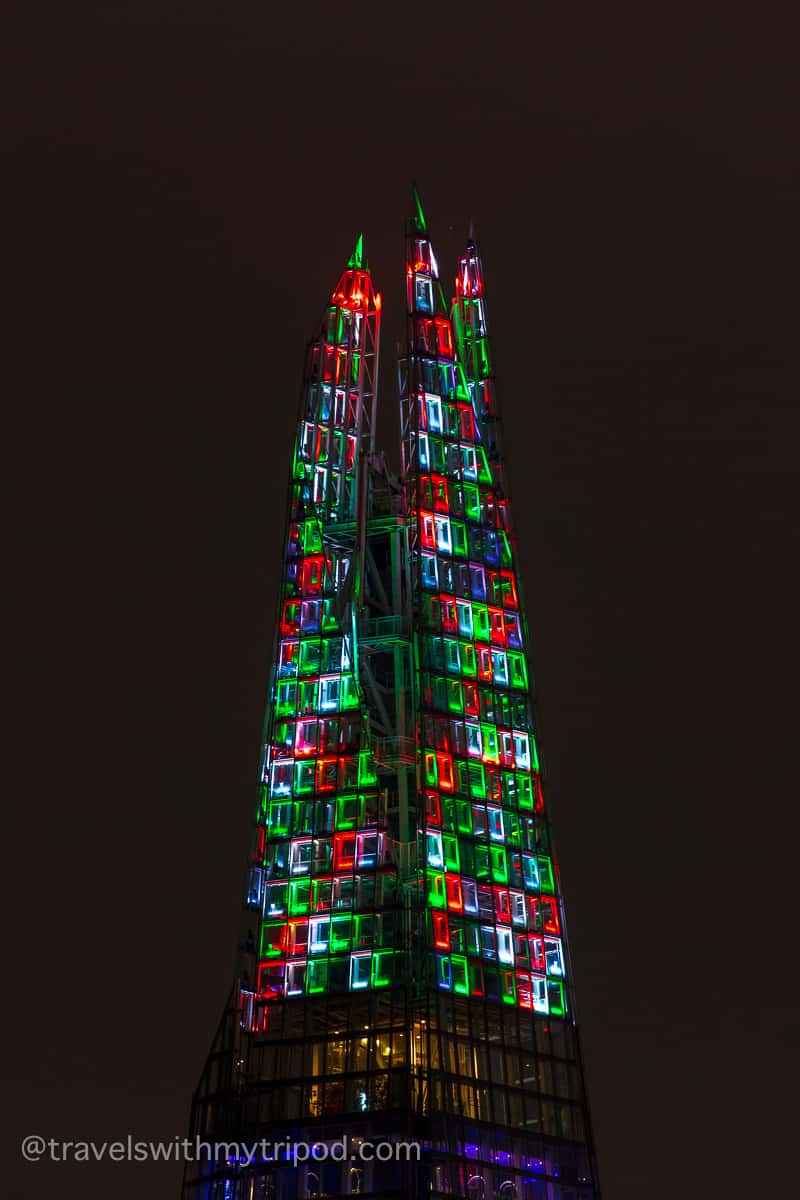 When do Christmas lights switch on in London?
Most Christmas light displays in London are switched on by early to mid-November and continue to light up the streets until the start of the New Year. Most of the major displays have a switch-on ceremony with festivities, and sometimes even a celebrity to push the switch. I'll update this post once dates are confirmed, so if switch on times are TBC then check back again soon.
The best time to admire the lights is just after it gets dark, which is around 4pm at that time of year. The well-known displays can be pretty busy at peak times, but if you go after the shops close at around 8 or 9pm it will be a lot quieter. Just bear in mind that quite a few of the lights will turn off at around 11pm in an effort to be more eco-friendly.
London Christmas lights map
How to use this map: Click on the icon in the top-left corner of the map to reveal a list of locations. If you click on one of the locations in the list, or one of the pins on the map, you can get more information or directions to it.

Click on the star just to the right of the title to save to your Google Maps account. You can then view the map on your phone or computer by opening Google Maps, clicking the "Saved" icon and then selecting Maps. You'll then see this map in your list.

To open a larger version of the map in a new tab, click on the icon to the top right.
London Christmas lights walking route
I've also created a suggested walking route on the map, which takes in most of London's Christmas light displays. It includes what I consider the best ones, including Regent Street, Carnaby Street and the famous Cartier store display. The route also takes you through Trafalgar Square ending up at Covent Garden. It's a little over 2.5 miles (4.5km) in length, and should take just over an hour or so to walk. Let me know in the comments if you find this useful!