Christmas Eve in London is a magical experience like no other; a time when the city comes alive with festive spirit. Picture this: The charming streets of London glimmer with twinkling lights. The scent of chestnuts roasting on hot coals and mulled wine fills the air, and you can feel the infectious buzz of holiday cheer all around.
As the clock ticks down the last few hours to the most wonderful time of the year, it's your chance to seize the moment, create unforgettable memories, and immerse yourself in the heart-warming traditions that make London on Christmas Eve an absolute delight.
Best things to do on Christmas Eve 2023 in London
On Christmas Eve in London, you can enjoy festive activities like visiting Christmas markets, ice skating, attending carol concerts, and taking in the magical light displays across the city.
In this article, I'll unveil my pick of 'must-do' activities that promise to transform your Christmas Eve this year into a truly memorable and enchanting experience. By the end of this post, you'll have everything you need to enjoy those final hours before Christmas Day in London.
So without further ado, let's get into the list!
1. Wander through a Christmas market
What better way to spend Christmas Eve than strolling through one of the Christmas markets in London. They have everything you need to put you in the festive mood – from mince pies, mulled wine and last-minute gift ideas. There are several to pick from including these which are particular favourites of mine:
The Southbank Centre (near Waterloo station)
London Bridge City (between London Bridge and Tower Bridge)
Trafalger Square
Greenwich Market
It's worth double-checking opening times, as most will close earlier than usual on Christmas Eve.
2. Visit Winter Wonderland at Hyde Park
If you're looking for a fun way to spend a few hours, then look no further – Winter Wonderland is packed full of things to do on Christmas Eve. Located in the famous Hyde Park, you can enjoy views over London from the top of their 70m observation wheel. There's also an ice rink, ice bar and a magical ice kingdom created from over 500 tonnes of ice and snow. If that isn't enough, there is a Christmas market, food stalls and even a Christmas circus!
Unlike most other places on Christmas Eve, Winter Wonderland is open late – last entry is 9:30pm. Prices and online booking can be found on their website.
3. Christmas Eve Carols and concerts
If you've had your fill of Christmas markets, and fancy something a bit more traditional then how about a heart-warming Christmas Carol service?
You can't get much more iconic than the afternoon Christmas Carol Service at St Paul's Cathedral. Entry is free, but you will need to book tickets in advance on their website.
Another option is the Sung Eucharist of Christmas Night at Westminster Abbey.
My personal favourite is Carols at the Royal Albert Hall – a wonderful way to build up to Christmas and thoroughly entertaining! They have two performances – one at 11am, and a later one at 3pm. Both need to be booked in advance on their website. My advice – take along a Christmas hat and your favourite Christmas jumper as otherwise you'll feel left out.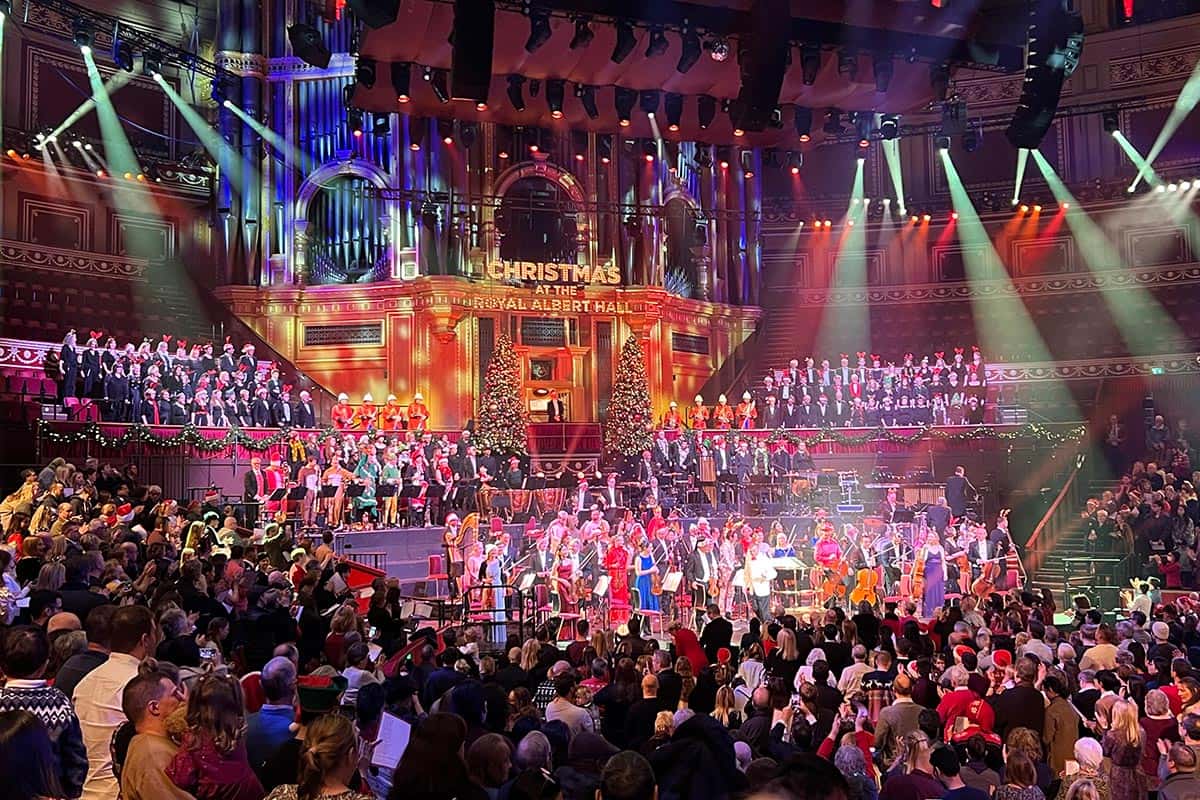 4. Enjoy London's Christmas lights by foot or open-top bus
If you haven't managed to see the festive Christmas light displays in central London, then now is a good time to do it. As most shops will be closing early, central London will be quieter than usual so you can enjoy the lights without the crowds. The light displays are mostly located around Oxford Street, Regent Street and Carnaby Street. Look up at angels, stars and mistletoe glittering in the sky above you and get that perfect Christmas photo for Instagram!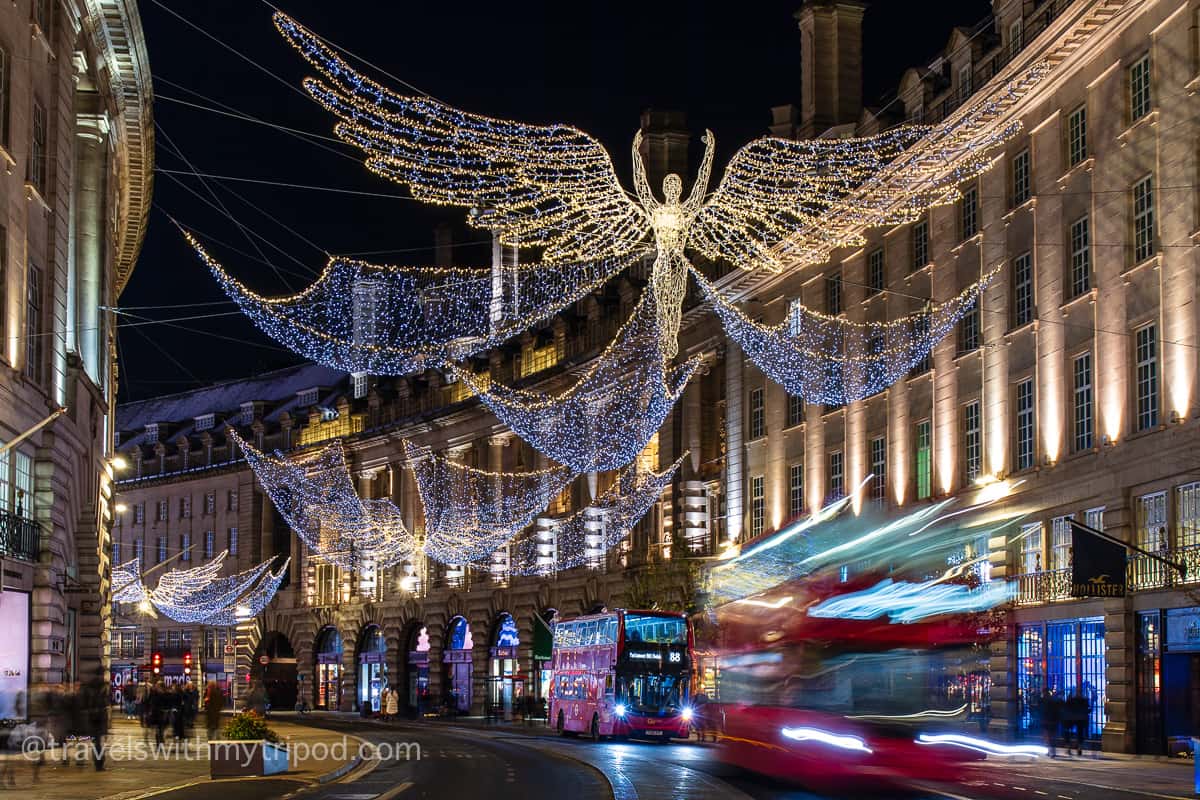 Alternatively, if you don't fancy wandering around in the cold, how about being driven around in an open-top bus? These start at 4pm just after sunset, and take around 90 minutes with an expert guide to talk you through the sights. You'll need to book in advance on the Golden Tours website here.
5. Visit the Charles Dickens Museum
Amidst the frosty embrace of a London winter, Christmas arrived, enveloping the city in a warm, welcoming glow. The streets, bedecked with twinkling lights and bustling with merry-makers, bore witness to acts of kindness and goodwill, as hearts opened wide to share the joys of the season.
Embrace your inner Charles Dickens, and spend Christmas Eve at the very home where he lived. The Charles Dickens Museum in Kings Cross is traditionally decorated in authentic Victorian style, with carols playing throughout the house.
You'll get a free mince pie, along with mulled wine (or a soft drink) to help get you in the Christmas Spirit. There will be no bah humbug here!
6. Take in a Christmas Show
Watching a show at Christmas is a delightful tradition that captures the spirit of the season and brings the magic of Christmas to life on stage. There are a number of London shows that have performances on Christmas Eve, but for a truly festive experience you can't beat 'A Christmas Carol' by Charles Dickens.
For those with less traditional tastes, there is Elf the Musical at the Dominion Theatre.
Disney is almost as much a part of Christmas as roast turkey, and a great option for this holiday period is Disney on Ice at the O2.
Another Christmas tradition is the pantomime (oh, no it isn't!). Enjoy favourites like Aladdin at the Hackney Empire.
7. Enjoy a Christmas lights experience
Stroll through a mesmerising display of twinkling lights and seasonal sounds at one of the famous outdoor light displays at Kenwood House or Kew Gardens. It really is a magical experience to wander along under the stars, and through tunnels of light. As well as the sights and sounds, you'll also be tempted by the enticing smells from the various food stalls.
Both sell out quickly, so booking in advance is essential.
8. Do some last minute Christmas shopping
You've suddenly remembered you need to get one more gift, and it's too late for even Amazon to help. What do you do? The only option is to do some shopping the old-fashioned way. If you need to buy a last-minute gift then heading to the department stores in London is a safe bet. From John Lewis and Selfridges in Oxford Street, to Harrods and Harvey Nickols in Knightsbridge they'll have everything covered. Or for the kids (young and old) how about Hamleys in Regent street? Most will close early though, so double-check opening hours first.
9. Go ice skating
Ice skating outdoors before Christmas is a delightful winter tradition, capturing the essence of seasonal joy. Just imagine feeling the chill of the frosty air on your face as you glide across the glistening ice.
If this appeals, and you're confident you won't end up flat on your back, then there are several outdoor ice rinks open on Christmas Eve. Booking in advance is highly recommended though. My top picks are:
Canary Wharf
Somerset House [link]
Glide at Battersea Power Station [link]
Winter Wonderland at Hyde Park [link]
Queen's House in Greenwich
10. Feast on a festive afternoon tea
Afternoon tea is a treat at any time of the year, but add in a festive twist and it makes it the perfect way to enjoy Christmas Eve.
Getting around London on Christmas Eve
On Christmas Eve, most public transport runs as normal. The London Underground tube is open, and buses will be operating as usual during the day. During the evening of Christmas Eve, public transport starts to wind down, and night buses and tube trains do not run.