Tower Bridge is one of the most iconic landmarks in London, and a great place to visit if you're visiting London for the first time (or any other time for that matter).
This ultimate guide contains everything you need to know about this famous tourist attraction, with expert knowledge from someone who has lived within sight of it for over 20 years!
Having lived in London for most of my life, I've probably taken a lot of it for granted. Walking past famous landmarks with barely a glance up from my phone, or travelling thousands of miles to look at amazing places when actually there is so much to see on my own door step. I'm glad to say this isn't the case with Tower Bridge though. I've spent a lot of time around and inside it, photographing it and have even visited deep inside the interior where the public rarely gets to see.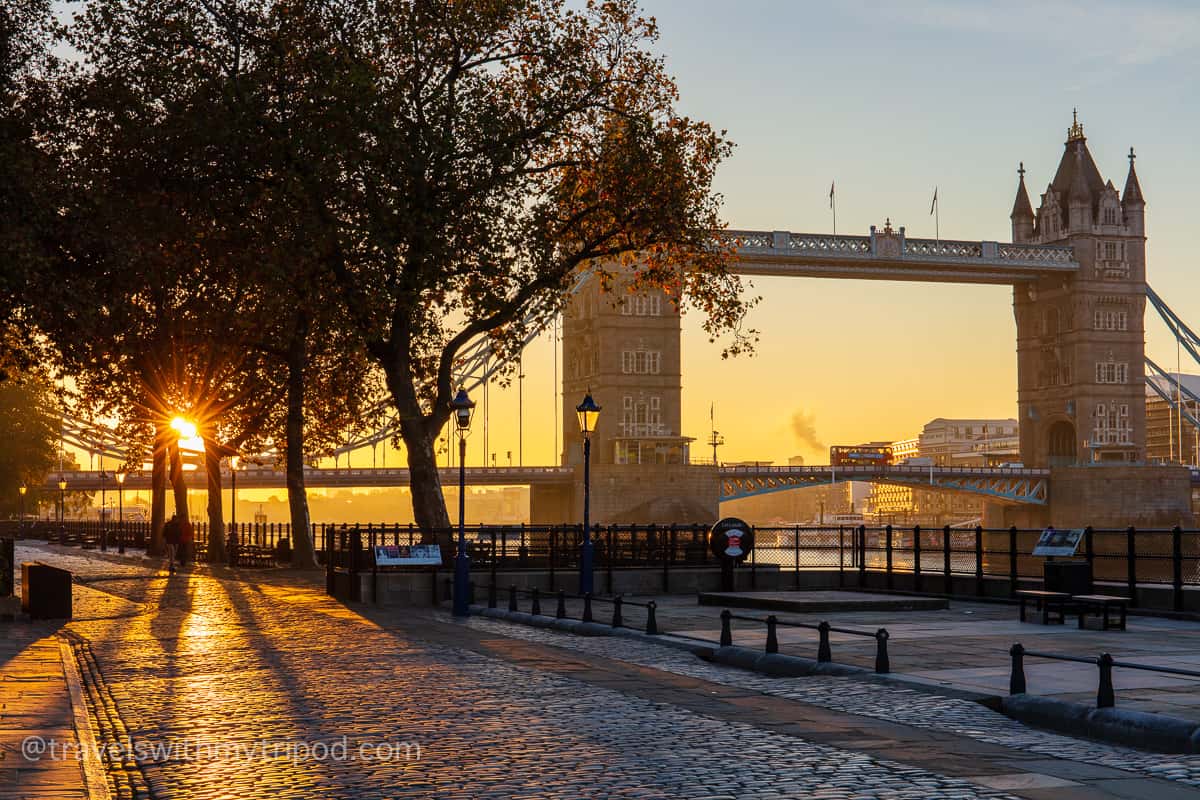 Local knowledge
I've decided to share some of my knowledge to help anyone thinking of visiting this iconic London landmark. So this guide is for you – whether you're a tourist visiting London for the first time or someone who lives more locally but hasn't got round to visiting it yet.
You may have read about it, looked at photos of it or seen it in films but it's a great experience to see it for yourself. There is a lot more to it however than just its history and being a landmark to take photos of from afar.
You can walk across the upper walkways 42 metres above the River Thames, taking in views of London. Or how about looking down through the glass floor at boats passing under the bridge. Inside the bridge, you can learn about how it was built and discover how the technology behind it works.
It's even possible to tour the old engine rooms and marvel at the Victorian steam engines that were once used to power the bridge lifts. If you're lucky, you might even be able to go on the rare behind-the-scenes tour that takes you down into the depths of one of the chambers below the road!
A few details about Tower Bridge
It is what's known as a bascule bridge. This is a moveable bridge where the spans are balanced by a counterweight. In this case, the counterweights are inside the bascule chambers.
Construction of the bridge started in 1886, and it took 432 workers a total of 8 years to complete.
Over 11,000 tons of steel was used in its construction, and when built it was the largest and most sophisticated bascule bridge ever made.
5 Fun facts about Tower Bridge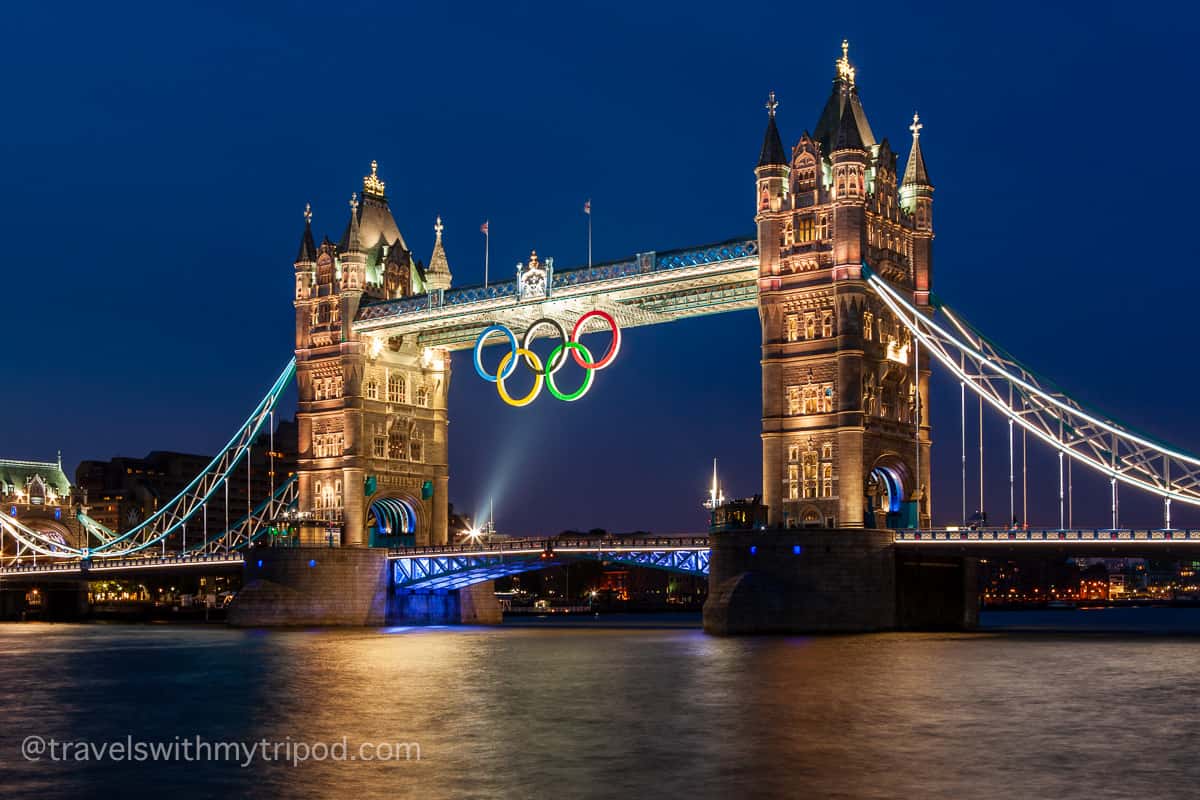 It had a starring role in the 2012 Olympic Games. Not only did it have a giant set of Olympic rings suspended from the top walkway, but it also featured twice in the opening ceremony.
Several aircraft have flown through the bridge, most notably an RAF Hawker Hunter jet fighter in 1968!
A bus jumped over the bridge in 1952! The number 78 double-decker was crossing the bridge when it started to rise. The driver Albert Gunter continued to accelerate, clearing a 3-foot (1m) gap to land on the other side. Fortunately everyone escaped without any serious injuries.
It has its own Act of Parliament – the Corporation of London (Tower Bridge) Act of 1885. This means that river traffic always takes priority over road traffic, even when it's the President of the USA! Bill Clinton was caught out by this in 1997 as his motorcade arrived just as the bridge was lifting and he had to wait.
It is fitted with a state-of-the-art lighting system that enables the bridge to be illuminated in different colours for special occasions. Recent occasions include the Platinum Jubilee of the late Queen Elizabeth II in 2022, and the coronation of King Charles III in May 2023.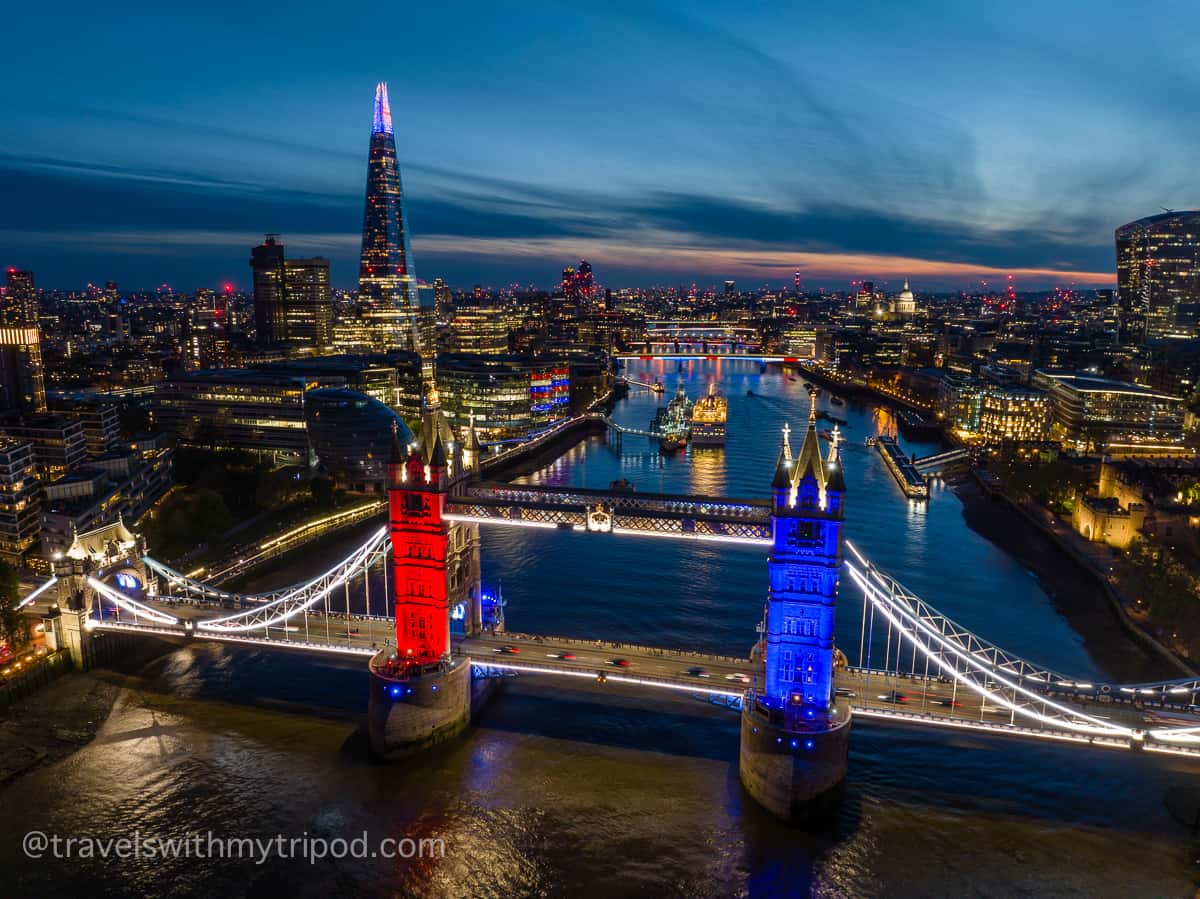 Where is Tower Bridge?
It is located in East London, and crosses the River Thames near to the Tower of London (hence its name). If you're visiting the exhibition, the main entrance is located in the north-west tower of the bridge, closest to the Tower of London.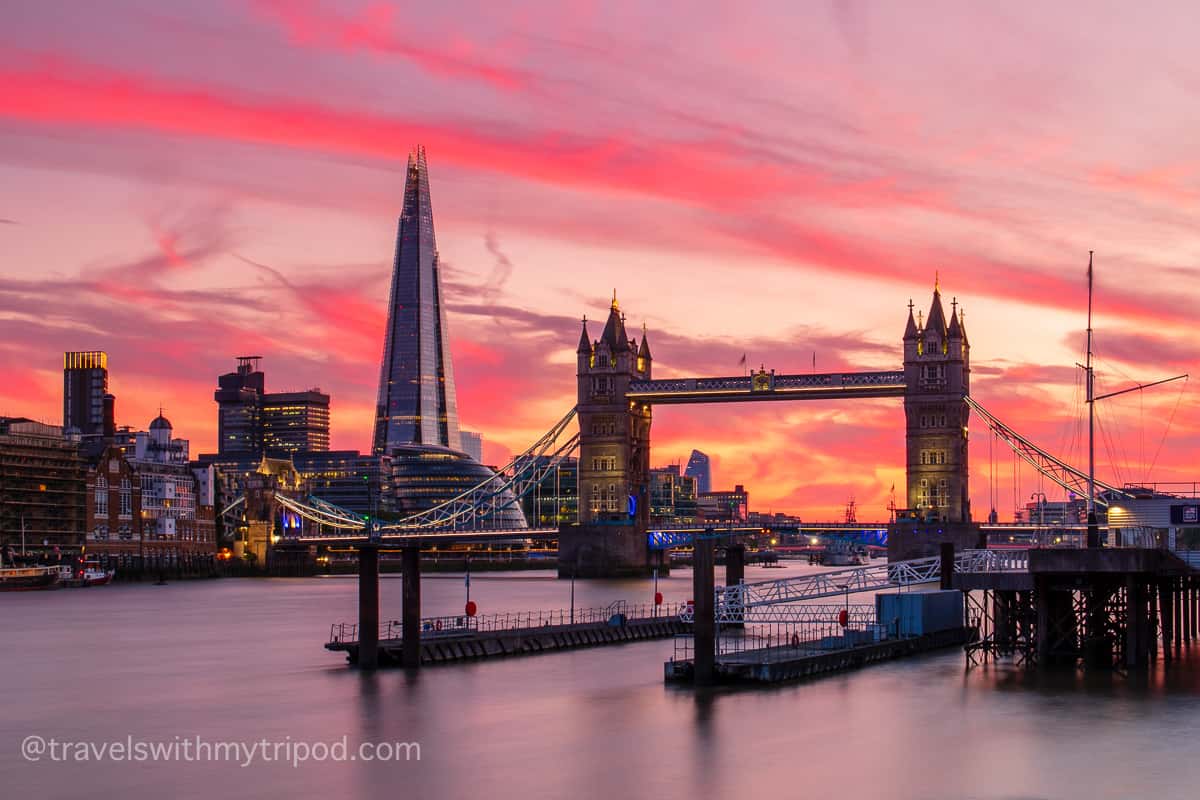 How to get to Tower Bridge
Like most places in London, the quickest way to get there is by Tube (the London Underground subway system), but there are other options too.
It's very easy to get to via public transport – either by road, rail or water!
Boat
There is a river boat pier (Tower Pier) very close to the bridge to the north of the river. This is served by Thames River Services. There's another pier (London Bridge City Pier) slightly further away on the south side of the Thames. This is just past HMS Belfast and is served by the RB1, RB2 and RB6 services.
You can find more details, including timetables, here:
Bus
There are a number of bus routes that will get you to Tower Bridge. Routes 15 and 100 are served by stops to the north of the bridge. Routes 42, 78 and 343 stop on both sides as they cross over the bridge.
Train or Tube (London Underground/Subway)
The bridge is close to two mainline train stations (London Bridge and Fenchurch Street), and two London Underground subway stations (London Bridge and Tower Hill).
London Bridge is served by the Jubilee (grey) and Northern (black) Lines. Tower Hill is served by the Circle (yellow), District (green) and Docklands Light Railway (turquoise).
If you get off at London Bridge, there's a short 10 minute walk to get to Tower Bridge. You then need to head across the bridge itself to get to the entrance on the north-west tower.
If you get off at Tower Hill, you'll be on the north side of the bridge already. The entrance is in the tower nearest the Tower of London which will be on your right as you head towards the bridge.
More details can be found on the Tower Bridge website.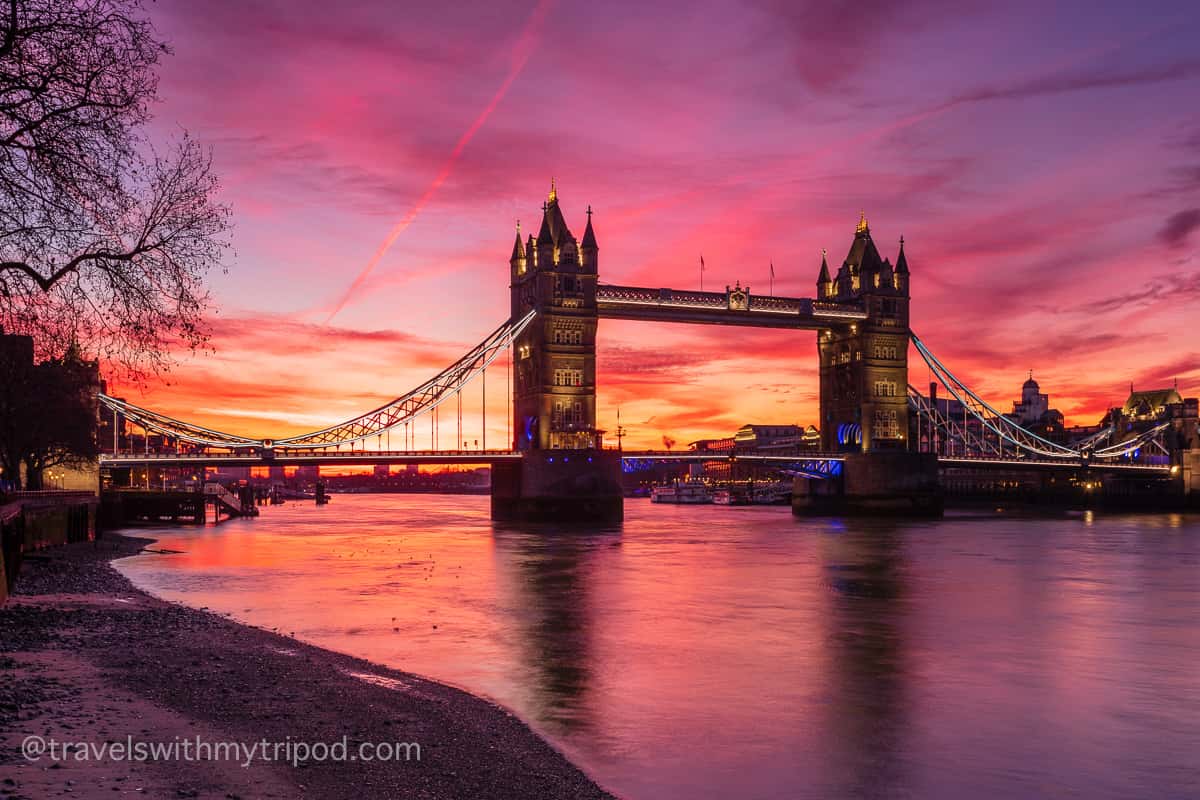 What to do at Tower Bridge
This isn't just a bridge that lifts up to let boats pass through – which is still pretty amazing in itself. You can also:
Learn all about the bridge in the Tower Bridge Exhibition
Walk across the upper walkways with fantastic panoramic views of London, as well as look down at boats passing under the bridge beneath your feet through the glass walkways.
Visit the Engine Rooms and find out how the bridge used to be powered by steam.
Go Behind the Scenes with a Guided Tour and find out more about the history of the bridge.
Experience a Bridge Lift, and watch the roadway rise up to allow river traffic to pass through.
Take Photos from on the bridge or the surrounding area. Tower Bridge makes a fantastic subject at any time of the day, from sunrise all the way through to night.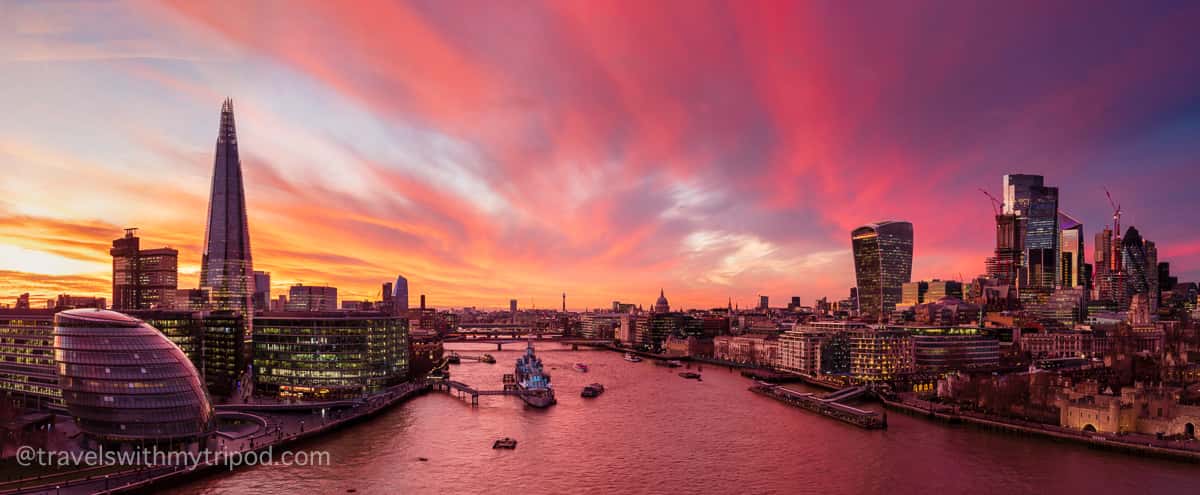 Tower Bridge opening hours
You can walk or drive across the bridge 24/7 (unless it is raised of course). The Tower Bridge Exhibition is open from 9:30am – 6pm, with last entry at 5pm. It's open every day of the year other than between the 24th and 26th December, although opens slightly later at 10am on 1st January.
How much does it cost to visit Tower Bridge?
Walking across the bridge for free, but if you want to access the towers, upper walkways or engine rooms you need to buy a ticket for the Exhibition. It can be quite busy at times, so it's always a good idea to buy your tickets online in advance. You can pick the time slot you want on the specific day, and also see how many tickets are left to get an idea of how busy it'll be.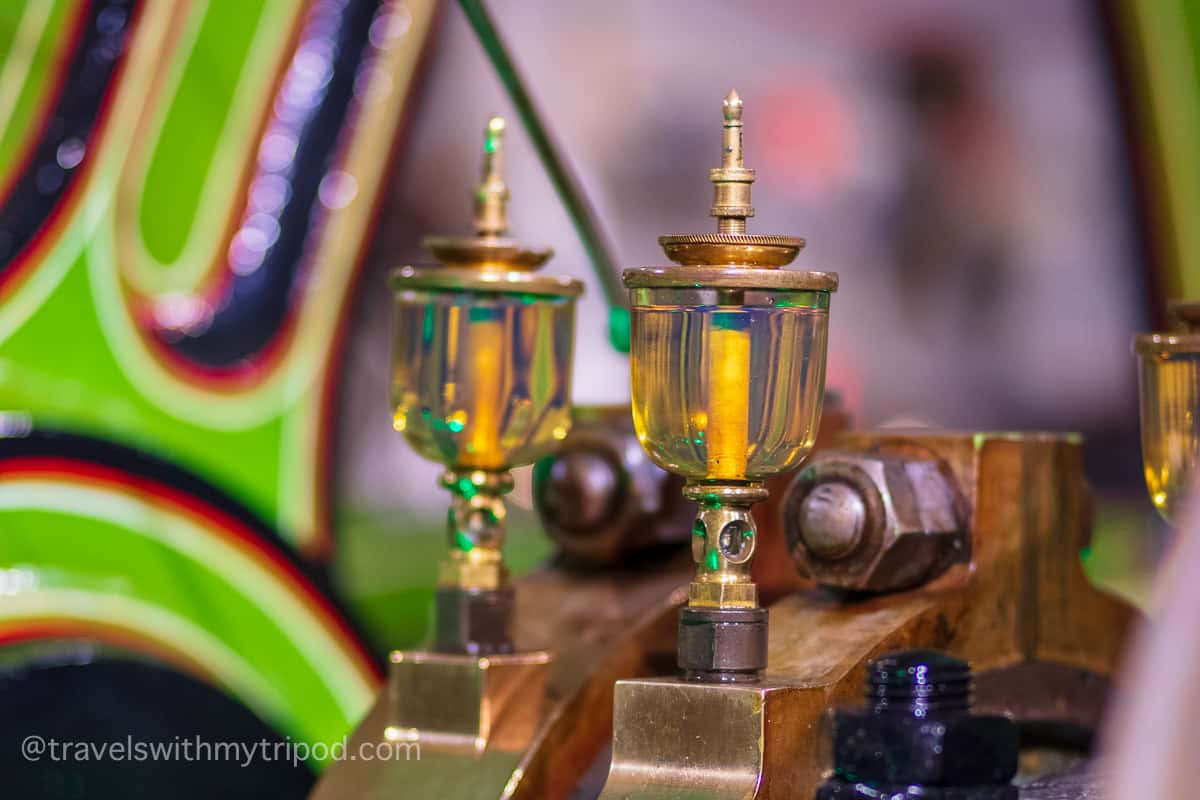 Standard tickets are £12.30 (Adult) and £6.20 (Child)
A 90-minute Guided Tour costs £27 (Adult) and £23 (Child). This includes the standard entry fee, and is only available at weekends.
If you live locally and can prove you're a resident of Tower Hamlets, Southwark or the City of London entry costs just £1 – a bargain!
The Behind-the-Scenes Tour takes you to places the normal tour doesn't, including inside the machine room and the huge bascule chamber. This costs £75 (Adult), but is only available during the winter months from November to March and sells out quickly.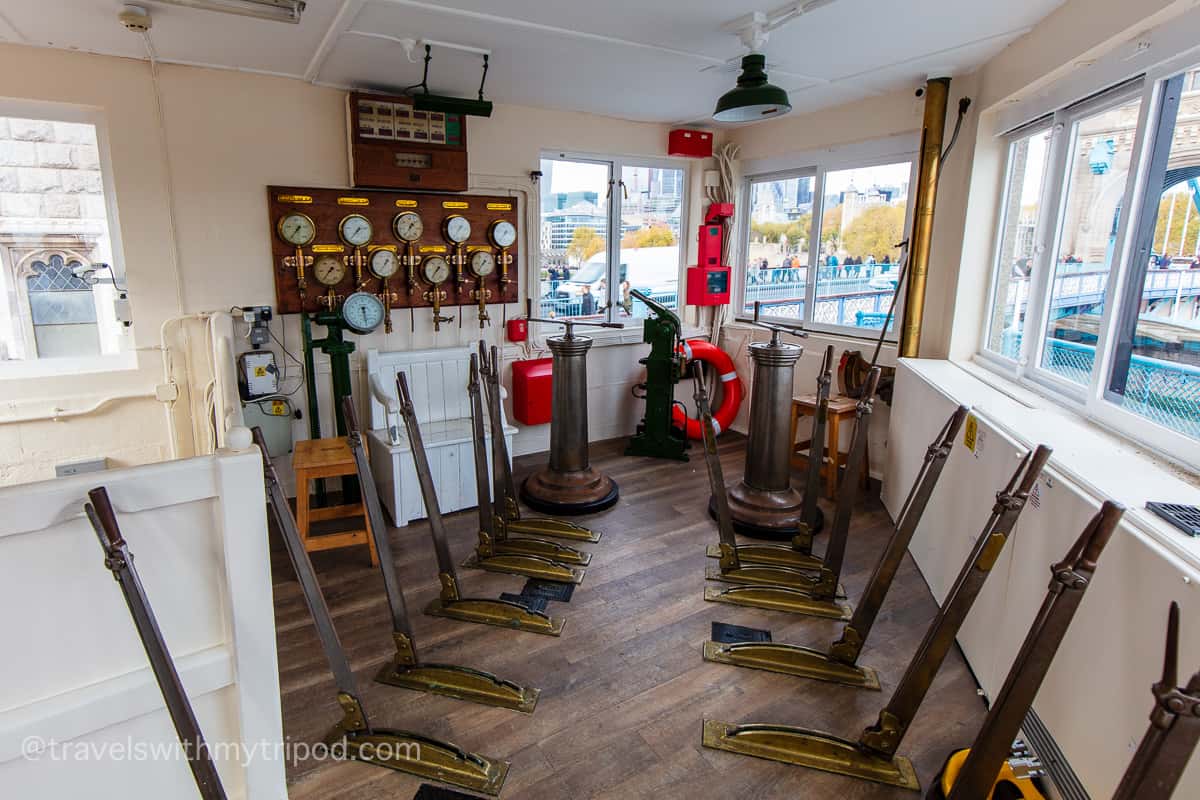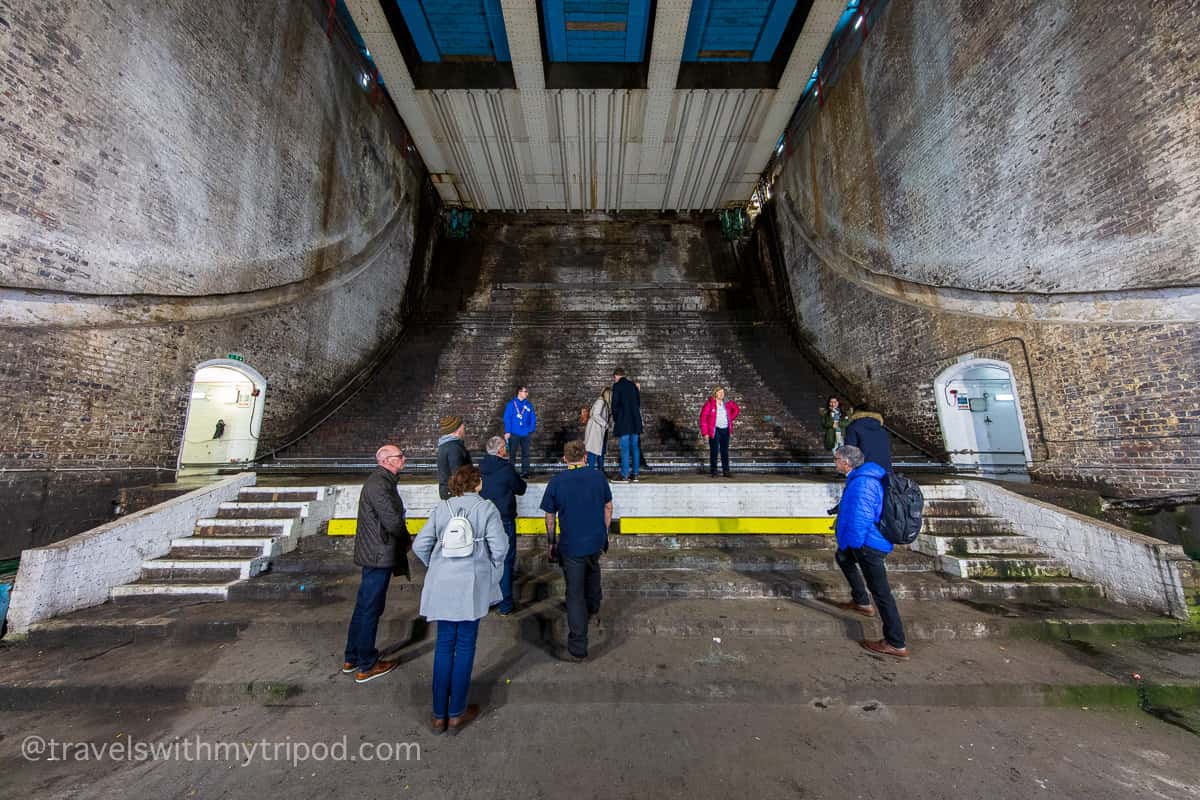 If you're travelling to London by train, you can get 2for1 tickets to the bridge (and many other attractions too). Simply book online and enter the code you get from National Rail once you book train tickets. More details are on the National Rail website.
Full ticket price details are on the official website where you can also book in advance.
Is Tower Bridge worth It?
I think so yes. It's an interesting way to spend a couple of hours, and you get to learn about a fascinating piece of engineering as well as a key part of London's history. You also get to see some of the best views in London – all for just over £12!
How often does Tower Bridge open?
Tower Bridge lifts around 1,000 times per year – sometimes several times a day, and they can be at any time – even late at night. The lift times are published in advance, so if you want to time your visit to see a bridge lift, you can check this page on their website.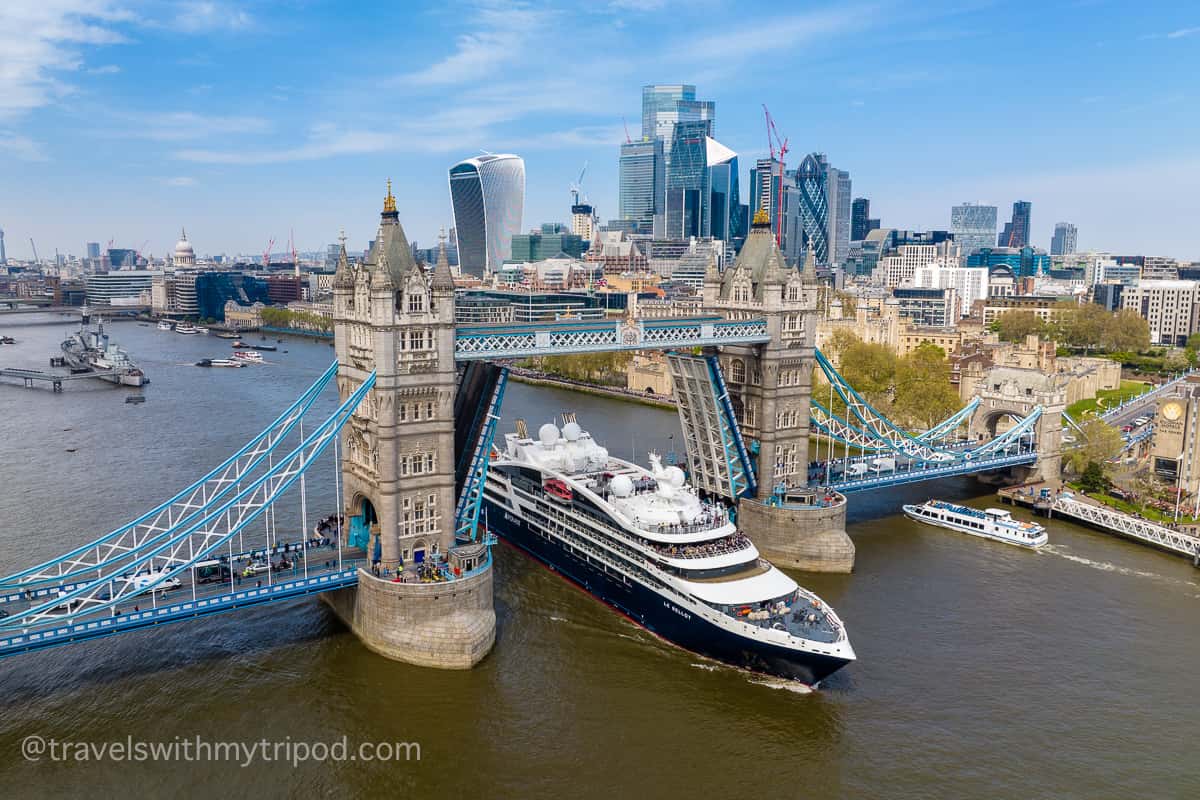 All kinds of different ships pass through the bridge – from small sailing barges to large cruise ships. They even had the world's largest ocean-going sailing ship, the Götheborg of Sweden, pass through in 2022!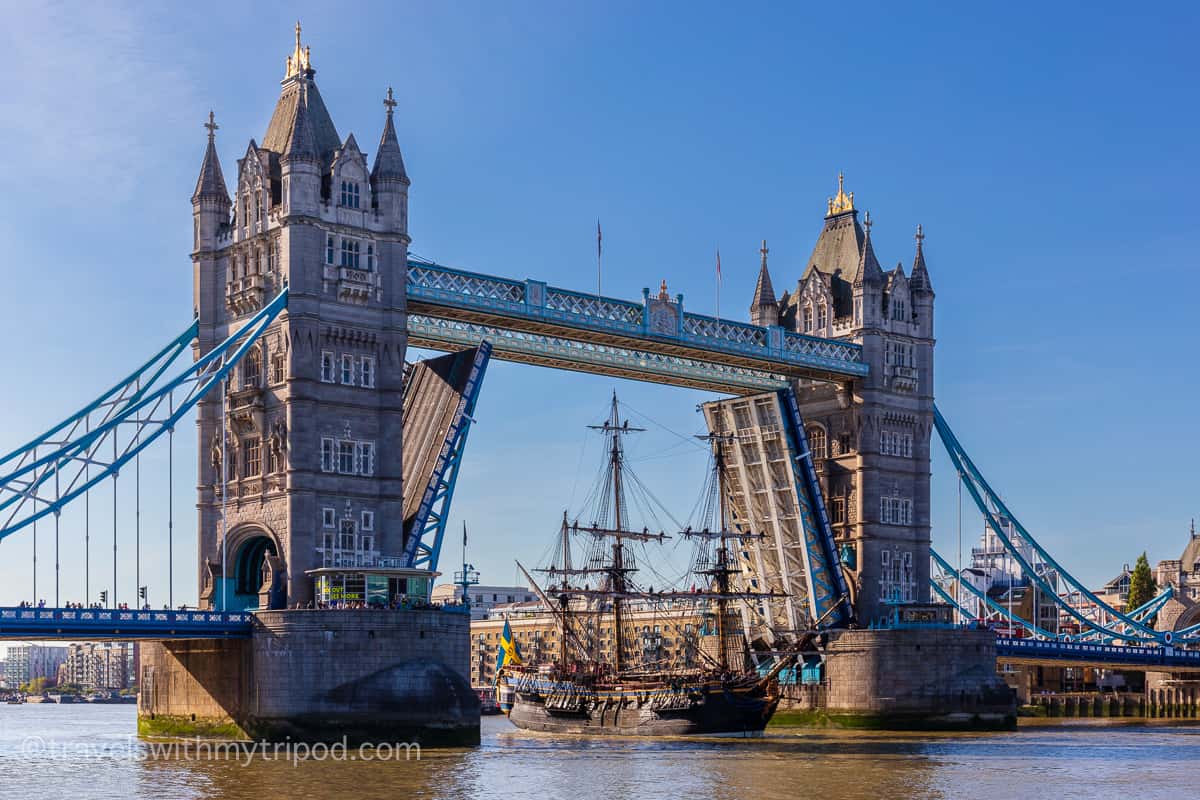 What else can I do near Tower Bridge?
There are many things to do near the bridge – enough to keep you busy for several days at least. Here are some suggestions!
Visit The Tower of London
Have a drink while admiring the views from the 72nd floor at the View from The Shard
Explore WWII ship HMS Belfast
Walk along the River Thames Path
Take a boat tour to Greenwich
Wander around St Katherine Docks
Visit London Bridge Experience (this is near London Bridge station, and not to be confused with the Tower Bridge Experience)
Check out Southwark Cathedral – London's oldest Gothic church
Sample some of the tasty treats on offer at Borough Market, one of the largest and oldest food markets in London.
Climb the 311 stairs to the top of The Monument – a 202 feet tall tower commemorating the Great Fire of London. Top Tip – if you buy a combined ticket to both at either attraction, you can save 20%!
I've also written a separate article with more in-depth suggestions for what to do near Tower Bridge.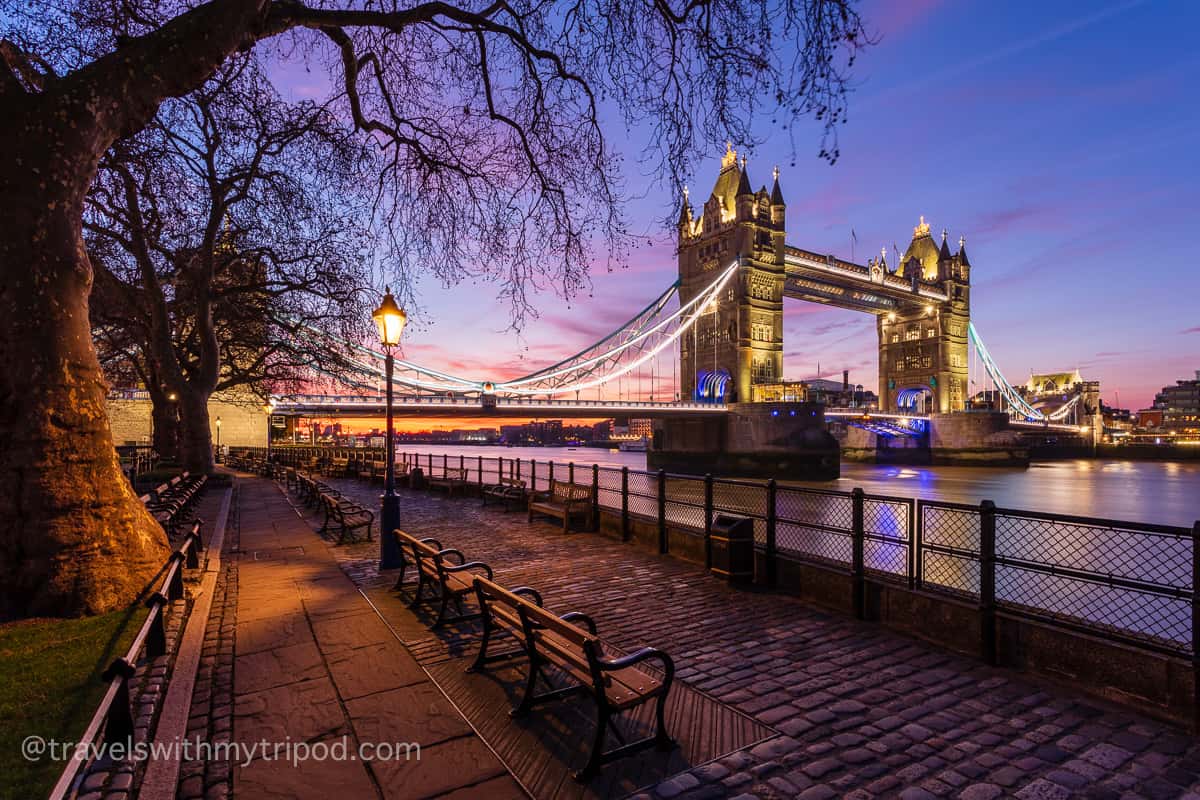 Pubs near Tower Bridge
If you fancy a pint or some proper pub grub to eat, there are a few pubs nearby that I recommend. I've created a map at the bottom of the page with locations of all of them.
The Dickens Inn, St Katherine Docks – a reconstructed 18th-century timber-framed warehouse overlooking the marina. It serves decent food, and has a large beer garden.
Prospect of Whitby, Wapping – a historic river-side pub. It's a bit of a walk from Tower Bridge – around 20 minutes, but if you're after an authentic old London pub with lots of history then it's worth the effort. You'll also walk past two other pubs worth visiting on the way as you wander along the cobbled streets of Wapping – Town of Ramsgate and The Captain Kidd.
Dean Swift Pub – a small pub tucked away in a quiet back street in Shad Thames. It's only a short walk from the bridge, but it's far enough away to be hidden from all the crowds.
The Vault 1894 – a small pub located directly underneath the bridge on the south side. If you're lucky, you'll be able to get one of the window seats overlooking the river.
Places to eat near Tower Bridge
There are loads of places to eat in the vicinity – from cafes to high-quality restaurants. You can even eat your own picnic in Potters Field Park which is an open space next to the bridge, overlooking the river. Here are some of the cafes and restaurants I've eaten at and would recommend. You can see where they're all located in the map at the bottom of this page.
Coppa Club Tower Bridge – located on the north of the river, next to the Tower of London. You can eat inside, on the terrace, or even book your own cozy igloo with stunning views of the river!!
Gaucho Tower Bridge – if you're in the mood for Argentinian steak, this is the place to go! Located a few minutes walk away, on the way to London Bridge station.
Ivy Tower Bridge – a good quality brasserie located next to Potters Field Park, and with views of the bridge.
Butlers Wharf Chop House – a good quality steak restaurant overlooking the Thames. You can sit inside, or enjoy an outdoor heated terrace for the ultimate river views. They also serve an excellent Sunday Roast!
Le Pont de la Tour – a classic French restaurant next door to Butlers Wharf Chop House.
WatchHouse – a coffee shop located just a couple of minutes away down the cobbled streets of Shad Thames. They serve great quality pastries as well as other snacks.
The Real Greek – a Greek restaurant situated right next door to the Tower Bridge gift shop.
The Coal Shed – another good quality steak restaurant just a few minutes walk from Tower Bridge. You will usually need to book in advance.
St Katherine Docks – there are a selection of restaurants just a few minutes walk from Tower Bridge in this picturesque marina.
Borough Market – choose from a selection of food stalls at this famous food market about 10 minutes minutes walk from Tower Bridge.
If you're just looking to just grab something quickly, there is a mini Tesco supermarket nearby. This is located down the stairs on the north side, opposite the Tower of London.
Tower Bridge gifts
If you're a fan of Tower Bridge, or want to buy something to remind you of your visit then check out these gift ideas!
Map of places to eat and drink near Tower Bridge
How to use this map: Click on the icon in the top-left corner of the map to reveal a list of locations. If you click on one of the locations in the list, or one of the pins on the map, you can get more information or directions to it.

Click on the star just to the right of the title to save to your Google Maps account. You can then view the map on your phone or computer by opening Google Maps, clicking the "Saved" icon and then selecting Maps. You'll then see this map in your list.

To open a larger version of the map in a new tab, click on the icon to the top right.
Save to Pinterest