Iceland – the land of Fire and Ice. You've all seen photos and videos of Iceland I'm sure, but what is it like to actually visit and photograph?
During the winter, it is more ice than fire – unless you're there during a rare volcanic eruption. What they don't tell you though is that there is also a lot of wind! I didn't realise quite how much until I arrived there on a cold January afternoon nearly 2 years ago.
I had wanted to photograph Iceland for a while, but for years I had shied away from cold places. Instead, I preferred to venture to warm and sunny destinations like Cuba, Tuscany and Myanmar. However, in early 2022 I decided to pack my thermals and tripod, and head to Iceland for the first time. I had heard the weather could be pretty extreme, but I had no idea what this actually meant.
Winter weather in Iceland
A message from BA the evening before departure gave some indication of what Iceland had in store. The early morning flight was delayed until the afternoon due to high winds. When the aircraft eventually touched down, it didn't seem that windy and I wondered what all the fuss was about. However, it didn't take long until I realised. Just long enough to walk down the aircraft steps, and almost get blown down the runway. OK, this is windy.
During winter the weather in Iceland can be brutal, but it just adds to the challenge of photographing this amazing country. I've been back again since, but still have only really started to scratch the surface of this epic destination that really is like no other. Hopefully my experiences will tempt you to visit yourself, and give you some ideas on what to photograph.
I've spent most of my time either on the south coast, or up on the west coast. For photography, and to experience what Iceland has to offer in general, I think it's better to get out away from the relatively crowded capital Reykjavik. Although with just 140,000 inhabitants this is still tiny compared to London where I live.
Why visit Iceland during winter?
This is a great question! Why choose to go when the weather is so cold and harsh? There are a few reasons really. One is that Iceland's populatiry as a tourist destination these days, and for most of the year can be busy. This isn't ideal if you're trying to take photos. Secondly, you can get some incredible photos during the winter. Plus of course there is more chance of seeing the Northern Lights which isn't possible during the summer months.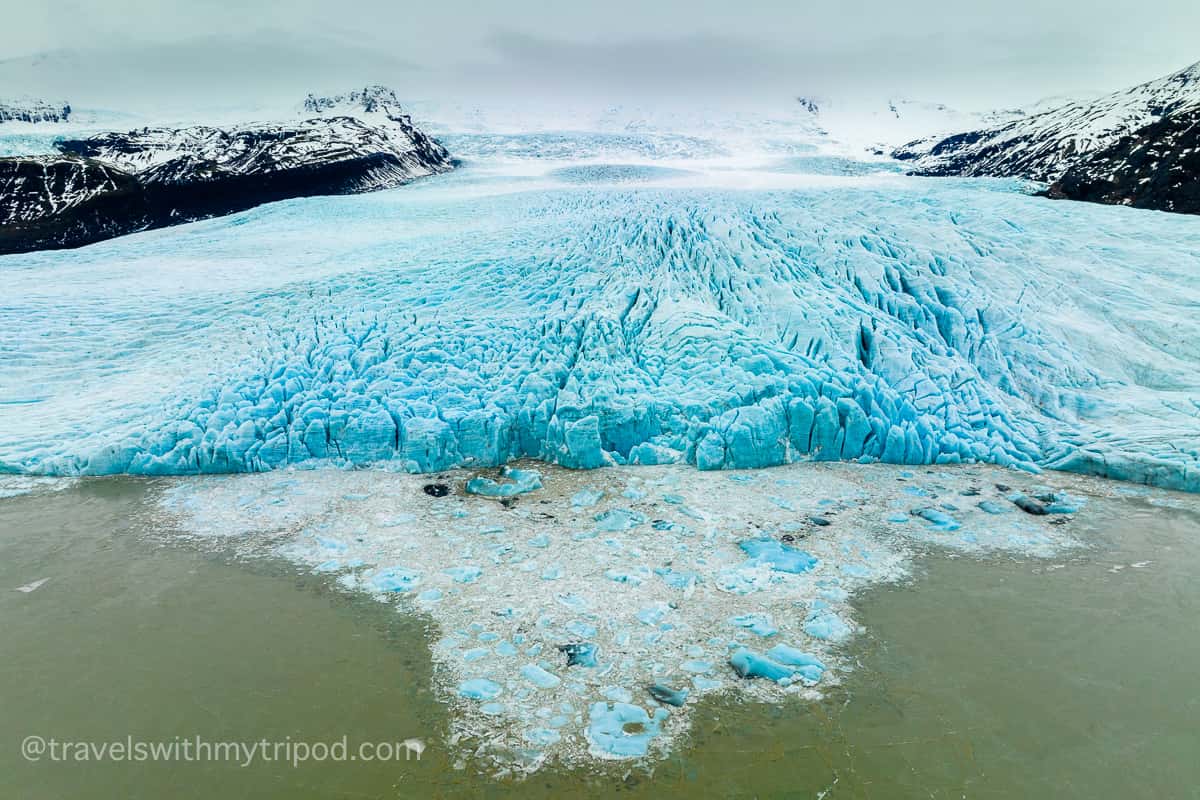 To give you some idea of what to expect, here's a video I made of Iceland in winter.
Getting around in Iceland
Iceland isn't a huge country, but it takes a while to travel around and unless you're on an organised tour, you will need to hire a car. There is basically a single ring road that goes around the whole country, which is mostly a single lane in each direction. There is no motorway/autoroute so progress will be slow if you're used to driving elsewhere. It's also very challenging if the weather is bad, which is often the case. High winds, fog, ice and snow all make driving conditions very difficult. If the weather is too severe, the police can close roads which means you are stuck where you are until conditions improve.
My favourite photography locations in Iceland
This list will likely grow each time I visit Iceland and find new places to explore, however for now these are the best places I've photographed in Iceland – and in some cases, the world. Iceland really is a photographer's paradise!
Diamond Beach
One of the most famous locations in Iceland is Diamond Beach, also known as Iceberg beach. Its actual name is Breiðamerkursandur – so Diamond Beach it is! It's located just outside another famous location, Jökulsárlón glacier lagoon, so you can visit both locations at the same time. This particular beach is made from black volcanic sand, and is famous for the big chunks of ice that drift ashore once released from the lagoon.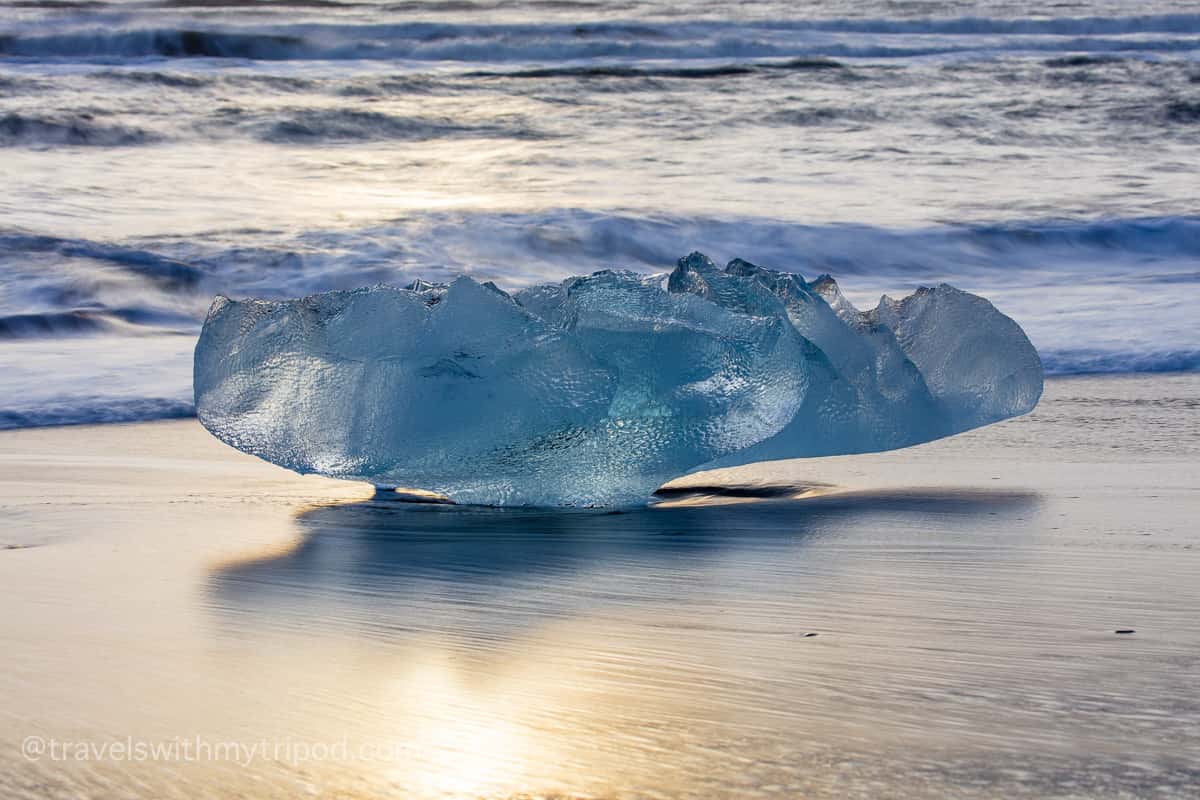 The best time to photograph the beach is sunrise or sunset, as the low sun gives a lovely warm glow to the ice.
You do need to be careful here though, as sneaker waves can, as the name suggests, sneak up on you. At the very least you'll get wet feet, but if you're not careful they can knock you over, or flood your camera bag. They're not as deadly here as at other places in Iceland, but you still don't want your camera gear ruined by a wave.
Jökulsárlón glacier lagoon
The nearby lagoon is also worth photographing, especially if you get some nice colour in the sky at dawn or dusk. It's also a good place to book yourself onto a tour to explore an ice cave. My advice for this is to book one later in the day to avoid the crowds. This should also hopefully mean you get some nice light as the sun gets lower.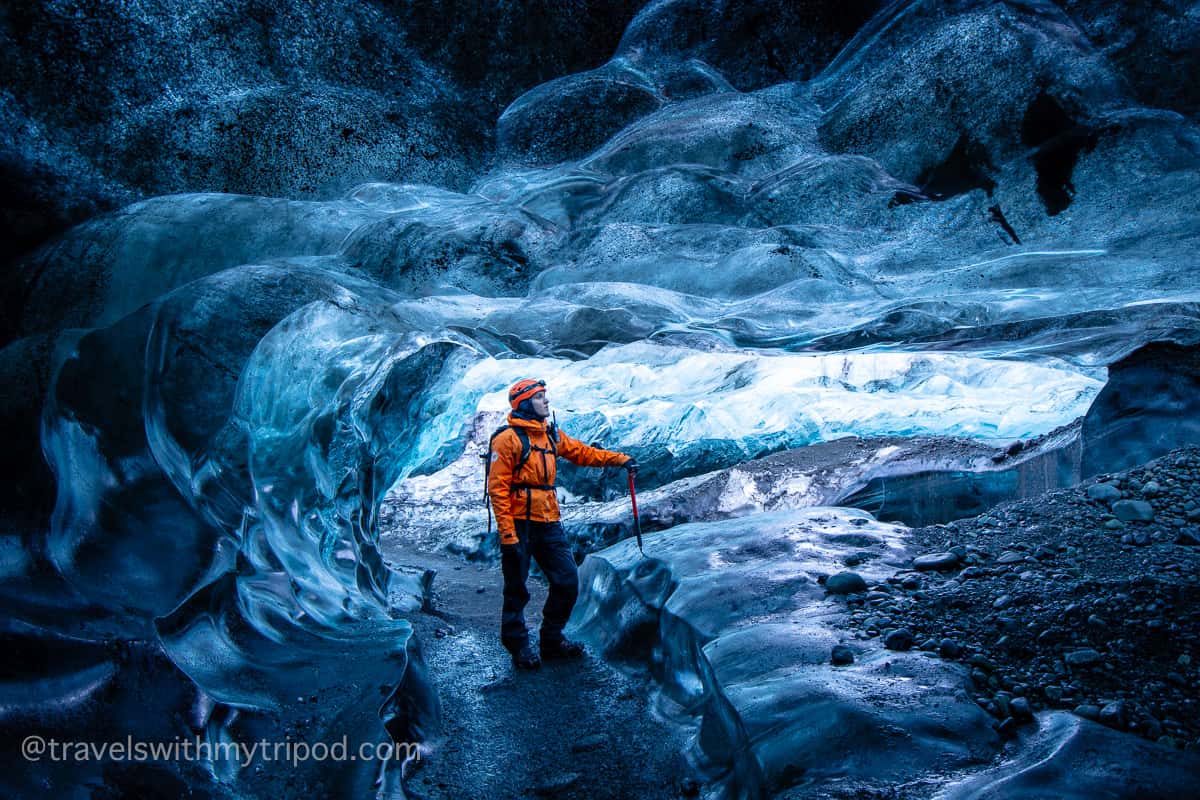 As the ice moves around and changes every day there is always something new to photograph. Although if it is too cold, the lagoon freezes over and the ice can get trapped inside. This was the case the second time I visited in 2023. It was rather disappointing although the beach is striking even without the ice. I found that you always had to expect the unexpected in Iceland, and to be prepared to change plans based on the conditions.

When I visited the glacier lagoon for the first time, there wasn't much ice and I wondered what all the fuss was about. The very next day though it was full. It would have been an amazing experience to see and hear those massive chunks of ice breaking away from the glacier and crashing into the water overnight.
Jökulsárlón glacier lagoon is also a great place to try and photograph the northern lights. If you're keen to do this, then I'd recommend you read my post about how to photograph the Northern Lights in Iceland.
Vestrahorn
Vestrahorn, oh glorious Vestrahorn. This is one of my favourite places to photograph anywhere in the world, and hopefully you can see why.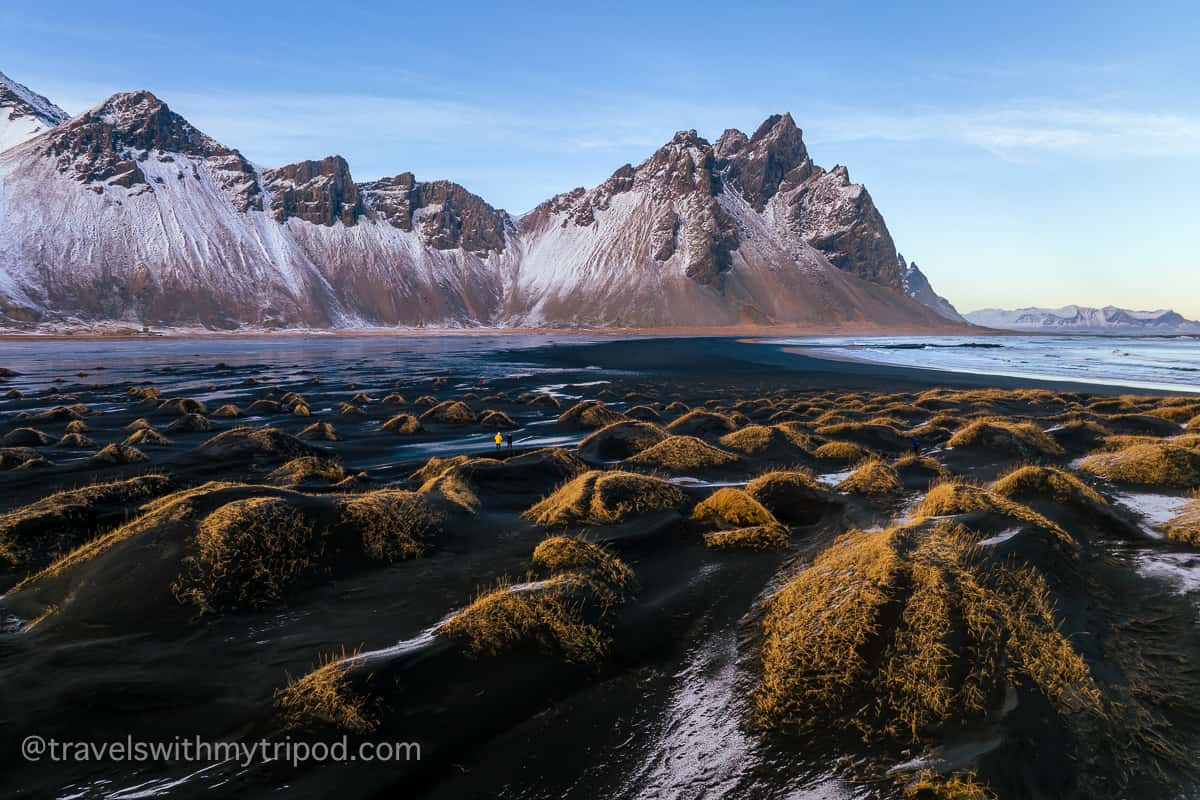 Vestrahorn itself is a mountain, and it's located on the Stokknes Peninsula close to the town of Hofn towards the east of Iceland. It's a little further east from Jökulsárlón, but around a 6 hour drive from Reykjavik which is a bit too much to do in a day so I'd recommend staying overnight nearby. Unlike most places in Iceland, the best place to photograph it from is located on private land, and you need to pay a small fee to access it but it is well worth the cost.
The mountain has a very dark and jagged appearance, and stands alone which makes it very striking to photograph. It's surrounded by a sandy coastline, which starts off very flat and smooth, but then turns into big dunes covered in long grass.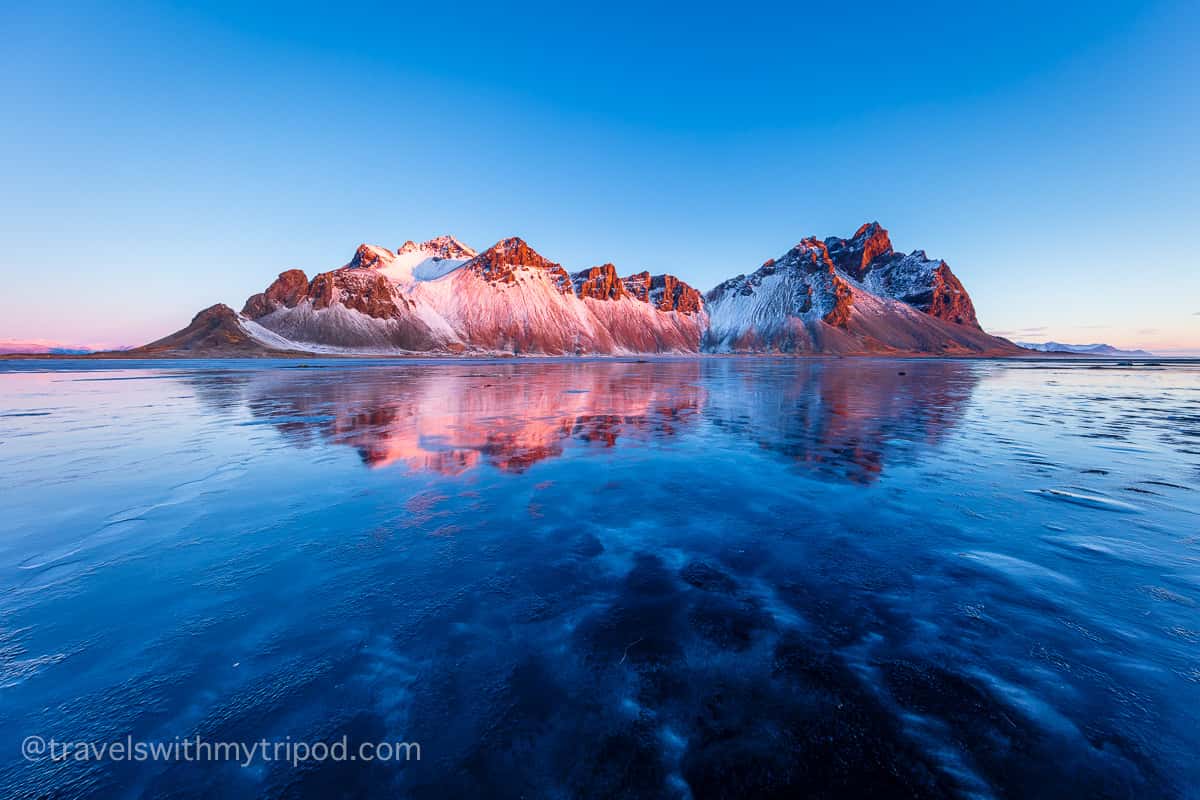 There are so many compositions at this spot – from simple reflections in the wet sand, to using the sand dunes in the foreground. It's also a great spot to photograph the Northern Lights from, and in fact was where I photographed them for my first time. You can read more about this in my blog about photographing the Northern Lights in Iceland.
It's also good at sunrise and sunset, and if you're lucky you'll get some dramatic cloud too.
Things to look out for are if it's windy, you get a lot of sand blown in your face. I still occasionally find a few grains of black sand in the pockets of my coat almost 2 years later. The waves aren't particularly dangerous here, but you do sometimes get a wave come in further than the others so keep an eye out if you're not wearing waterproof boots.
Vik
Vik is a small town on the south coast, about half-way between Reykjavik and Jökulsárlón. It's known for its black sand beach called Reynisfjara, which is famous for the black sand and striking basalt columns along the cliffs. It's also famous for its killer waves, and this particular beach has claimed the lives of several people in recent years. When photographing here, you really do have to keep an eye out for sneaker waves, and never leave your camera bag on the ground out of view. On this beach, these waves come out of nowhere and can be deadly.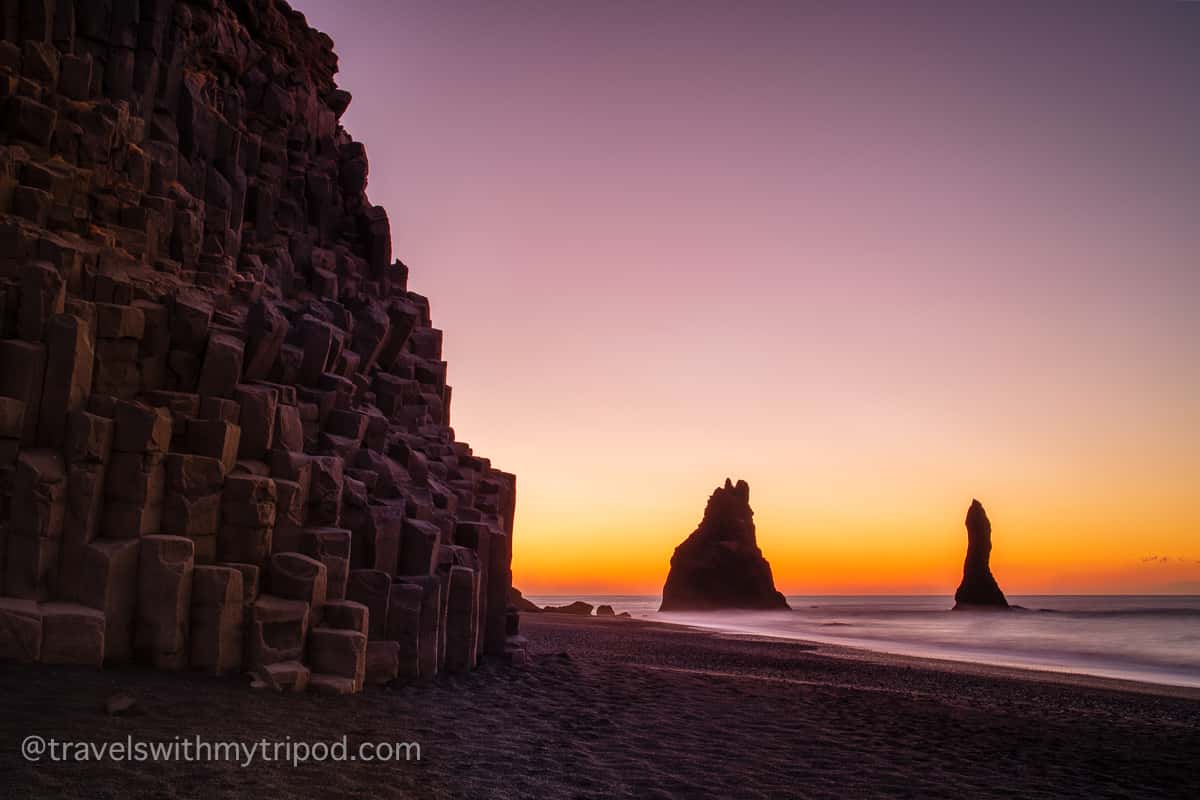 During winter, the conditions aren't much fun to be outside in, but they do result in some spectacular conditions. This is a great location to photograph the waves pounding against the rock columns near the beach, and it's also a good spot for sunrise.

Also in Vik is a large shop that sells all the Icelandic wool clothing and souvenirs you could possibly need. It's very hard to resist walking out of here without at least a colourful wool hat, or maybe a stylish Icelandic jumper.
Kirkjufell
Moving to the west coast now, Kirkjufell is another small mountain that stands near the coast, and is another great location to photograph. There's a small car park near its base which is next to a waterfall which leads into a lake. The usual spot to photograph from here is next to the waterfall, but if you wander down the hill to the bottom you can get some really nice compositions from here too, especially if the water is still.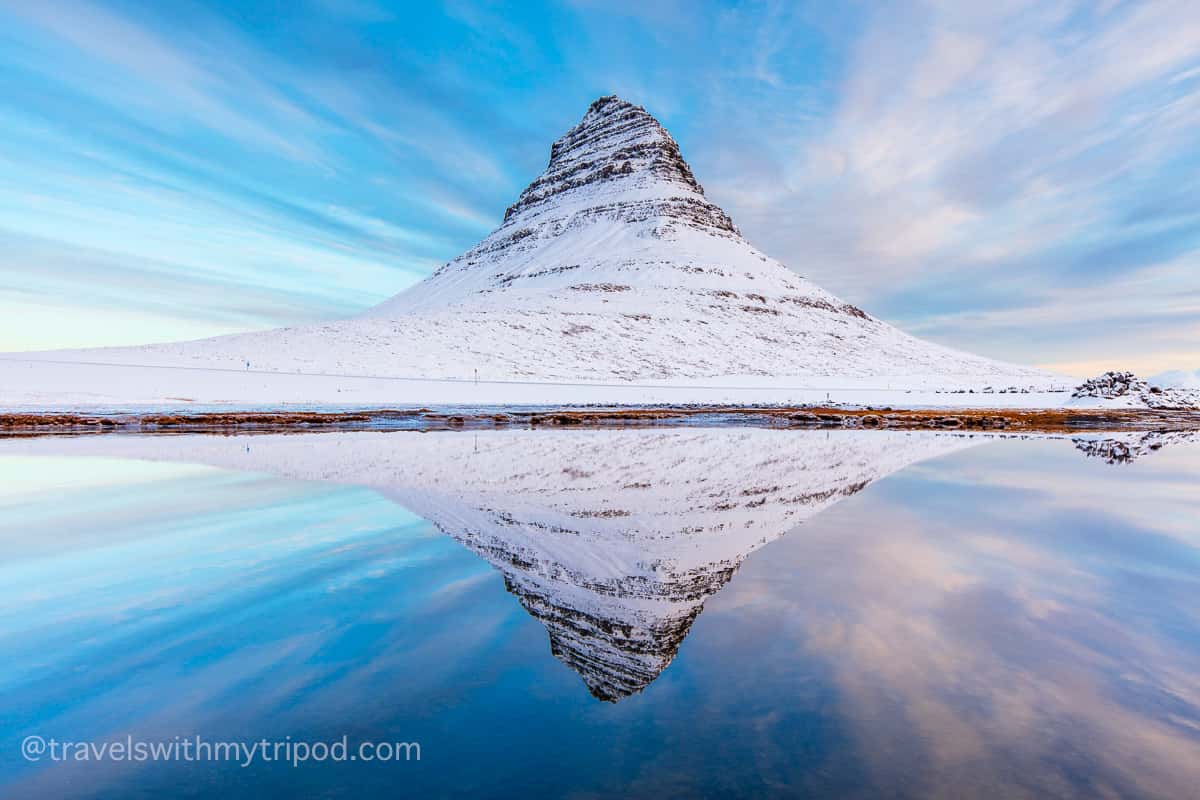 It's also a good location for the Northern Lights, so well worth a trip here if there is a good aurora forecast.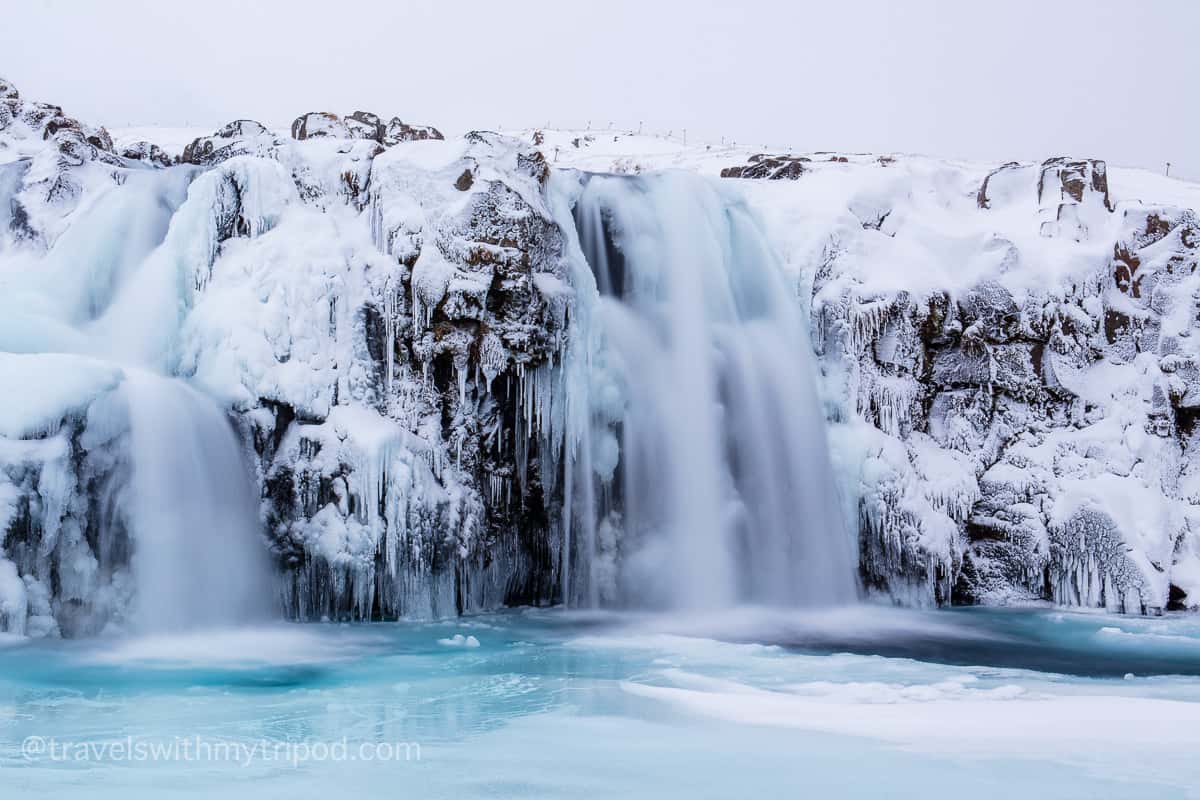 Black Church at Budir
Another iconic location in Iceland is the Black Church at Búðir, which is located on the western tip of the Snæfellsnes Peninsula. It's a very small hamlet, and just consists of the church and a small hotel. It's worth a visit though as it's very photogenic. I've photographed here a few times, and the best conditions I think are when there's a snow storm. Firstly the black of the church contrasts really nicely with the snow and clouds, and secondly the harsh weather keeps most people away so you don't have to worry about people constantly getting in your shot.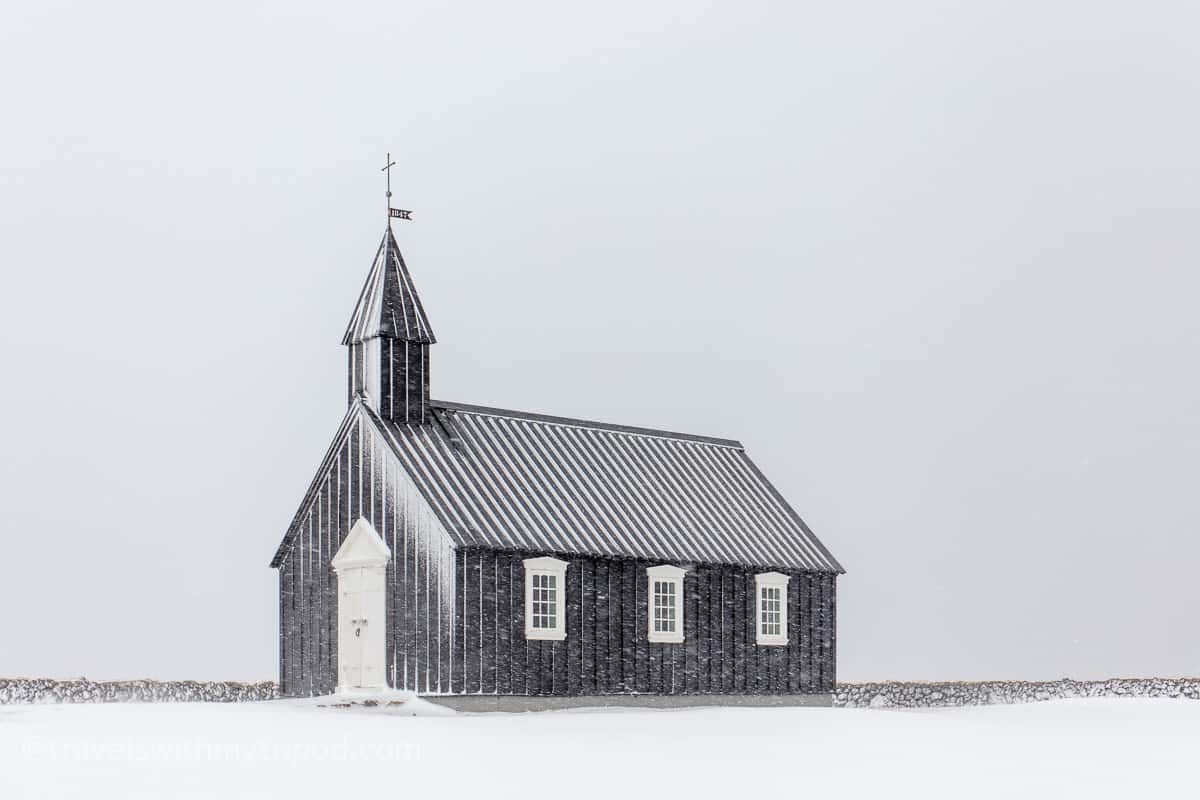 Waterfalls
You might notice I've not included any of the well-known waterfalls like Seljalandsfoss and Skógafoss in my list. This is because they are generally busy, and if you're on a limited schedule I think that there are better places to spend your time. They are impressive to look at though, so definitely worth a visit still.
What camera gear to take to Iceland
I took my usual landscape setup to Iceland, with an additional lens specifically for shooting the aurora. I go into more detail about this in my blog about photographing the Northern Lights. It's also worth taking a spare camera body if you have one, as Iceland can be very hard on camera gear. I was with a small group, and several people had issues with cameras either failing due to the cold, snow or sand, or being damaged by waves.
I'd recommend taking a few spare lens cloths too as these have a habit of being blown away by a strong gust of wind. The same wind will mean you'll need to wipe your lenses clean more often.
I'd recommend taking a tripod, and this will be essential if you're planning on photographing the Northern Lights. It should be as sturdy as possible as it will often be pretty windy and a lightweight tripod won't handle this as well as a heavier one. You might want to consider some tripod leg protectors too if you're going to be near the sea, as salt water and volcanic sand will not do your tripod any good at all. I didn't bother, but usually washed my tripod in the shower each evening then dismantled it and gave it a thorough clean once I was back home.
What clothing should I pack for Iceland?
Iceland is cold and windy, so you do need to dress for those conditions. This is especially important if you're there for photography, as you may be standing around for long periods of time.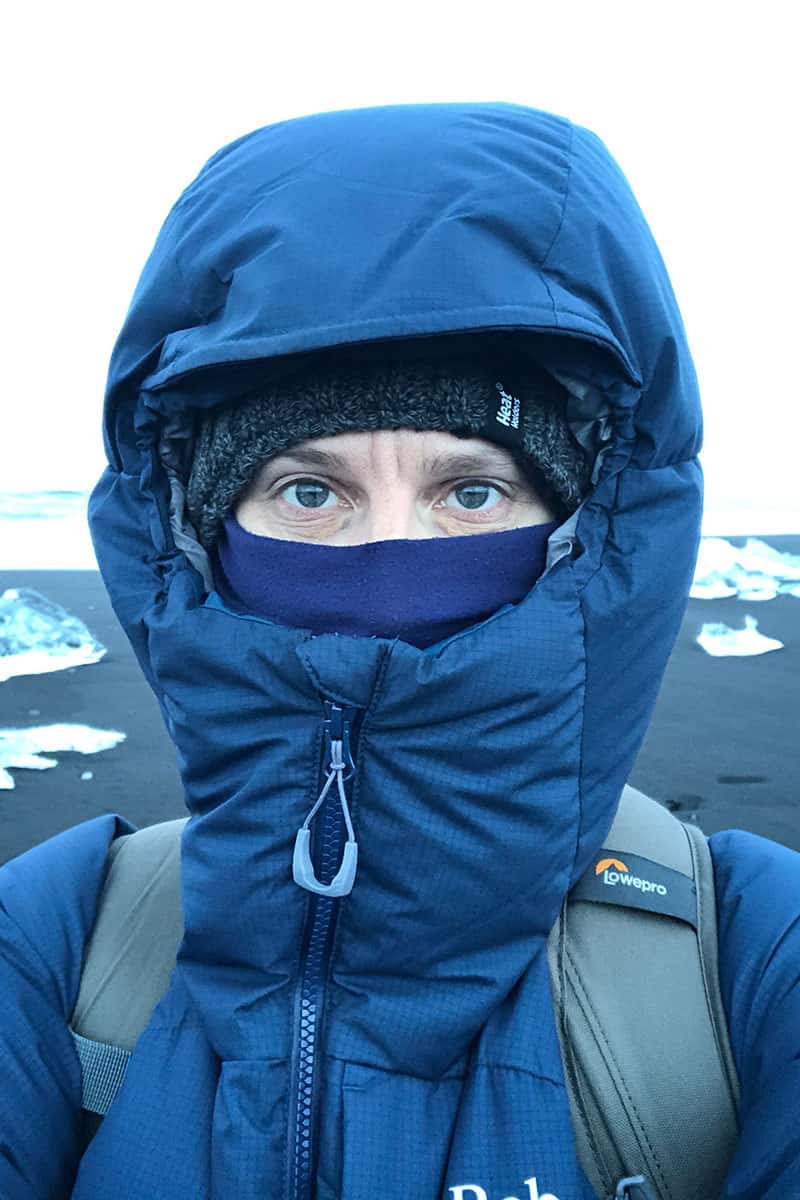 This is a checklist of what I would recommend you take:
Footwear
Warm insulated boots – ideally waterproof. I wore North Face Chilkat boots most of the time, swapping to a pair of knee-high neoprene Muck Arctic Sport boots for when I was next to the sea. These do take up a fair bit of room in your luggage, but are worth it to avoid freezing cold wet feet! One tip I have is that they are quite spacious inside so you can stuff them full of small items of clothing.
Clothing
Warm coat – a warm and windproof jacket is definitely worth taking. I wore a Rab down jacket over a thin fleece that was ideal. As down jackets aren't great in the wet, I also took a waterproof jacket to wear over it.
Insulated trousers – these really help keep you warm when it's freezing cold and the wind is trying to blow you off your feet. I wore a cheap pair of ski trousers which were ideal. You could also wear winter hiking trousers along with a thermal base layer.
Balaclava/scarf/snood – the biting cold wind gets everywhere, and something to cover your neck and face will really help keep you warm.
Hat – a warm and windproof hat that covers your ears is vital, and a snug fit or straps are vital as otherwise you'll be in danger of it being blown away by the wind.
Accessories
Protective glasses – not vital, but if you're out on some of the beaches when it's windy, you'll be blasted by harsh volcanic sand. A pair of wrap around clear glasses will help protect your eyes – I found a cheap pair of cycling glasses at Decathlon.
Gloves – these are vital. A good pair can make the difference between staying out to get a great photo or giving up as your hands are too frozen to operate your camera. I use a thin pair of gloves as a base layer, then wear a bigger mitten on top when I'm not using my camera. After my first trip to Iceland I ended up investing in a pair of Heat Company outer mittens – these are expensive, but really good. You can also get hand-warmer inserts that you can slip into the gloves to give a bit of extra warmth.
If your camera has a touch screen, then look for gloves with touch-screen compatible inserts in the finger tips. I've tried quite a few different pairs, and my current favourites are the SealSkinz water repellent fleece glove. These give the best compromise with warmth and dexterity, plus the touch screen finger tips work really well.
Crampons or ice spikes – another vital piece of equipment! During winter, Iceland really does live up to its name and there is plenty of ice, especially near the waterfalls. These can be treacherous where the spray gets blown by the wind and then freezes. A pair of ice spikes that fit to your shoes really do make it easier and safer to get around.
There are a few different types of ice spikes. I would ignore the versions with little metal dots, and buy a set like the ones below with metal spikes. These attach over your normal winter boots, and you can stride over sheet ice without a care in the world. I kept mine in a small pouch attached to my camera bag, and had them available at all times.
Places to stay in Iceland
Hotels outside of Reykjavik are not particularly plentiful which does limit where you stay. I can recommend a couple that I've stayed in personally.
Fosshotel Glacier Lagoon – located not far from Jokulsarlon glacier lagoon. Not only is this hotel in a convenient location, it's also stylish, comfortable and serves excellent food.
Hotel Vik i Myrdal – located in the centre of Vik. It's comfortable, serves good food and is located just across the road from a large Icelandic clothing and souvenir shop. This makes it an ideal stop to do a bit of holiday shopping. Just be aware that while the standard rooms on the ground floor are fine, the nicer rooms are on the upper level.
Map of photography locations
Here's a map I've put together of all the locations I've mentioned in this article.
How to use this map: Click on the icon in the top-left corner of the map to reveal a list of locations. If you click on one of the locations in the list, or one of the pins on the map, you can get more information or directions to it.

Click on the star just to the right of the title to save to your Google Maps account. You can then view the map on your phone or computer by opening Google Maps, clicking the "Saved" icon and then selecting Maps. You'll then see this map in your list.

To open a larger version of the map in a new tab, click on the icon to the top right.