Like many people, I hadn't really thought about visiting Liège before. Most tourists to Belgium pick other well-known cities such as Antwerp, Bruges and Ghent, but are they missing out? I decided to spend a weekend break in Liège to find out for myself.
In this article, I unravel the hidden gems and unforgettable experiences that await you in Liège.
What first drew me to this medieval city was its station (Liège-Guillemins) – a modern design by Spanish architect Santiago Calatrava. You may recognise some of his other work, which includes the City of Arts and Science in Valencia, and the World Trade Center Transportation Hub in New York. I'd seen photos of this station framed by a huge arch, and was keen to see it while it was illuminated with artwork by Daniel Buren.
A few facts about Liège
Liège is a city in the Wallonia region of Belgium on the Meuse river, in the east of the country. It's close to the German and Dutch borders, but is a French-speaking region. Belgian cities often have French and Dutch versions of their name, but Liège has 12! I won't list them all, but two key ones are Luik (Dutch) and Lüttich (German). This is handy to know as some of the train timetables refer to these names depending on the train operator.
The site has been inhabited since prehistoric times, but only started to grow as a city after St Lambert was murdered there in 705. Over the years, Liège grew to become a major industrial centre, which then faced decline in the late 20th century. Through the years, it has had a pretty eventful history and much of that makes it the city it is today.
Getting to Liège
How to get to Liège from London
I took the train as this was the easiest option. I booked a ticket on the Eurostar from St Pancras in London, which left at just after 9am, and got in to Brussels Midi 2 hours later. My connecting train to Liège-Guillemins station didn't leave for another 1 ½ hours which gave enough time to grab lunch and have a quick look around the shops.
The journey from Brussels Midi to Liège took another 45 minutes, and I arrived just after 2pm. I was impressed by the train journey – the train itself was comfortable and clean, and arrived on time.
Travelling into Liège centre
I hadn't done much research on how to get into the historic centre where I was staying, as I assumed it would be easy to get a taxi. This was a mistake! Unlike in the UK where you get taxi ranks at the major stations, this wasn't the case at Liège-Guillemins. It wasn't that clear either which of the many bus lines would be suitable, so I ended up walking to the hotel. Luckily the historic centre is walkable from the station, and took approximately 35 minutes.
The route was a mixture of uneven cobbled pavements and areas where the new tram line was under construction. In hindsight, taking the bus would have been the best option. The number 1 and 48 routes stop directly outside the station and go right into the centre. The two main bus stops in the centre are just outside the opera house, and also the Place de la République Française.
Unlike in London, the buses in Liège don't take contact-less payment but they do accept cash – a one-way ticket was €2.60 per person, and you pay the driver directly. You can also buy a special bus card, similar to an Oyster card, but I didn't bother with this.
The buses are frequent, clean and well-maintained and they seem to be the best way of getting around in the city. Getting back to the station at the end of my stay was easy, and the bus ride from the opera house takes about 15 minutes.
I did spot a few taxis during my stay, but these have to be booked in advance and you can't just hail one from the street.
What is it like to visit Liège?
My first impressions of Liège as I stepped off the train were of the station – it was very colourful and stylish. The walk from the station to the historic centre where I was staying wasn't as positive though – this isn't really Liège's best side.
However, once I dropped my bags off at the hotel and headed out to explore, I began to discover a different side to Liège. The first thing which stands out is all the construction work. A new tram line is being built, and this is a massive undertaking with a lot of disruption. It's due to be completed in 2024, however locals I spoke to said it was likely to be 2025 in reality.
As I explored further during the weekend, I began to get a feel for the city. It is slightly run-down, with an industrial, gritty feel. But there are also a lot of beautiful old buildings, winding cobbled streets and also peaceful parks. As I explored the winding, cobbled streets I could imagine what life was like there back in medieval times.
I felt pretty safe there, even walking around at night. The one aspect that surprised me slightly was the number of homeless people and beggars. Living in London, I'm used to seeing homeless people on the streets, but in Liège they seemed to be more prevalent, and would often approach and ask for money.
In my experience, Liège is not an expensive city to visit. Food and drink prices were pretty reasonable, as were attractions and travel.
Things to do in Liège
There are quite a few places to visit and things to see in Liège. There are churches, museums, Roman ruins and a cathedral, as well as great food and drink to enjoy. If you just have one or two days in Liège, you will almost certainly find more than enough to do. I packed a lot in to my 2 days there, and there were still places I didn't have time to visit.
Here is my pick of things to do during a short break in Liège.
1. Eat Belgium waffles
Do you know that there is more than one type of waffle in Belgium? I didn't before I visited Liège! To me (and most non-Belgians), Belgium waffles are smooth and rectangular in shape, with square holes. These are known as Gaufres de Bruxelles (Waffles from Brussels).
However, Liège is known for its own waffles, and these are unique and very delicious! Gaufres de Liège (waffles from Liège) are made from a thicker dough which contains chunks of sugar. The sugar caramelises with the heat when cooked to give the waffle a lovely crunchy, golden coating. The edges of these waffles are more uneven, and the waffle itself is more rounded in form. They taste sweeter than the Brussels version, and while it is possible to buy with a number of toppings, they are delicious eaten by themselves.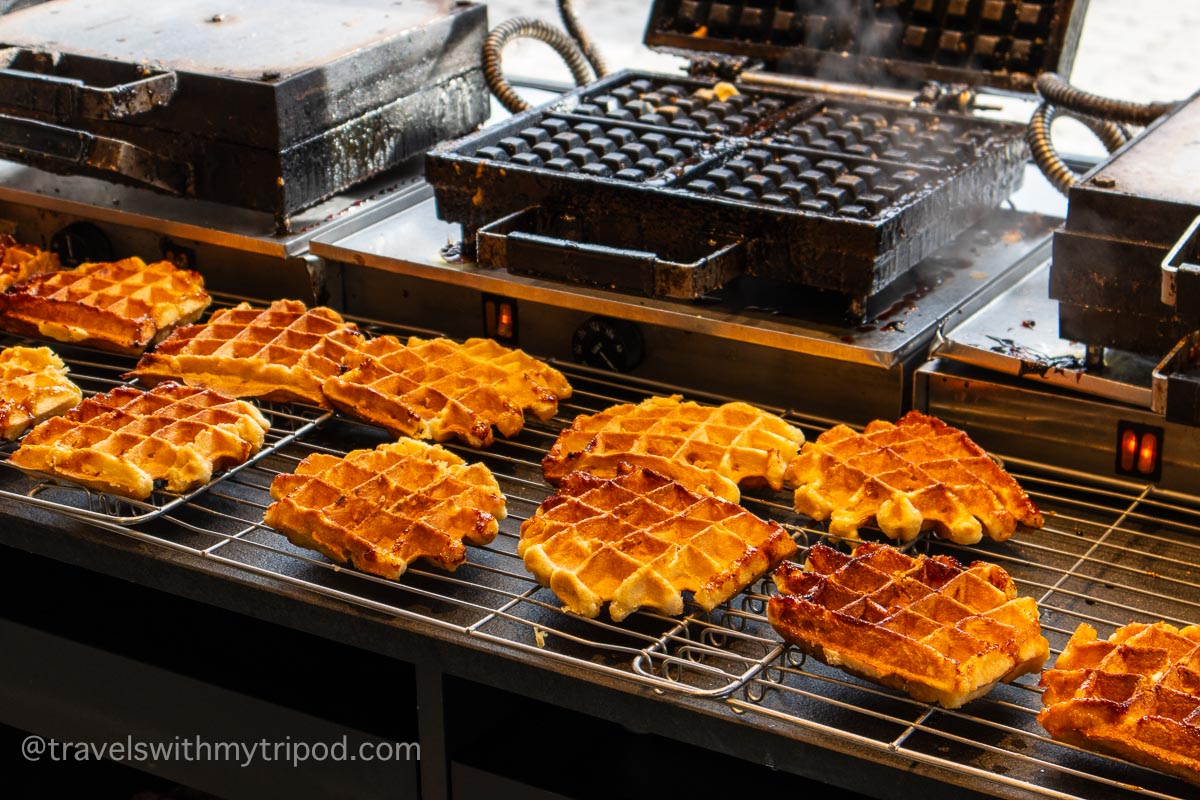 In the name of research, I tried a few and would recommend two waffle shops in particular.
Pollux – located on a street corner next to the cathedral, this small café sells the most delicious waffles. Options are limited to just plain vanilla or cinnamon, or you can have them with a chocolate sauce. Or if you're feeling indulgent, you can ask for one with chocolate sticks inserted into the waffle itself.
La Gaufrerie – located on Rue des Dominicains just a short walk from Pollux. You can choose from either style of waffle (Liège or Brussels) waffle, as well as a number of different toppings. If you just want a plain waffle, then I'd say Pollux is best, but if you want your waffle with fruit or other toppings then La Gaufrerie is a great choice.
Another waffle shop that is very popular and was Une Gaufrette Saperlipopette. This shop is located just to the side of the The Palace of the Prince Bishops. Sadly, I didn't have time to sample their waffles this time, but they did look and smell delicious.
2. Drink Belgium beer
Belgium beer is famous around the world, and for good reason. I always like to sample local produce, and was really impressed with Curtius – so much so I had to pay a visit to their shop (known as Brasserie C) to buy a couple of bottles to bring home. This beer seemed to be served at many of the bars and restaurants and I'd highly recommend giving it a try.
3. Enjoy Belgium meatballs
Boulets à la Liégeoise are large minced beef and pork meatballs from Belgium. They get their savoury-sweet flavour from a delicious, rich and slightly sweet sauce. This is made with sirop de Liège (an apple and pear syrup) – a local speciality. Served with fries and salad, this dish is served at many pubs and restaurants in Liège.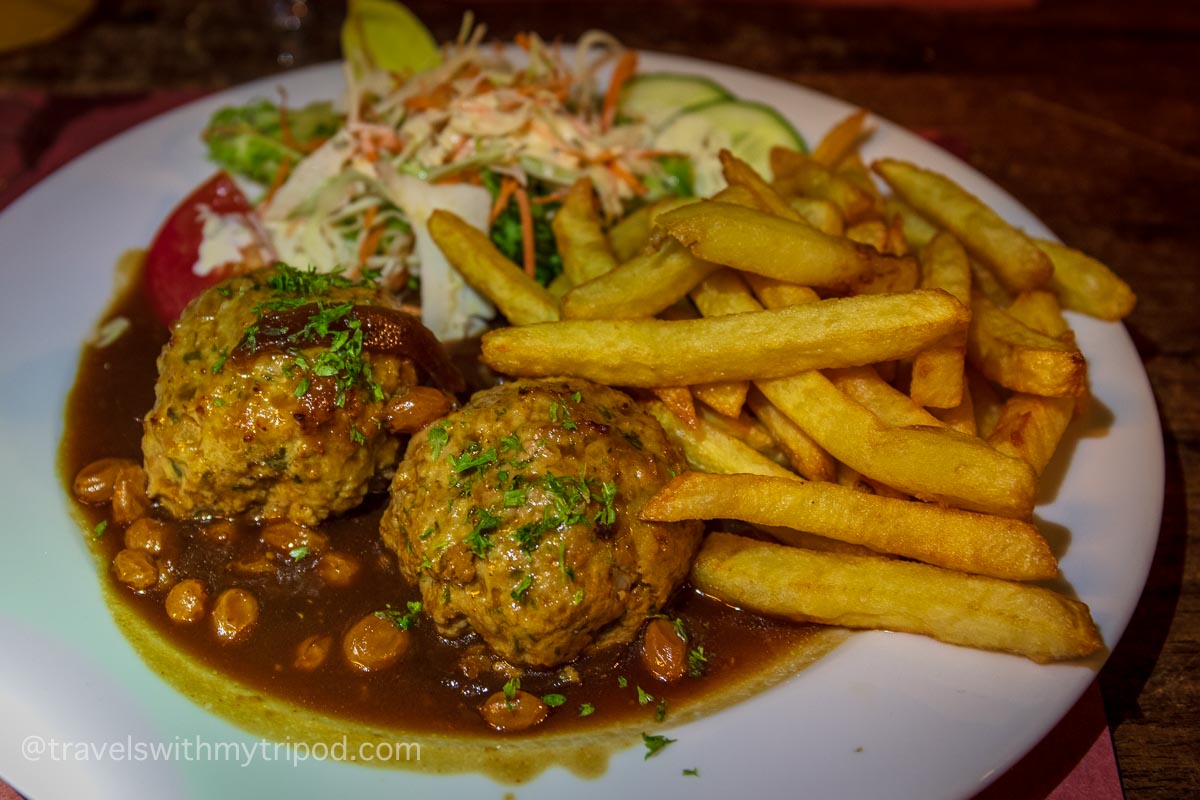 I went to Amon Nanesse for dinner, which is located just a short walk from the Place Saint-Lambert, and thought it was great. So much so in fact that I returned there the following evening. The price was reasonable, food was very tasty, service was good and the restaurant itself had a nice atmosphere so I'd definitely recommend going there. I can imagine it gets pretty busy there during peak times, so it's worth booking in advance on their website.
4. Peruse the Sunday market
If you're in Liège on a Sunday, then the La Batte market is well worth a visit. This is the oldest and largest market in Belgium, and stretches for almost 3km along the banks of the Meuse.
It features an eclectic mix of stalls selling everything from washing detergent to pet ferrets. As well as clothing stalls, there's also a nice selection of food stalls including cheese, meat and fish.
It's open every Sunday between 8 a.m. and 2 p.m, although does get busy so I'd recommend getting there quite early.
5. Climb the Montagne de Bueren
If you fancy building up an appetite before enjoying some waffles or meatballs, then climbing the 374 steps to the top of the Montagne de Bueren will do the trick. This iconic set of stone stairs was built in the 19th century to link the town centre to the citadel that overlooks the city.
It's an impressive sight standing at the bottom, and a great sense of achievement when you make it to the top. While catching your breath, you can stand and and look across the river Meuse in the distance.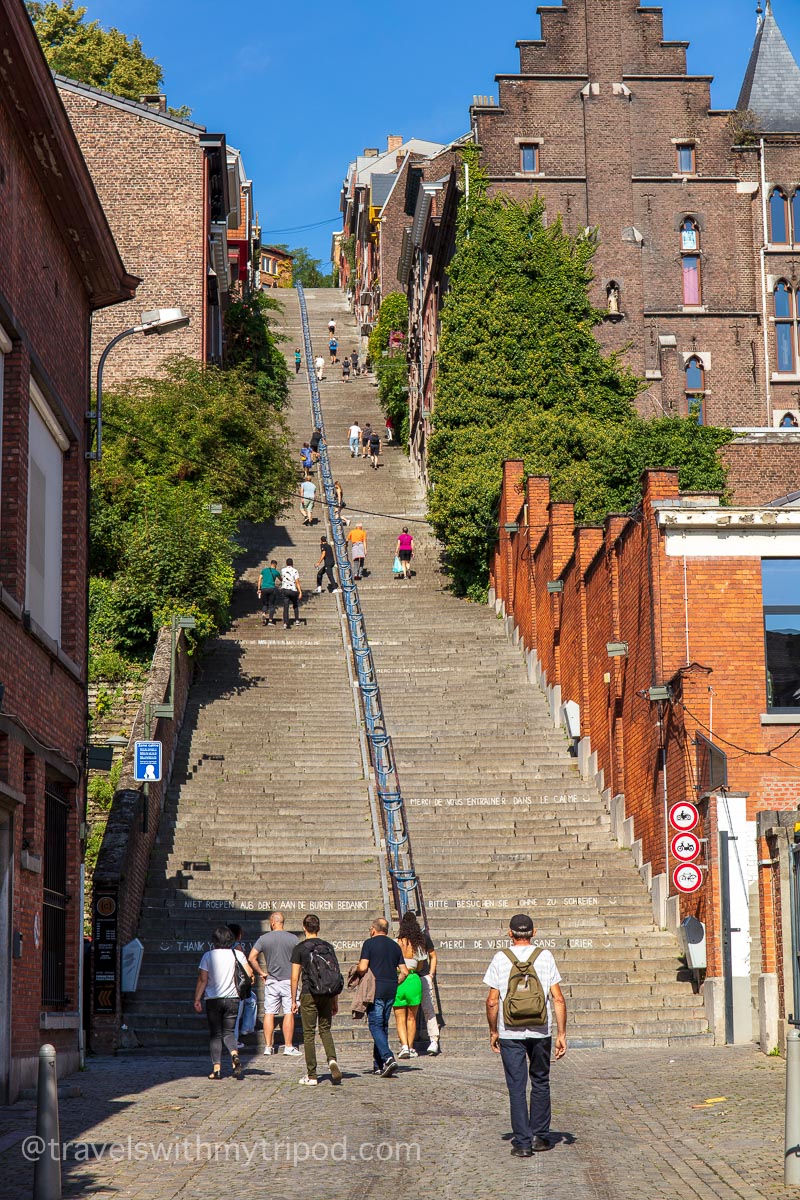 Once at the top, it's a short walk to the citadel which has some fabulous views over the city. There is also a peaceful park you can walk through.
If you visit during the summer, you might be lucky and see the Bueren en Fleurs, an event that sees the stairway adorned with flowers. Also, on the first Saturday of October, the stairs glitter with candles for Nocturne des Coteaux de la Citadelle, although this event is cancelled for 2023.
6. Wander through Roman ruins
Liège has a long and eventful history, and you can explore some of this at the Archéoforum de Liège. Located directly under the Place Saint-Lambert, this museum contains roman villa foundations and archaeological remains. As you walk through the foundations, you can really get a feel for the history of Liège through the ages.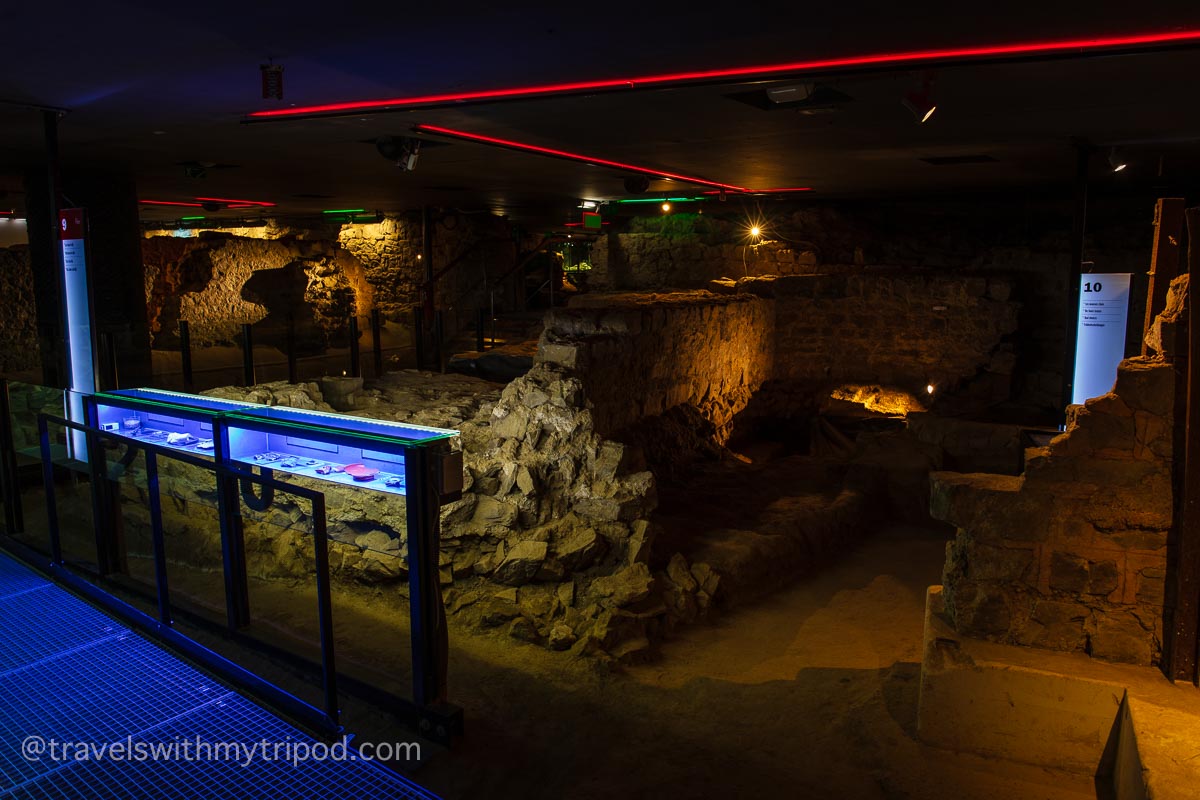 It's a fascinating way to spend an hour or two, and a good way to get an introduction to the history of Liège. I'd recommend picking up the free interactive tablet guide as this gives a lot of additional information as you wander through the exhibits.
It's closed on Sunday though, so bear this in mind if you're only there for the weekend.
7. Explore the Impasse, the secret alleys of Liège.
There are a number of small alleyways just off the Rue Hors-Château, most of which are dead-end streets. These cobbled streets are lined with houses, and are well worth exploring.
My favourite was Impasse des Ursulines which is named after the convent at one end of the alley. Unlike the other Impasse, this isn't a dead end, and the other end is accessed behind what looks like someone's front door. Once you step through the door way, you climb some stairs to a lovely little park called Terrasses des Minimes.
Wandering through these narrow paths, you can really get a sense of what it would have been like to have lived in Liège hundreds of years ago.
8. Visit Saint Paul's Cathedral
London isn't the only city to have a Saint Paul's Cathedral, there is one in Liège too! Cathédrale Saint-Paul de Liège was originally built in the 10th century as a church, and then rebuilt in the 13th to the 15th century. While not quite as large and impressive as its London namesake, it's still an impressive building to see and well worth a visit.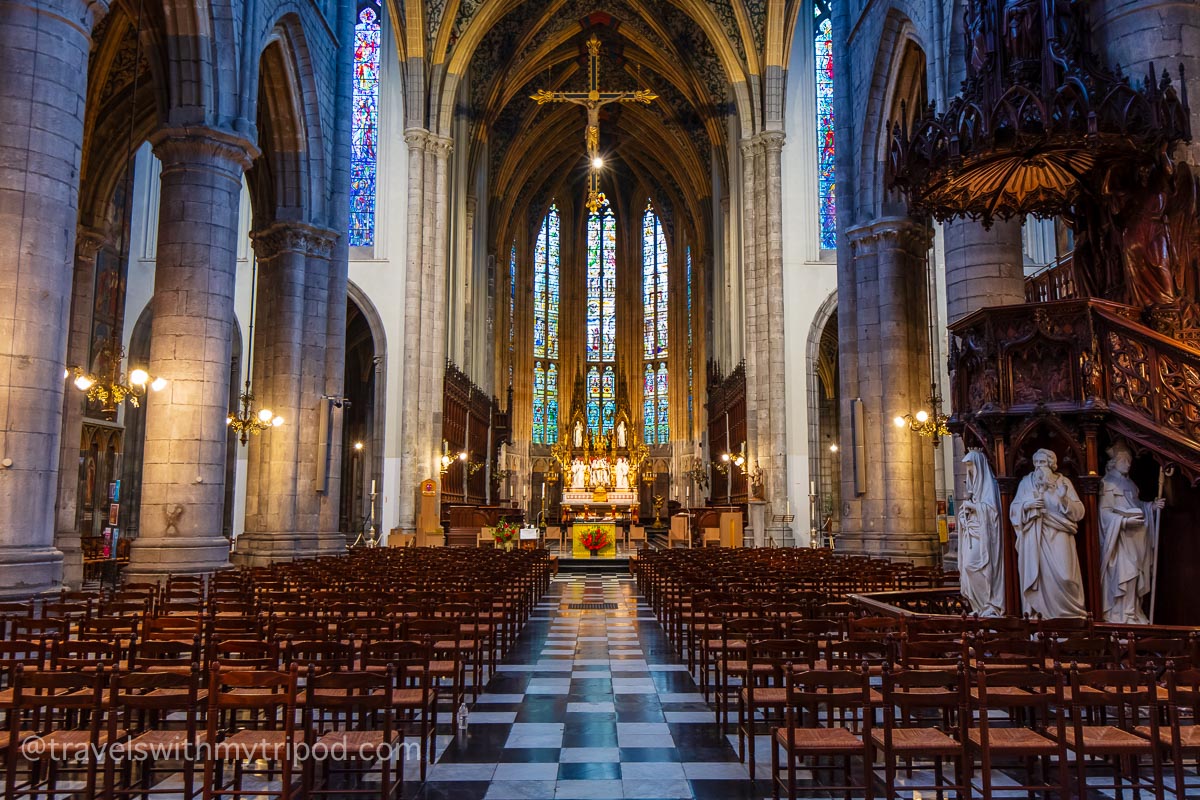 Located in the heart of the old town, it's very easy to get to. I spent an enjoyable hour or so wandering around and admiring the statues, stained-glass windows and impressive naves. There is also a Treasure House exhibition there, although this was closed when I visited.
9. Cruise along the Meuse River
On a warm sunny day, there's no more relaxing way of travelling in Liège than cruising along the river. There is a regular river shuttle called La Navette Fluviale which runs in a loop from the historic centre down to Fragnee, stopping off at several points on the way. These include a stop directly outside the aquarium, and one near Guillemins train station.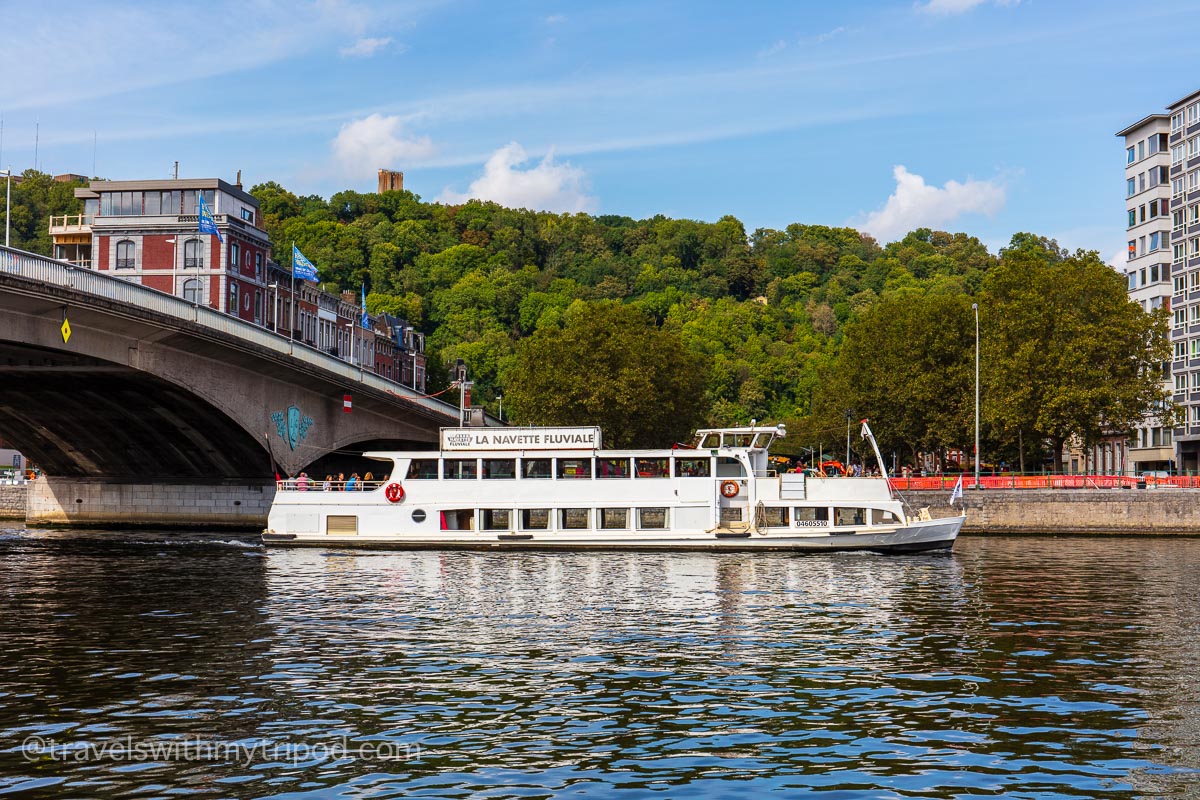 It takes about 45 minutes to get from one end to the other, and you buy tickets on board. Prices are very reasonable – you can pay per stop, or buy a day pass for €8.
The shuttle doesn't run on Mondays though, and is closed during the winter. Full details of the timetable can be found here.
10. Walk across a historic bridge
A little further south than Guilinmins station is the Pont de Fragnée, a Parisian-style bridge that spans the Meuse River. It was built for the 1905 Universal Exhibition and took four years to construct.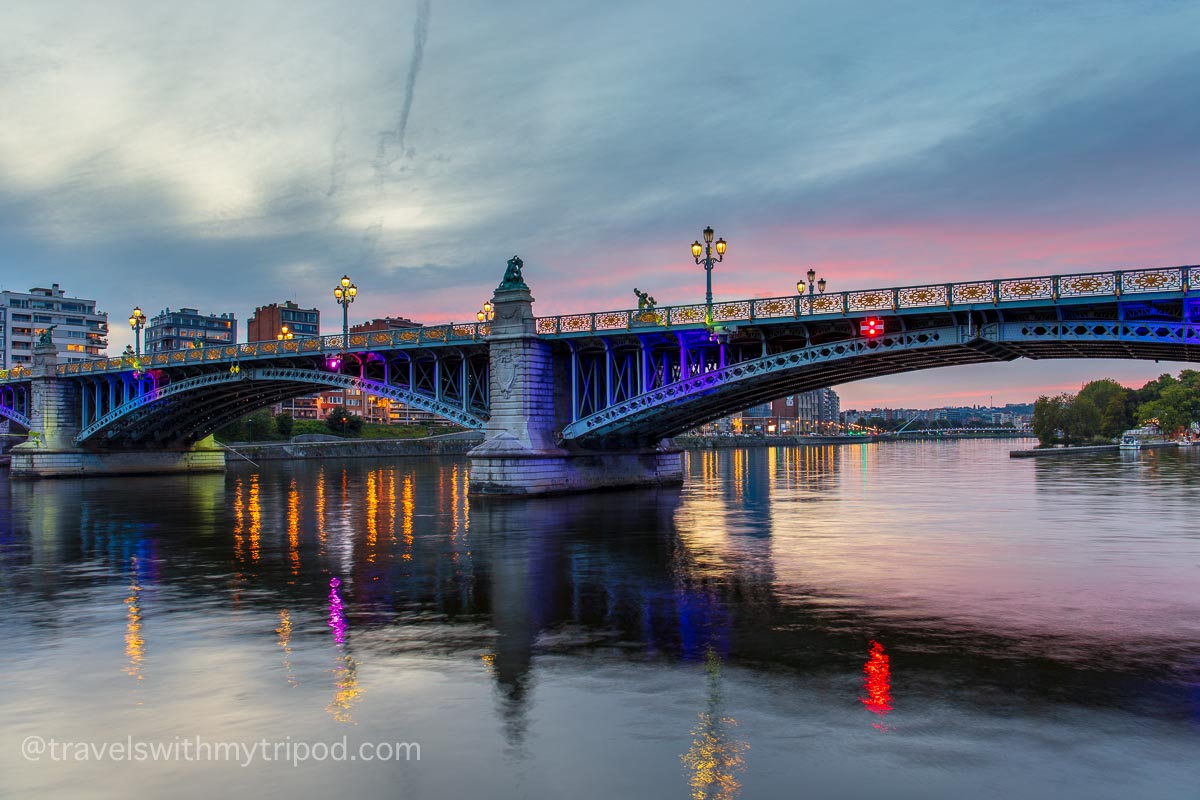 It is decorated with a number of gilt sculptures, including one of Medusa. The bridge also features four tall columns topped with golden statues of angels playing the trumpet. It may be slightly futher away from the historic centre than most of the other places I visited, but it is still worth a visit. The river shuttle stops just next to the bridge, and there are also a few bus lines that stop nearby too so it's easy to get to.
11. Admire the architecture at the train station
Last but not least in my list of things to do in Liège is to visit the Liège-Guillemins train station. In my opinion, the train is the easiest way to travel to Liège, and the station is an added bonus.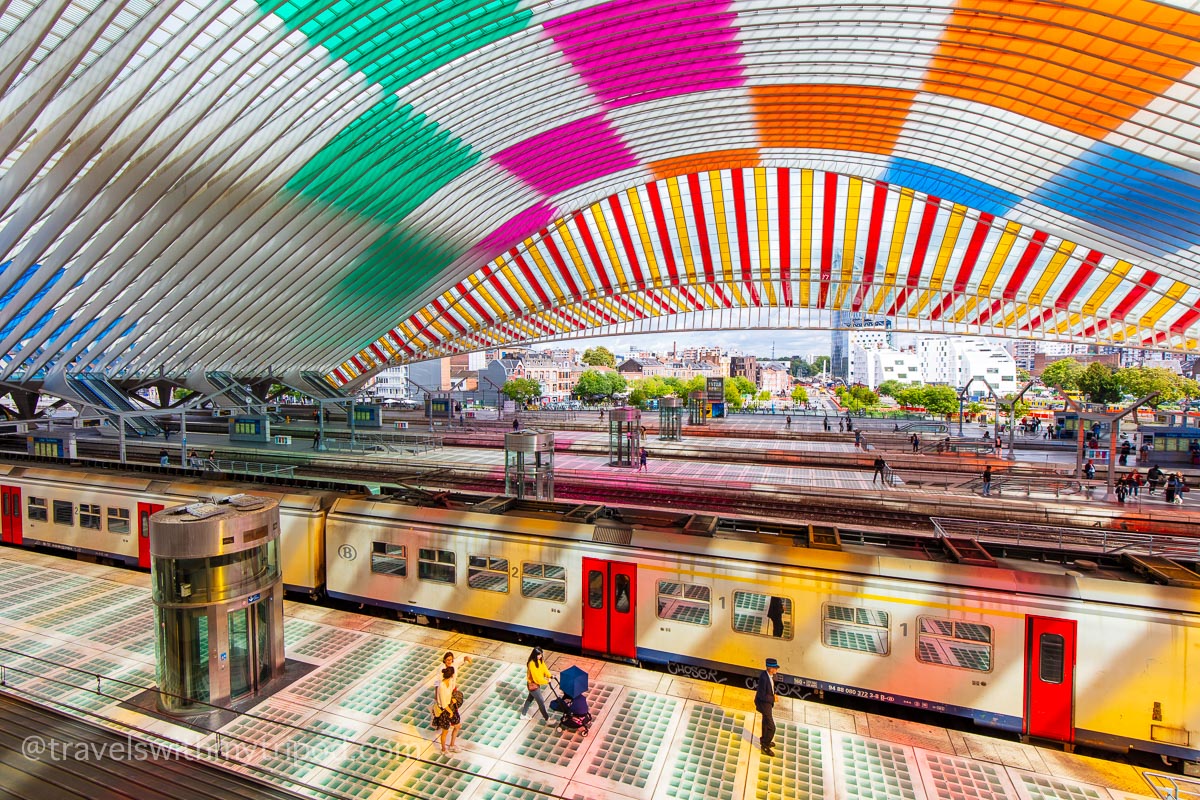 It was designed by the famous Spanish architect Santiago Calatrava, and officially opened in 2009. During my visit it was illuminated with artwork by Daniel Buren as part of an art exhibition.
If you're familiar with Santiago Calatrava's other work, the design of the station will look decidedly familiar. The wide arches and almost skeletal structure of the building give hints of both the Oculus in New York, and City of Arts and Science in Valencia.
This is a great location to get some stylish architectural photos, or even some cool shots for Instagram.
Where to stay in Liège
There are a number of options for accomodation in Liège, and I decided to pick a hotel near the centre. I chose the Van der Valk Hotel Sélys Liège which is just a short walk from the heart of the city.
It's a modern hotel and my room was quiet and comfortable. The most notable feature was a spacious bathroom with both a shower and large bath. I was also pleased to find it had underfloor heating in the bathroom. Nothing feels quite as luxurious as feeling warm tiles under your bare feet.
I only ate in the hotel once, at breakfast, and the food was good with plenty of choices.
Map of places to visit and things to do in Liège
How to use this map: Click on the icon in the top-left corner of the map to reveal a list of locations. If you click on one of the locations in the list, or one of the pins on the map, you can get more information or directions to it.

Click on the star just to the right of the title to save to your Google Maps account. You can then view the map on your phone or computer by opening Google Maps, clicking the "Saved" icon and then selecting Maps. You'll then see this map in your list.

To open a larger version of the map in a new tab, click on the icon to the top right.